Weightlifting shoes can be your best ally if you want to improve your lifting form while protecting your feet from injuries.
They offer many benefits for beginner lifters and the right support for more experienced users.
If you are starting to lift weights, then you should consider getting the right pair of shoes for the job. The correct shoes will offer you protection, support, and a suitable surface to lift weights without sliding.
The overall best shoes for weightlifting are the Reebook Men's Legacylifter Cross Trainer shoes. They are attractive and breathable, with an elevated heel to help you maintain a good form. These shoes strike the right balance between fashion and practicality. 
In today's guide, we'll tell you our top recommendations for weightlifting shoes and what you should be looking for in the right pair of shoes.
We'll also tell you more about weightlifting gear and why Converse are so popular among weightlifters.
Best Shoes For Lifting – Reviews For 2021
Winner: Reebook Men's Legacylifter Cross Trainer
Featured specs
Type: Weightlifting trainers
Weight: 2.7 pounds (1.2kg)
Material: Synthetic and mesh
Benefits
The Reebok Men's Legacylifter Cross Trainers are the best lifting shoes for men. They have an elevated heel and an extremely sturdy base. If you are looking for stability and security while lifting weights, these shoes could be viable.
The drop between the heel and the toe is ideal for many different kinds of weightlifting. The straps on the shoes keep your feet and ankles in place, while the inner arch helps improve your posture. Overall, they are suitable for lifters, from beginners to seasoned professionals.
Drawbacks
The main disadvantage of these shoes is the extended break-in period. You will need to use them continuously and for several days to soften the inner fabric and make them more comfortable. Otherwise, you may suffer from blisters and tightness around your feet.
These are also some of the heavier options for weightlifting shoes. Therefore, you should not use them for any other kind of activity. As long as you keep them inside the gym, they can serve you well.
Extra features
These Reebok shoes use the proprietary Flexweave fabric, which allows your feet to breathe during activities. The material is exceptionally resistant yet flexible enough to prevent pain or discomfort in your feet.
Many users also love the sleek and sophisticated aesthetic of the shoes. They are contemporary and stylish, perfect for showing off at the gym.
Buying advice
If you're looking for the best athletic shoe for weight training, you should consider the Reebok Legacylifter Cross Trainer. These professional shoes have an exceptionally sturdy design and allow you to achieve new personal bests.
Runner-Up: Nordic Lifting MEGIN
Nordic Lifting Powerlifting Shoes for Heavy Weightlifting - Men's Squat Shoe - MEGIN (Blue, 7 US)
POWERLIFTING SHOES - Maximum Lifting Performance - by Premium Weightlifting Brand Nordic Lifting
PROVIDES OLYMPIC STABILITY - Good foot support ensures a powerful workout & greater lifting gains
LONG-LASTING QUALITY - Built to last, even under immense stress. Our warranty backs it up
IMPROVE LIFTING POSTURE - Perfect for powerlifters & all other sportsmen working with heavy weights
INCLUDED - 1 x Pair of MEGIN Powerlifting Shoes, 1 x Premium Box - 1 Year Manufacturer's Warranty
Featured specs
Type: Powerlifting shoes
Weight: 3.1 pounds (1.4kg)
Material: Premium materials with reinforced stitching
Benefits
The Nordic Lifting MEGIN model is the best shoe for powerlifting. It has a 1.4 inch (3.5cm) raised heel, which is the same standard as Olympic powerlifters. This feature makes you stand in a better posture and allows you to focus on your form while handling heavy weights.
They are incredibly stable shoes. The base has an anti-slip grip that prevents you from falling while you focus on the rest of your body. At the top of the shoe, a secure Velcro strap prevents your foot from moving around and can protect your ankles.
The shoes use premium materials and stitching. Even if you use them regularly and put a lot of pressure on them with heavy weights, they will not break. They also have a sleek black design that is attractive and simple.
Drawbacks
The shoes have a narrow fit and may not be suitable for wide feet. You want to maintain a tight fit around all of your feet, so keep this in mind if yours are more expansive than usual. Overall, the size options are a little limited in this particular model.
Extra features
The shoes come with an attractive gift box, which allows you to store them in style or pass them along to a powerlifting loved one. The company also provides a one-year warranty in case you run into any issues with these shoes.
Buying advice
Suppose you are looking for stability and durability in the gym. In that case, you should take a closer look at the Nordic Lifting MEGIN shoes. They can be an excellent ally for powerlifting.
Alternative: Reebok Lifter PR Shoes
Reebok Men's Lifter Pr Cross-Trainer Shoe, Primal Red/Black/White, 6.5 M US
BREATHABLE AND DURABLE MATERIAL: These weightlifting sneakers feature a full-grain leather toe and an air mesh tongue on the upper for support and breathability
EFFICIENT FOOT SUPPORT: These athletic trainers feature the Powerbax TPU plate and a dual rubber outsole which provides a stable and responsive ride; Hook-and-loop closures lock the foot
STAY COOL AND DRY: This footwear features anti-friction lining that reduces moisture and heat build-up keeping you cool and dry
COMFORTABLE AND STURDY DESIGN: This low-cut design footwear provide mobility at the ankles; The U-form and Thermo TPU midfoot wrap secures feet for a customizable fit
HIGH-PERFORMANCE SPORT SHOES: Ideal for workouts and weightlifting
Featured specs
Type: Weightlifting shoes
Weight: 2 pounds (0.91kg)
Material: Leather and mesh
Benefits
The Reebok Lifter PR Shoes are another excellent option. They are relatively lightweight and comfortable, with a cushioned collar that keeps your ankles supported. The shoes also provide enough flexibility so as not to hurt your feet.
They have a small heel elevation that can help with your form. They also provide ample support with a midfoot wrap that keeps your feet secure, hook and loop closures that lock them in place, and a non-slip outer sole.
Drawbacks
Like some other weightlifting shoes, the Reebok Lifter PR Shoes have a long break-in period. Especially if you are not accustomed to these kinds of shoes, the transition can be difficult and uncomfortable.
We recommend starting with shorter sessions and lighter weights while you are breaking in the shoes. Once you feel more confident and comfortable, you can transition to your regular workouts without endangering your safety.
Extra features
The shoes use a combination of leather in the toe and mesh throughout the rest. This fabric is durable but extremely breathable, reducing any foot sweat.
They also have an anti-friction lining on the inside, which reduces both heat and moisture. If you do intense workouts or live in a hot climate, this feature could be a lifesaver. Less sweat also minimizes the likelihood that you will develop blisters.
Buying advice
If you're looking for breathable and supportive shoes for lifting, you might like the Reebok Lifter PR Shoes. They are less built-up than other weightlifting footwear, but they can provide enough support for many kinds of lifting.
Alternative: Inov-8 Men's F-Lite 235 V3
Inov-8 Men's F-Lite 235 v3 – Cross Trainer, Fitness & Weight Lifting Shoe – Men's HIIT Shoes - Black/Gum - 8
Natural Movement – Having been designed around natural movement, the 235 v3 offers great natural comfort whether through dynamic movements or weight lifting.
Unrivalled Versatility – Whether you're doing HIIT or your pushing your limits in powerlifting the lightweight and flexible 235 v3 offers a perfect platform from which to get the most out of your workout.
Lifting Stability – The 4mm drop brings you closer to the floor giving you a natural feel and greater stability when weight lifting.
Rope Guard Technology - These stylish trainers feature rope guard technology that extends onto the shoes uppers and a welded toe bumper ensuring prolonged durability no matter the intensity of your workouts.
Regular Fit - Buy your standard size.
Featured specs
Type: Fitness and weightlifting shoes
Weight: 1.6 pounds (0.73kg)
Material: Synthetic and mesh
Benefits
The Inov-8 F-Lite 235 V3 shoes are the best shoes for weight training and cardio. They are incredibly lightweight, allowing you to transition between different kinds of exercise like lifting and CrossFit. Their design focuses on natural movement, allowing you to perform your activities with minimal problems and maximum support.
They have a 0.16 inch (4mm) drop to the floor, which allows you to gain greater stability while lifting weights. You can also use them for running or other activities. We love how comfortable the shoes are in all scenarios and their sporty design.
Drawbacks
One drawback of these lifting shoes is the width of the toes. Unless yours are particularly wide, you may find that you have extra space. This can be problematic if you need ultimate stability for deadlifts or other hazardous activities.
Overall, the sizing is not true to the standard. You should read the sizing guide in detail and measure the exact dimensions of your feet. Otherwise, you risk buying shoes that don't fit your body.
Extra features
The shoes are incredibly durable and can withstand intense workouts and many years of use. They include a welded toe bumper and rope guard material throughout the body. This design keeps the material taut and resists any damage from inside or out.
Buying advice
If you're looking for shoes that you can take from the gym to the running track, you might love the Inov-8 F-Lite 235 V3 shoes. They are versatile and suitable for many activities, from weight lifting to cardio workouts.
Alternative: Inov-8 Women's F-Lite 235 V3
Inov-8 F-Lite 235 V3 (W) - Cross Training Shoes - HIIT Shoes - Pink/White - 5.5
LIGHTWEIGHT AND FLEXIBLE - These sneakers feature performance outsole technology that encourages natural foot movement for a second to none ground feel, allowing you to move through your workouts with ease.
STABLE AND SUPPPORTIVE - A snug fit around the midfoot provides stability and the wide toe section provides room to spread the toes for the ultimate base when lifting heavy.
DURABLE AND PROTECTIVE - These stylish trainers feature rope guard technology that extends onto the shoes uppers and a welded toe bumper for a shoe that will hold up to anything you throw at them, whether itÕs rope climbs or box jumps.
COMFORTABLE DESIGN - A minimally constructed, yet super durable upper uses elastic mesh liners to hug the foot for added comfort and support, delivering one of the most comfortable and breathable training shoes around.
BEST ALL ROUND SHOE - A super versatile shoe that is great for lifting, high intensity workouts and short runs. One of the most runnable cross trainers there is out there.
Featured specs
Type: Women's cross-training shoes
Weight: 2.3 pounds (1kg)
Material: Elastic mesh and synthetics
Benefits
The Inov-8 F-Lite 235 V3 is the best shoe for weight training for women. Like other Inov-8 shoes, this footwear has a flexible outer sole and focuses on a natural feel. Because of this, you can do various exercises without feeling like you are being weighed down or dragging around your shoes.
Suppose you want to focus on heavy lifting. In that case, the shoes provide ample support with the closely-fitting midfoot and a generous toe section. This space allows you to grip and focus on your form while you handle the weights. They also have a 0.16 inch (4mm) drop for better stability.
The shoes are versatile enough that you can use them for other kinds of exercises, even outdoor running. If you like to mix up your workouts, they could be an excellent choice.
Drawbacks
The shoe sizes run a bit small and can be uncomfortable if you select the wrong option. We recommend consulting Inov-8's sizing guide and measuring your feet. The footwear is one of the pricier options, so you don't want to buy the wrong ones for your body.
Extra features
The shoes feature incredibly breathable material, with a simple but hardy upper and overlays. This fabric reduces heat inside the shoes, preventing you from sweating excessively and feeling uncomfortable.
They also have an attractive design that is available in multiple colors. You can style the footwear to your wardrobe and personality.
Buying advice
If you're looking for versatile and supportive shoes for lifting and aerobic exercises, we recommend the Inov-8 F-Lite 235 V3. These women's shoes help you exercise in the most natural way possible, with enough support for heavy lifting.
Shoes For Lifting FAQ
Do You Need Special Shoes For Weightlifting?
Lifting shoes are not necessary for weightlifting, but they can be of great help to your training and health. If you do more than just weightlifting, you know that different activities require different types of shoes.
For example, cycling shoes are excellent for spin classes, and lightweight sneakers are your best ally for running. However, when it comes to weightlifting, you can use any type of shoes you feel comfortable with. But, weightlifting shoes can bring a lot of benefits to your training.
Weightlifting shoes are made of sturdy materials to provide you the best possible protection. The shoes come with a heel that's usually made of wood. The heel helps you keep the weight on your heels and not on other parts of your feet. Keeping the weight on your heels is the way to do squats and front squats correctly.
You should use lifting shoes if you have balance problems, limited ankle mobility, or decreased flexibility in your calves. If you suffer from those problems, you should avoid using thin heel-less shoes or doing weightlifting barefoot.
Do Lifting Shoes Make a Difference?
Weightlifting shoes provide the proper heel inclination to help you accurately perform the exercise. As you know, correctly completing the activities is the only way to train the muscles you want to target. The shoes reinforce good form, which will help you avoid injuries when weight lifting.
You can consider using weightlifting shoes as a shortcut to learning a good weightlifting form. However, you should combine the shoes with ankle mobility exercises to achieve the best possible results.
Overall, the shoes can help you in many different ways. They can provide the proper support and protection to help you with your training, but you shouldn't get too dependent on them. Try them, see if they help you, and if they do, then go for it.
Are Converses Good For Lifting?
Some Converse models are an alternative to weightlifting shoes. You can try the classic Converse Chuck Taylors, which present different benefits for weightlifters. They are flat, which helps to put the weight on your heels when you are lifting. They also offer good traction and support for your feet.
The shoes were designed for basketball, but they have become one of the most popular choices for weightlifters over the years. Today, it is common to see people wearing these famous Converse models in the gym's weight zone.
Wearing Chuck Taylors comes with many benefits, and one of those is not having to carry different shoes to the gym. You can go with your Chucks, train with your Chucks, and go back home with your Chucks.
If you are new to weightlifting, using the Chucks can give you the necessary support to improve your technique. However, they should only be used for weight lifting and walking; do not use Chuck Taylors for running or cross-fit training.
In the end, it depends on whether you feel comfortable with the Converse or with the weightlifting shoes.
How Tight Should Lifting Shoes Be?
Weightlifting shoes should offer protection and support while remaining comfortable for the user. However, for lifting, you should aim for tighter shoes instead of looser ones.
Looser shoes can cause blisters far more quickly than tighter shoes. If you've suffered from blisters before, you know it is best to avoid them.
The best way to wear your shoes is to give your toes enough space to move while keeping the foot protected. Do not choose shoes that are too loose nor too tight. Let your feet be comfortable and allow them enough movement.
How to Choose The Best Weightlifting Shoes For You?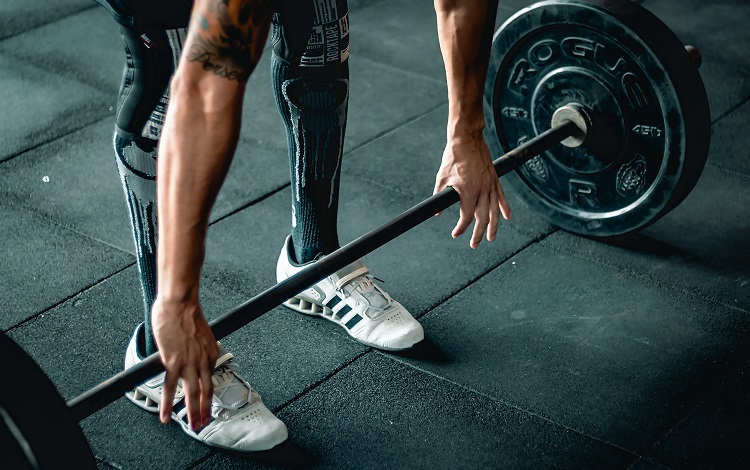 Choosing the right gear is an integral part of starting weightlifting. The right pair of shoes will do wonders for your training, and it can even improve your technique while giving you a lot of support and protection.
Here's what you should keep in mind before you buy your first pair of weightlifting shoes.
Understand the Anatomy
Weightlifting shoes have a different set of attributes than running shoes or walking shoes. They come with a flat and stiff sole, which is necessary to keep the weight on your heels during lifting. They also create a stable surface for you to lift from, making the process easier for new users.
The shoes also have raised heels, which gives your ankle better mobility and support. The heels can vary its height depending on your needs. You can find them at 0.3' to 1' (0.7 to 2.5 cm). Additionally, the shoes offer more support and protection, and ventilation to keep your feet comfortable.
It's All About the Heels
Raised heels are the standard for weightlifting shoes. The reason is that raised heels allow you to perform deeper squats, enabling you to increase your training intensity while preventing injuries caused by bad form.
Lower heels are the best option for users with a short torso and legs or for those that have excellent flexibility in ankles and calves. They are also ideal for low-bar squats and wide stance.
The standard heel is your best ally if you have a longer torso than legs and do not suffer from tight ankles and calves. You should also pick the traditional heel if you perform different weight lifting exercises. These are the most versatile types.
Finally, the higher heels are for those that suffer from ankle and calves mobility problems. Pick this option if your legs are longer than your torso and if you focus your training on performing high-bar squats.
Seek Many Options
You can perform weightlifting training with more than just weightlifting shoes. For instance, you can use a pair of Converse Chuck Taylors or some cross fit training shoes. You can even try to do weight lifting barefoot, although it is not the most secure or hygienic option.
Another option you have is using indoor soccer shoes, which offer good support and protection for weightlifting.
Choose the Right Fit
Remember that choosing a good fit is as important as choosing the right pair of shoes. You should pick a shoe with a snug fit. This will give you adequate width and volume for your size.
You shouldn't feel any sort of pain or discomfort from your shoes. Nor should you restrict the blood circulation in feet and legs. Additionally, there shouldn't be any pressure points over your feet.
Choose carefully, and you'll have a more enjoyable time training.
Other Gear You Should Consider For Weightlifting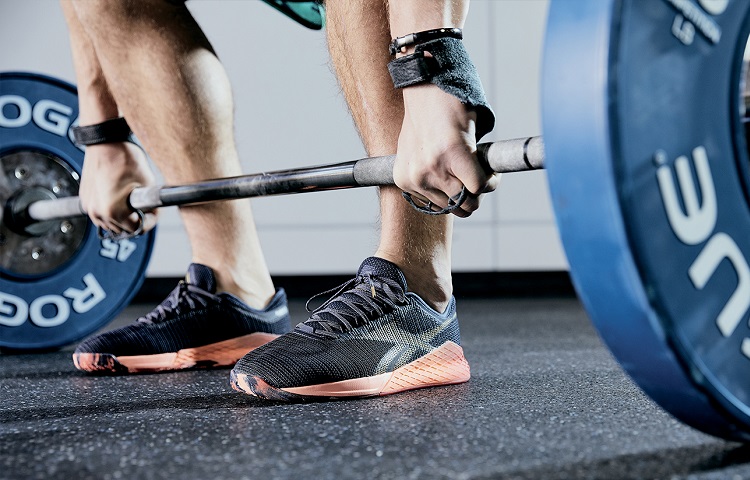 When it comes to weightlifting, you should consider other gear types to increase your training intensity and give you the right protection and support. You can use many kinds of gear, but the right one will depend on your goals.
If you want more support for your back, then a weightlifting belt should be your first option. The belt will give your body the support needed to avoid most injuries caused by bad form. You should consider this option if you suffer from back pain or discomfort when you sit.
Another tool you should also consider is a pair of knee sleeves. When performing weightlifting exercises like squats, you are putting a lot of pressure and stress on your knees. The knee sleeves help you reduce the possibility of injuries. This option is one you should wear if you suffer from limited knee flexibility or pain.
So, think about which exercises you'll be performing and choose the right gear for you. As a final tip, focus on your form when doing exercises. It will increase your training results and help you avoid most injuries.
Conclusion
In conclusion, the Reebook Men's Legacylifter Cross Trainer shoes are the best shoes for lifting weights.
They have a sporty and fashionable design that is also durable and optimized to keep the correct weightlifting form.
Weightlifting shoes should have a raised heel of varying heights. This part of the shoe improves your form while lifting and squatting, making your exercises safer and more comfortable. They should also be breathable and durable.
When choosing shoes for lifting, prioritize comfort above all else. There's no point in buying fancy shoes if they give you blisters or hurt your form. There are many options on the market, so go for the model that best suits you.
Last update on 2021-07-28 / Affiliate links / Images from Amazon Product Advertising API