Last Updated on December 9, 2022 by admin
Working out in a commercial gym just isn't doing it for you anymore and you are ready to take the plunge and build your own perfect garage gym.
You can get a workout whenever you want, try new things without curious eyes following your every movement. You can make those embarrassing mistakes without anyone knowing!
However, creating your perfect garage gym can be a lot harder than you originally thought.
That's why we have put together this simple guide to help you. With a list of tips, hacks, and ideas from other garage gym owners you can create your own magical space!
Keep reading to find out more.
Getting Started
As the idea of turning your garage into a personal gym becomes more a reality, there are a few things you are going to need to consider and do.
Clearing The Space
Before you even begin to look at a pair of dumbbells, you are going to need to clear every inch of your garage.
No matter the size of your garage it is most likely filled with boxes upon boxes of stuff. You need to clear out everything you and your family don't use and anything that you do needs to be stored elsewhere.
Once you get everything cleared you will see just how much space you have to create your ideal gym at home.
You can easily sell your junk on Ebay or to your friends and family and any profit can go towards equipment for your new gym. Just don't throw away items that have any meaning.
Your family may permanently move you to your new gym if that happens.
You may even want to invest in some new storage methods. From shelves to ceiling racks, there are plenty of ways to clear floor and wall space without moving everything to another location.
However, to save time and money it may be best to move your items to the attic to be sorted another time.
Consider Ceiling Height
Now that all of your space is clear and you can begin to envision what your gym is going to look like it is time to consider measurements.
If you are looking to go a little further than a treadmill and a bench, you are probably going to invest in a squat rack. This is an extremely versatile piece of equipment that can be used for various exercises.
However, they do come in different sizes. So, you are going to need to bust out the tape measure and do some calculations.
You will need to ensure that your ceilings are high enough to house a squat rack and that they are load bearing walls that can be drilled into.
While freestanding racks are more affordable and a lot gentler on your walls, they are not the best when it comes to performing exercises such as pull ups and deadhangs.
Know Your Space
When working within such a confined space, you are going to want to be strategic about the equipment you buy.
Take the time to go through your entire workout routine, taking note of the equipment you use and the space you will require.
Exercise your barbell while racking and removing plates to check that it doesn't come too close to anything that it might crack.
Getting to know your space before you begin making any progress will make the process a lot smoother.
Security
Inside your garage will be thousands of pounds worth of equipment and gear that can be stolen. Make sure your garage is secure and cannot be accessed from the outside without a key.
You may want to invest in a security system and cameras for extra safety.
Buying Equipment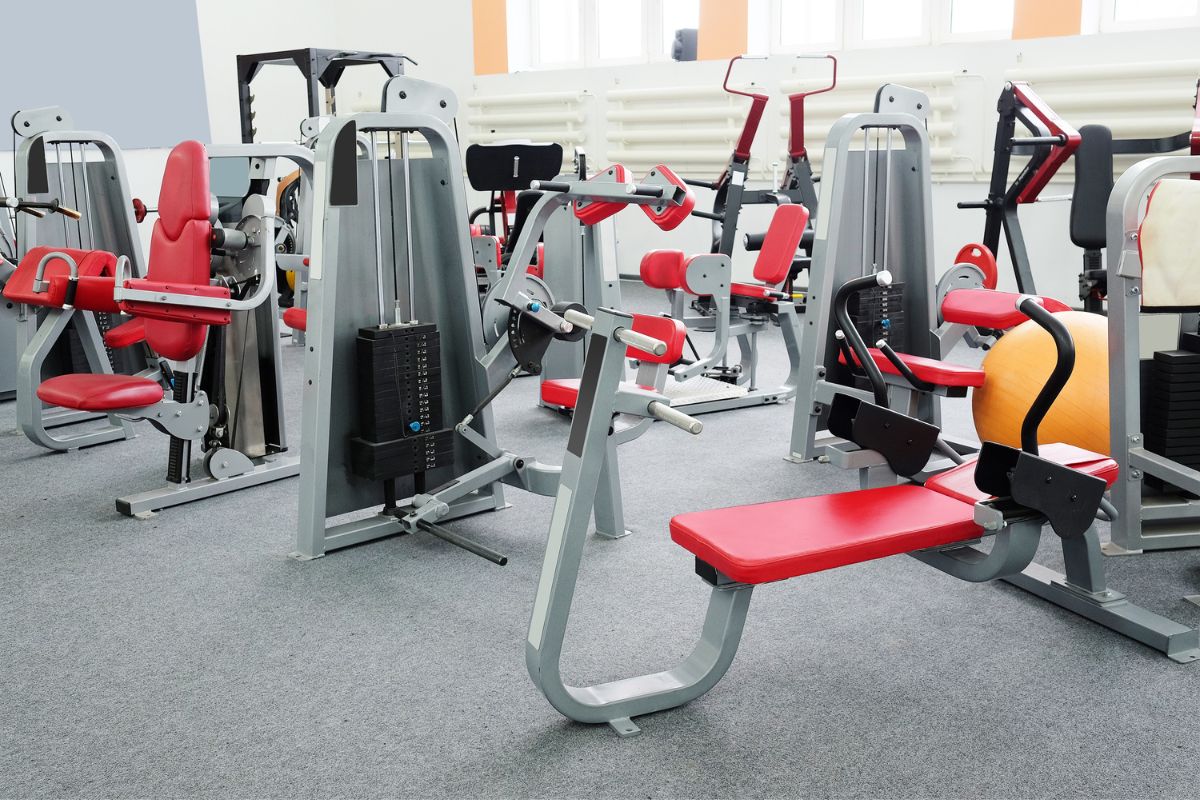 Your space is cleared, your measurements are taken, and you have identified which equipment you need to get started. As you begin to look at equipment for your gym, a few tips and tricks can help you make the best decision.
Work On The Floor
You have probably watched thousands of garage to gym renovation videos by now and each one includes covering the floor in gym mats. This is an essential part of converting your garage.
Garage floors are often hard concrete. Not the best when you are dropping heavy weight after a deadlift PB or trying to hold an excruciating plank.
Laying down gym mats adds a layer of protection from the concrete and will also add some insulation. Perfect if you live in a colder climate.
The best gym mats for a home gym are horse stall mats. They are thick, durable, and large meaning they can cover a lot of floor space.
When you initially acquire them, they have a distinct new rubber scent, so make sure you let them air out for a week or two.
Level Out A Slanted Floor
When in construction, garage floors are built with a slight slope. This is to allow the drainage of water so that your space remains dry and water free.
However, this is not ideal when planning to set up a squat rack or deadlift platform.
Ensure that slope is leveled off before you begin building or else you may find yourself having to move all of your equipment in and out of the garage.
Invest In Equipment
While you may be working within a tight budget, you should always make sure that you are investing in high quality equipment. You only want to purchase equipment once and it should last you a lifetime if taken care of properly.
Now, this doesn't mean going out and bringing the latest equipment that will cost you your yearly salary. You can easily find pre-owned equipment that is of high quality on various online marketplaces.
Just make sure it's constructed from sturdy, high-quality materials so it can endure for a long time and you won't need to replace it frequently.
Opting to make a large one time investment is often more cost effective than going cheap and needing to make replacements and repairs every few months.
Start With The Basics
Your current commercial gym may have the latest, technologically advanced equipment. However, when building your own gym you simply do not need fancy equipment.
Starting with basic yet versatile equipment will allow you to get a good workout in without costing you an arm and a leg.
Investing in a barbell, bench, set of dumbbells, and weight plates will take you further than you think. You may even want to invest in a treadmill for some cardio or opt to wait till later and find other forms of exercise.
Overtime, save up to purchase a strong rack for bench pressing, squatting, and pull ups. However, this is not needed to get you started.
Utilize Wall Space
Traditionally, gym equipment is meant to rest on the ground. And while you use it, this will be the case.
But if you have a small garage, having tons of equipment on the floor is going to clutter your space and make it difficult to workout freely.
Be creative and find ways to utilize the space on the walls for storage. This will keep your gym more organized and easier to move around.
Shipping
Like purchasing anything expensive, buying in bundles will help you save hundreds on shipping costs.
Before purchasing equipment, try to ensure that you can purchase multiple pieces at once. This will allow you to avoid multiple shipping costs that can quickly pile up and eat at your budget.
You can also take advantage of free shipping.
Often gym equipment brands will charge for shipping, however, if they have an Amazon store they may provide free shipping for equipment sitting in the Amazon warehouse.
Some brands may offer deals for free shipping so make sure to keep an eye out and take advantage whenever you can!
Resistance Bands Before Cable Machine
You may find that one of the reasons commercial gyms are so popular is their inclusion of cable machines. One of the most versatile pieces of equipment that can be found in a gym.
Perfect for both compound and isolation exercises.
But what they don't mention is the price.
A full cable machine and its attachments may be well out with your budget. So, what can you do to replicate triceps pull downs, chest crossovers, and your other favorite exercises?
Invest in resistance bands! Resistance bands are extremely affordable and are a great way to introduce a new form of training.
While you may not be adding any weight, upping the reps and resistance can make a lot more of a difference than you think.
Loop around a bar for pull ups or even loop around your back and perform a chest press. Perfect if you are just beginning your weight training and are low on space.
Tips & Tricks
We have finally got the main elements to be considered when building your garage gym out of the way.
Now it's time for some creative yet extremely useful tips, tricks, and hacks that can help you get the most out of your home gym and even save some cash!
1. Invest In Good Lighting
It is no secret that the lighting in a gym can change the way you look in an instant. Nothing ruins a workout more than feeling like you got a good pump to look in the mirror and the lighting is abysmal.
Throw away those iridescence and invest in some fun LED lights. Have lighting coming from every corner with a strip of LED lights around the room.
You can go one step further and invest in LED garage lights. These fit into the socket, are super bright, and use less energy than traditional bulbs.
Keep your workouts fun by changing the colors or having them in a sequence! Perfect if you have little ones running around and want to keep them entertained.
2. Turn Up The Volume
No longer are you restricted to blasting your music through headphones. Grab some speakers and blast your favorite music as loud as you want.
Although, you will have to remain respectful of the neighbors.
Try to make it a bluetooth speaker to keep cables on the floor minimal. Turn it up, give yourself a pep talk and get to work.
Even throw in a dance break between sets to keep yourself loose.
3. Liquid Chalk VS Powder
When lifting heavy weights and moving your body, your palms are going to become slick with sweat. Disgusting yet satisfying.
Powdered chalk is messy and a nightmare to clean. Especially if your gym is mainly black in color.
Liquid chalk is the perfect way to get a good grip without causing a mess. You pour some into your hands after opening the bottle, and soon your hands will be covered in chalk.
Close the bottle and you have no mess to clean up afterwards.
Just give your equipment a quick clean down after use to prevent a buildup as you workout.
4. Avoid Gimmicky Equipment
The biggest culprits for gimmick equipment is As Seen On Tv equipment. This equipment is going to cost you a lot of money while providing little result. And it will often break faster than it will take to ship.
Focus on purchasing essential equipment that has various uses over the latest equipment on the market.
In the same way that you should concentrate on entire foods rather than powders for your diet, your at-home gym should be built around large, efficient equipment.
5. Label Equipment
This is a non-essential but it does make your workouts so much smoother. Now, we don't mean labeling your treadmill or bench.
Label the holes on your racks to notify which notch you use for benching, squatting, and any other barbell exercises.
We recommend using sticky labels to avoid permanently damaging your equipment. Useful if you end up selling your equipment in the future.
6. Involve The Kids
What's the point in having a home gym if you can never use it? As the fitness industry becomes more popular, it is becoming more and more common for kids to get involved!
While the gym can be rather dangerous for littles ones to be running around, teaching them the ins and outs of a simple workout can be extremely beneficial.
You can teach them something that will impact their lives, make it fun, and get a good workout in yourself!
Perfect for busy schedules or if your littles ones simply love your company.
7. Resell Unused Equipment
When you are building your garage gym, you will find yourself accumulating more equipment than you know what to do with.
Don't let it sit there and gather dust, give it a new lease of life and sell it. There is always someone on the hunt for a good deal on new equipment.
Earn some extra cash and you could even purchase that spin bike you've had your eye on!
Ensure the machine is in good condition and always register any marks or faults when posting the item. While you may not get back what you paid, this is a good way to ensure you don't lose all of your money.
8. Keep It Clean
Garages are notorious for having dust land on every surface, and if you train with your garage door open, it will quickly fall with leaves.
The solution? Invest in a leaf blower. That's right, this power tool can keep your garage gym clean and leaf free in a matter of seconds.
That means you have no excuse for having a dirty gym and having leaves littering the floor.
You probably already have Simple Green products for cleaning around the home. Buy some extra for giving your gym equipment a nice clean. No specific cleaning supplies are required.
After working out, give your garage gym a quick wipe down with basic green to maintain it tidy and odor-free.
9. Have Fun
You may be as creative as you want with your home gym ideas because you are the owner and manager of your garage gym.
As long as you can buy it and make it fit in your garage, you can have any exercise equipment you want to use.
If you're interested, you can purchase that piece of crossfit equipment from your friend's club. Exercise is more effective and enjoyable when there is variety. Don't be reluctant to upgrade to better gear.
Sell everything you don't like or don't use frequently and try something new instead.
DIY Garage Gym Ideas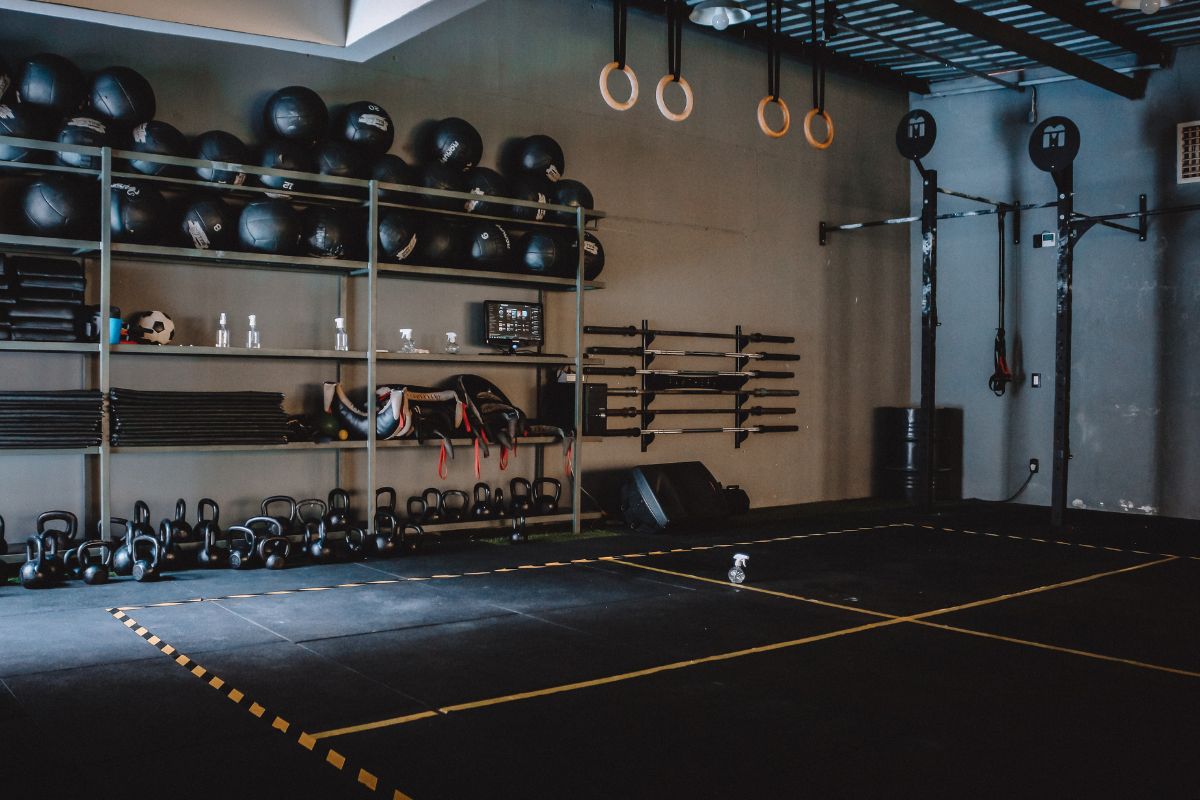 Designing your gym doesn't have to be overly complicated but you can still make it a fun and exciting place to workout. Below are a range of design ideas for your garage gym!
1. Colorful Flooring & Walls
This is a super simple idea to brighten up your gym. With a simple coat of paint you can cheer up your gym.
Or add some color through your floor mats. While most mats are black or dark gray, take some time to find something a little brighter to open up the space and keep things funky.
2. Combine Space
It's acceptable if you don't want to use all of that extra room for the home gym because a converted garage is a great source of space for smaller homes.
A garage is like a blank canvas, so you can actually put anything there. A treadmill, a washer, and a place to put your shoes?
Combining a utility room with your garage gym may work if you lack the space to implement the majority of utility room concepts.
While it may not be the most aesthetically pleasing way to design your home gym, as long as you can get a good workout done, who cares?
3. Open Plan Garage Gym
This design may be difficult for the majority of homeowners, however, if you have the budget, space, and permission, you can create a modern design using sliding doors.
Many garage home gyms have the drawback of being somewhat dark. If you have the money, think about adding bi-fold, sliding, or even a glass roof to your garage conversion to make it more open.
Ideal if you don't enjoy feeling closed off from the rest of the house while you workout.
4. Have A Multi-Purpose Room
Primarily, the garage is used as storage space. From storing cars, games, bikes, and that untouched camping gear.
You will have ample capacity to build a multi-purpose space with numerous private workout sections if you are converting a garage for your home gym.
A rowing machine, a yoga mat, and a specific area for weightlifting or high-intensity interval training can all be readily fit in a garage gym, which is one of its best features.
Whether you have a large space to share or have a half garage where you need to be a little more cautious, each garage gym has the potential to be a multipurpose space.
Why You Need A Garage Gym
Converting your garage into a functional workout space has a range of benefits. You may have been putting it off but now is the time to get back in shape, all in the comfort of your own home.
From working out whenever you want, saving some cash, and spending more time with your family, a garage gym can give you access to much more than a healthy style.
If you find the commute to the gym your main excuse for not getting that workout done, then a garage gym is sure to limit those excuses!
Conclusion
Transforming your garage into a gym is no easy task. It can take planning and a lot of budgeting. But every missed coffee run is definitely worth it.
Above are the things you need to consider before you begin building your garage gym and what to think about when purchasing equipment.
Remember, new doesn't always equal better.
We even included some fun hacks and designs to keep your garage gym fun and exciting. So, get those reps in and hit your PB's inside your very own garage gym!