Last Updated on October 28, 2022 by admin
While maintaining fitness should always be a high priority, several reasons bring challenges to that. Between the costly prices of memberships and even just finding the time to get to the gym, staying fit isn't always a simple thing to achieve.
But what if you could bring the gym to you? At the very least, you could skip the excuses of not being able to find the time. Force yourself to stay accountable, and build your gym at home. You can stick to a simple gym with free weights, or you can take your fitness to the next level with the addition of a few other performance pieces.
Keep reading to find out how to create the ultimate sports performance home gym.
Why Create the Ultimate Sports Performance Home Gym?
There are multiple benefits to building a home gym. With the increase in popularity of home gyms on the rise, the convenience of custom building your own has become easier than ever.
To add to that, 80% of Americans with gym memberships don't even use them, which means that it is money that is just being thrown away.
Who isn't interested in saving time and money? Even better when you can do both at the same time. Take a look at all the things you have to look forward to when building your own ultimate sports performance home gym.
Improve Your Health
Maintaining your health should always be high on your priority list. Regular exercise is one of the best ways to do that and avoid that awkward moment at your doctor's office when they ask how often you hit the weights.
The optimal goal in life is to become the best version of yourself. Is there any better way to keep yourself challenged than creating fitness goals for yourself?
Boost Your Self-Esteem
As you continue to achieve the goals you put out for yourself, you are sure to boost your self-esteem.
Additionally, you should start seeing results in yourself after a matter of time. The more time and effort you put into your workouts, the more results you will see. You can maintain your momentum and continue building your self-esteem over time. Exercise is also responsible for stimulating the release of endorphins, dopamine, norepinephrine, and serotonin, all of which are critical players in mood regulation.
Convenience
Achieving your ultimate fitness goals can be daunting; sometimes, it's worth looking into anything that can make it easier. What makes hitting the gym easier than not having to leave the comforts of your own home?
That's right! Whether you're interested in creating a gym in your garage, basement, spare bedroom, or even backyard, building one on your property makes achieving your goals that much more comfortable in the long run.
Save Money
Did we mention the cost savings? Who doesn't love saving a buck or two?
It's important to know that while gym equipment can be costly upfront, you can say goodbye to monthly membership fees forever once you have completed your home gym ever. Thankfully, gym equipment is long-lasting, so the money you put in is well worth it from the get-go.
The average monthly cost for a gym membership is around $50, which is on the lower end of the scale. Any specialized gyms like Crossfit or HIIT gyms can quickly run you twice, if not triple that. If you add that cost up over time, it can be a significant amount of money. It can well exceed the cost of getting that same equipment in your home.
Save Time
If you're still not convinced about the benefits of building a home gym, take a look at this side by side comparison chart. While it might not seem like that big of a difference, anyone who has ever worked out in a commercial gym knows that a 45-minute workout can easily account for 3+ hours of your day.
| | |
| --- | --- |
| Home Gym | Commercial Gym |
| Change into workout clothes (dress code not enforced) | Change into workout clothes |
| Take a few steps to your home gym | Pack up gym bag with supplements |
| Warm-up | Commute to the gym |
| Listen to whatever music you want over your speaker | Warm-up |
| Mix up your protein shake | Wait for your equipment to be open |
| | Mix up your protein shake |
| | Commute home from the gym |
Sometimes, finding the time to squeeze in a workout in your everyday routine can get challenging. When it's a matter of steps away from the couch, it's hard to make excuses for yourself to skip a workout.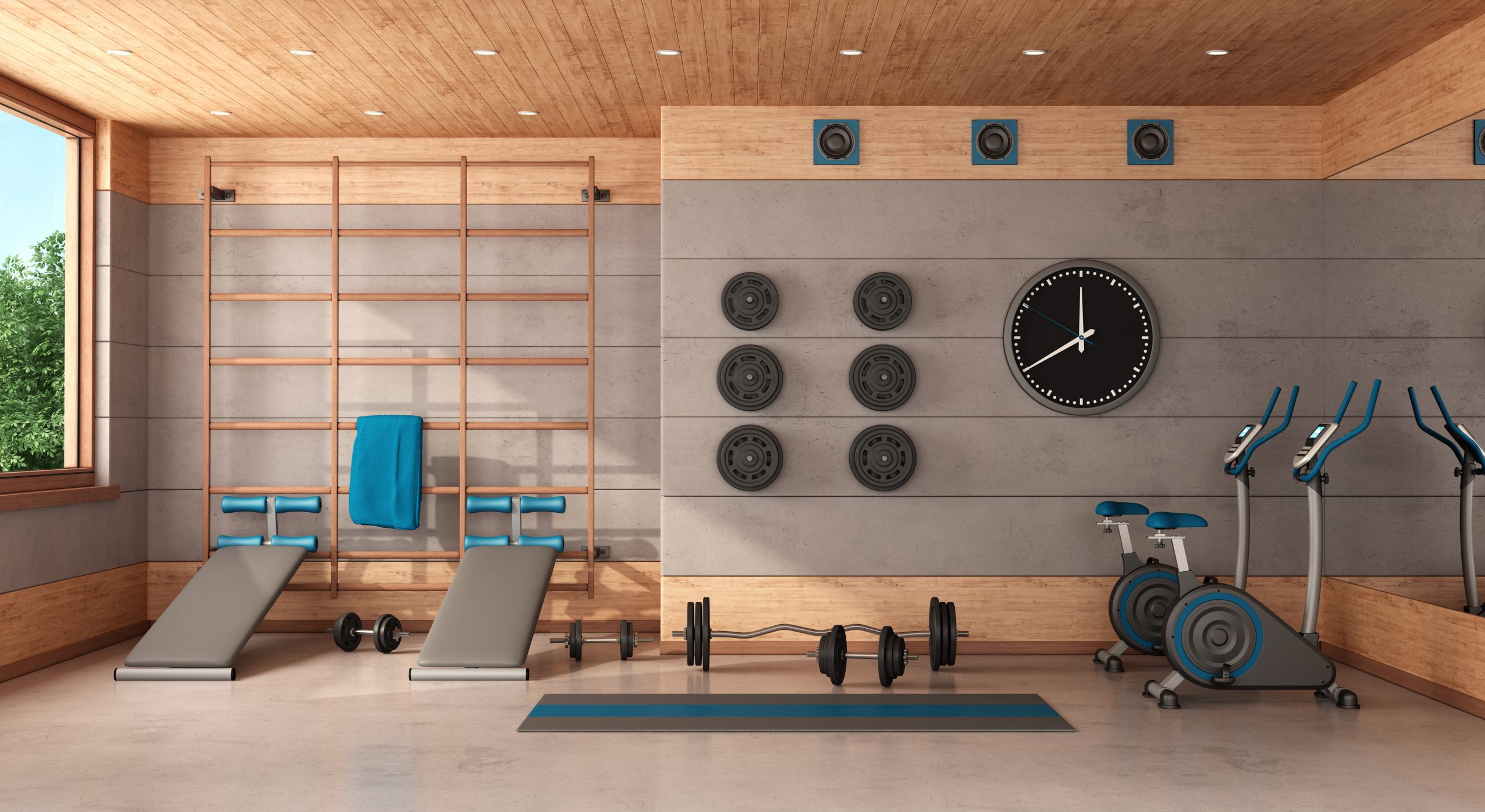 How to Setup the Ultimate Sports Performance Home Gym
Now that you've seen the potential benefits of creating your ultimate sports performance home gym, it's time to put your thoughts to action. Follow these five simple steps to make sure you design a space you are sure to utilize.
1. Find Your Space
Before you get your sweat on, you need to figure out a space that makes the most sense for your home gym. Depending on your climate, the outdoors might not be an option, but that's hardly an issue. Plenty of people have been able to make incredible home gyms out of spare bedrooms, offices, and even garages.
You'll want to have an idea of how much space you are going to need. You will need to keep in mind your equipment, storage, and extra floor space for stretching and warm-ups.
Lastly, make sure that you have a flat surface. Especially if you are looking to achieve the ultimate sports performance home gym, you will need heavyweights. Finding a hard flat surface is crucial to your workout and overall safety to avoid injuries or accidents.
2. Get Your Equipment
Once you've decided on your ideal space for your new home gym, it's time to figure out what type of equipment you're going to need. Hopefully, you'll have a general idea because you will need to know what sort of space you'll need.
The next thing you're going to need to do is detail out what your equipment will be.
Surprisingly, you don't need a ton of the big, bulky equipment to get a proper workout in. We'll get into the nitty-gritty details of the equipment a bit later on, but to start, here are the bare minimum basics you'll want to have.
Olympic barbell
Squat rack with a pullup bar
Weight plates
Bench
It's that simple! You'll be surprised at the level of workouts you'll be able to achieve with just these five items.
3. Setup Your Storage
With a setup as simple as we recommend, you won't have to worry too much about your storage space. You will want to keep in mind the storage for your weight plates, but otherwise, you shouldn't have to worry too much about additional storage.
4. Design Your Floor Plan
Now that you know what equipment you will be working with, you can start designing your floor plan. The amount of space you're working with will determine your different options. If you're tight on space, don't worry. With this basic setup, you can indeed find a way to get everything fitting with some adjustments.
Think about your flooring (we'll cover that a bit later on, too) and what you will need to maintain your sturdy flat surfaces. You might also want to consider adding mirrors so you can keep an eye on your form during your workouts.
5. Start Your Workout
Once you've come this far, it's time for the fun part – your workouts! Another benefit of setting your home gym up yourself is you can design it exactly the way you want to. You will always know where everything is, and it will be ready and waiting for you to use it.
Ideally, you'll have designed such ample space; you'll want to spend as much time as possible in there. Yet another benefit of building your home gym.
What Equipment Do You Need?
Undoubtedly, you can spend thousands upon thousands of dollars building up your ultimate sports performance home gym, but it isn't necessary. Truthfully, you can stick to the essential elements and have a home gym setup that will quickly pay off.
Start with the basics. Remember, you can always add to your gym as you begin to see your fitness needs.
Olympic Barbell
The Olympic barbell is a crucial element to your home gym. While you do have some flexibility in some of the other equipment we listed, we recommend going cheap on the barbell.
Your barbell will likely be the one piece of equipment you use the most. There is a big difference between high and low-quality barbells, so be careful.
If you're looking for a high-quality Olympic barbell, look no further:
Best Overall: Synergee Regional Olympic 15kg Hard Chrome Barbell
★ IMPRESSIVE DESIGN ★ – This bar made from high-grade steel, giving it a tensile strength rating of 190 000 psi and 1500 lb capacity (a 500 lb increase from the Synergee Open Barbell). You can depend on it for all your workouts no matter the weight.
★ EXCEPTIONAL PERFORMANCE ★ – The 1.2 mm diamond knurl provides the perfect amount of grip. 5 needle bearings per sleeve (10 total) provides great whip for weightlifting, yet enough stiffness for squats, deadlifts, and presses. Plus, its durable construction means a loaded Regional Barbell can withstand drop after drop, even from overhead.
★ VERSATILE ★ – These bars are best-sellers because they are affordable, functional, and perfect for athletes from every fitness domain. They can withstand the demands of aerobic and anaerobic exercises. That's why we include 2 knurl marks per bar – for power and Olympic lifts.
★ WHAT'S IN THE PACKAGE ★ – You have selected the 20 KG (45 LB), 28 MM Chrome Bar with a blue Synergee silicon ring.
★ NO SWEAT GUARANTEE ★ – Leave the sweating and swearing for your training! Buying from Synergee means quick, hassle-free, and caring customer service! Plus, we offer a better-than-money-back guarantee: if there is an issue with your product for any reason, we will send you a new one quickly and absolutely FREE! 100% Customer Satisfaction is our Number 1 Goal!
The Synergee Regional Olympic 15kg Hard Chrome Barbell is explicitly designed for strength training, HIIT, and CrossFit, making it the perfect addition to your home gym. It is built to last from high-grade steel and coated with a combination of chrome and black phosphate.
Pros
190,000 psi tensile strength
1,500 lb max load
Black phosphate coating helps prevent oxidation
Standard knurl with dual marks for grip
Cons
Limited warranty
Poor shipping packaging
If you want a sturdy, affordable Olympic barbell in your home gym, this is an excellent choice for you. The black phosphate coating helps prevent oxidation, which can be beneficial if your gym is outdoors or in more humid climates.
Unfortunately, some reviews mention insufficient shipping packaging leading to some issues upon arrival, but these are limited. Additionally, the barbell only offers a limited warranty, so the warping is not covered.
Runner Up: Sporzon! Olympic Barbell Standard Weightlifting Barbell
1-inch or 2-inch diameter bars at the length and color of your choice: 5-Foot, 6-Foot, 7-Foot
Bars are chrome plated with solid steel construction for repeated use and long lasting
Multiple knurling positions and lengths for your convenience and safety. All bars are rated 700-Pound capacity
0.97″ or 1.97″ bar end diameter to ensure bars fit all standard plates with holes 1″ or 2″; Can be used with dumbbell plates too
Bars only. Plates and collars are not included
If you aren't a super heavy lifter and are looking to save a few bucks, we've found this alternative to the Olympic barbell that would be a great addition to your home gym,
Pros
Multiple sizes available
700 lb max load
Chrome plated
Multiple knurling positions
Cons
Standard, not Olympic barbell
Light bar
Customization is critical with this barbell. Offering three different lengths and two different circumferences, you are sure to find the perfect fit for your home gym. With chrome plating and multiple knurling positions, your weight lifting sessions will be more efficient than ever.
The lower price tag comes with some downfalls. Despite the name of the bar, it is a standard bar, not Olympic. Keep that in mind if you are looking for heavier duty bars and lifting, this might not be the best option for you.
Squat Rack with Pullup Bar
The bulkiest part of your home gym is going to be your squat rack, rightfully so. Your squat rack is going to help you with a multitude of workouts, including:
Squats
Presses
Pullups
Dips
Raises
It's crucial to find a sturdy rack that you can trust when you need it. What's even better is that as you get acquainted with your new home gym, you can purchase a myriad of accessories, later on, to add to your squat rack.
Here are our top picks for squat racks with a pullup bar:
Best Overall: Fitness Reality 810XLT Super Max Power Cage with Lat Pull-Down Attachment
[HEAVY DUTY FRAME]: 800 lbs. weight capacity with heavy duty frame construction. Large walk in space providing easy side to side movement. 2″ x 2″ square steel frame construction. Multi-position over head chin up/pull up grip bars
[CHROME SAFETY BARS]: Two 3 ¼" long chrome lock-on safety bars. Two 23" long chrome dual mounted safety bars. 19 adjustable height levels for the safety bars. Safety bars are compatible with 7' Olympic bars. 2 Rear stability bars
[BALL BEARING PULLEY SYSTEMS]: Includes high lat and low row pulley systems with high tensile strength nylon coated cable. Easy glide 2" x 2" chrome guide rail for smooth operation. Includes one 39" lat bar and one 20" low row bar attachments
[ADJUSTABLE LEG HOLD-DOWN]: Leg Hold-down can shift along the long safety bars for your comfortable secure position. The height can be adjusted by shifting the long safety bars up or down along the cage height. Two adjustable foam rollers included. Multi-position over head chin up/pull up grip bars
[EXTRA SPACE]: Extended lower rear cross bar provides extra space for fitting in benches and footrest for seated row exercises. 6. 5" Long x 1″ diameter weight plate storage post with 270 lbs. weight capacity. Two 1-inch Spring Clip Collars included
A sturdy squat rack is an absolute must in terms of obtaining the ultimate sports performance home gym. When lifting heavy, you want to make sure you can rely on your rack to have your back. The Fitness Reality rack will give you the support you need when you need it.
Pros
Bars with 800 lb weight capacity
19 height level adjustments
High and low row pulley system
Large walk-in space
Cons
Some experienced shipping issues
Not commercial grade
The Fitness Reality squat rack offers a multitude of varying options to change your routine around as needed. With two safety bars with 19 different height adjustment levels, you are sure to get a comfortable fit for you in your home gym.
If you are outside of the United States, you might experience some issues with missing items in shipping. Customer service is quick to alleviate any problems you may have. Also, keep in mind that this rack is not commercial-grade but is excellent for a home gym option.
Runner Up: HulkFit 1000-Pound Capacity Multi-Function Adjustable Power Cage
Purpose – This rack setup includes Circle Dip Bars, Multi-grip Pull Up Bar, J-hooks, and Safety Bars or Straps. Steel 2.35" x 2.35" frame provides more stability with multiple mounting holes; NOTE – The safety bars or straps inventory is commingled.
Usage – Improve total body strength in your home gym; Strength and conditioning routines include strength, body weight, resistance band, and circuit training; Use our Pro Series attachments to round out your workout experience.
Materials – High gloss paint, powder coated 13 gauge steel; What's Inside – (1) Pro Series Power Cage, (2) Circle Dip Bars, (1) Multi-grip Pull Up Bar, (2) Safety Bars with J-hooks or (2) Safety Straps (2) J-hooks, hardware and instructions.
Product Specifications – Total Product Dimensions 85" x 44" x 47", Circle Dip Bars 15.75" x 10.1" x 5.5", Multi-grip Pull Up Bar 43", Safety Bars 32″, Safety Straps 32" x 5.5" x 2.25"; Product Weight – 140 pounds; Weight Capacity 800 pounds.
If you're looking for a heavier duty option for a squat rack, look no further. The HulkFit squat rack has a 1,000 lb weight capacity and comes with four J-hooks to customize your workout. They also offer tons of additional attachments to help you get the exercises that you need.
If you have a heftier budget, there is also an elite option that offers the lateral pull-down.
Pros
1,000 lb weight capacity
Four J-hooks included
Two circle dip bars
Cons
Some experienced shipping issues
Misaligned holes
Let the HulkFit squat be the centerpiece of your home gym, without stressing and paying an arm and a leg. This squat rack is sure to fulfill any of your gym needs while offering support for up to 1,000 pounds.
Shipping can be a bit challenging with equipment this large. Some people found that the pieces arrived bent or holes were mismatched. Reaching out to customer service should have these issues fixed, should you face them with your order.
Weight Plates
You've got the squat rack and the barbell; next up, you'll need weights to hang. Weight plates are one that you can go a bit cheaper on, as they are pretty standard. You can find weight plates in all sizes and materials, so it might be a personal preference when you're shopping around.
Here are our picks for home gym weight plates:
Best Overall: AMGYM LB Bumper Plates Olympic Weight Plates, Bumper Weight Plates, Steel Insert, Strength Training, Pair
Fits all Olympic barbells with 2-inch sleeves. Each plate boasts IWF standard 450MM / 17.72″ inches in diameter and thickness varies by weight (thinner width than most comparable plates on the market, enabling more weight to be loaded on the bar.). PACKAGE INCLUDE : 2X45LB weight plates
A good bumper plate set is the centerpiece for modern HIIT training. Perform Olympic lifts, squats, and deadlifts safely and confidently with our tough.
100% High-Density natural rubber durable with a low-bounce, withstand repeated drops. Protect any type of floor and your bars.
Expertly designed stainless steel "hooked" insert that remains firmly seated, keep balance.
AMGYM Bumper Plates are available in 6 weights: 10LB, 15LB, 25LB, 35LB, 45LB, 55LB . Good for strength training, weightlifting, crossfit, etc. All the plates come with 3-year warranty!
Rubber bumper plates are a great option, especially when it comes to home gyms. The rubber plates help to protect not only the weight but the flooring of your gym. The AMGYM plates offer quality at affordable pricing.
Pros
100% high-density natural rubber
Hooked insert
3-year warranty
10, 15, 25, 35, 45, 55-pound options
Cons
Some experienced shipping issues
It does not look like the picture
Having great weights to go with your entire setup is a must. Look no further than AMGYM bumper plates. High-quality rubber will ensure your plates and gym flooring last.
Some buyers found issues with receiving only one weight at a time. Luckily, that's an easy sort out with customer service. A three-year warranty also backs them should any other issues come up.
Flat Bench
Flat benches don't always get the hype they deserve. Some people believe flat benches can only be used with bench presses, but that's not the case. Surprisingly, flat benches can be a rather versatile piece.
Aside from the standard bench press, you can also use your flat bench for the following:
Squats
Box jumps
Rows
Split squats
While the flat bench is a simple piece, it can be pivotal to your workouts. Check out our top pick for a flat bench for your home gym:
Best Overall: Marcy Flat Utility 600 lbs Capacity Weight Bench for Weight Training and Ab Exercises SB-315
FULL-BODY WORKOUT – This Flat Utility Bench is a high-functioning workout equipment that lets you perform a full-body workout to enhance your body the way you want. Build a better-looking physique by doing different exercises with this versatile bench.
HEAVY-DUTY CONSTRUCTION – This bench has a durable construction providing a max weight capacity of 600 lbs. The heavy-duty steel tube frame ensures steady support for the bench, and the high-density foam and boxed upholstery provides maximum comfort.
SPACE-SAVING DESIGN – This bench is designed for perfect space-saving. Its heavy-duty steel frame is highly durable and is designed to maximize your mobility. Make every workout more efficient that combines practical design and performance
POWDER-COATED FINISH – Reinforced with powder coating, the Marcy Flat Utility Weight Bench resists wear and tear from heavy use and strenuous workouts, guaranteeing you an excellent, long-lasting investment for your home gym.
PERFECT FOR HOME USE – This versatile gym equipment lets you get all the benefits of an intense gym session at home. Perform as many exercises to target and build specific muscle groups in the comfort of your home. 2-yr manufacture's warrenty included.
Focus on a full-body workout with a flat bench that you can trust. This flat bench is designed to save space while still providing a sturdy piece of equipment. It is meant for a home gym with heavy-duty steel tubing and powder-coated finis; you can ensure this will be a long-lasting element of your gym.
Pros
600-pound weight capacity
Steel tube frame
High-density foam
2-year warranty
Cons
Chemical smell
Missing parts
Utilize this high-functioning piece of equipment as you complete your full-body workouts from the comforts of your own home. With a weight capacity of 600 pounds, this bench has been constructed heavily but is still lightweight enough to be a versatile piece in your home gym.
Some who have purchased this flat bench have mentioned a strong chemical smell upon unboxing. Luckily, the scent is short-lasting, and the bench just needs to be aired out. Others said they were missing parts, but the customer service was quick to alleviate the issues.
Jump Rope
Another highly underrated piece of workout equipment is the tried and true jump rope. While some think of it as a playground game, jumping rope is a killer workout. Not to mention, it's inexpensive and takes up little space making it the perfect addition to any home gym.
Use it for a great warm-up, integrate it into your work out, or even use it as a cool down. Jump ropes are multifaceted pieces you don't want to skip out on.
Here's our pick for a quality jump rope:
Best Overall: DEGOL Skipping Rope with Ball Bearings
Smooth and Fast: the ball bearing system avoids the twisting, winding or bending like other fitness ropes, it ensures stable and relaxed rotation, as our skipping rope can bear heavy load, which brings your a perfect exercise of skipping rope, also provides the best fluency for elite fitness professionals.
Sports Fitness: our exercise skipping rope can shape your cardio endurance, stamina and speed, while improving the muscle tension of your whole body. A great choice for boxing, MMA and cross training.
PVC Embedded Wire Rope: the braided steel wire rope is coated with PVC, which features durable and smooth, ensures the maximum service life and avoids cracking or breaking.
Maximum Comfort: the gym skipping rope constructed with light weight ergonomic handles coated with 6 inch soft EVA memory foam grips for extra comfortable and strong grip, so that you can You can take full advantage for doing exercise.
Adjustable Length: design with 9 feet long of the rope, it can be adjusted quickly according to your height. Suitable for adults and children.
The adjustable length of the DEGOL jump rope makes this heavy-duty rope an excellent pick for the gym. With a comfortable hold, your jump rope can last long workouts and repetitive use.
Pros
Sweat absorbing EVA-inner sponge
Comfortable EVA-outer sponge hold
Adjustable rope length
Bold PVC with embedded wire rope
Cons
Too long
Too soft of grips
Don't overlook jump roping when it comes to your workout. Make sure you find a heavy-duty rope that will withstand all speeds and repetitions. With sweat-absorbing sponges in hand, you don't have to worry about the handles slipping from your grasps in the middle of a heavy workout.
Jump rope grip can be a personal decision, and some found this jump rope to be just a little too soft. Also, at six feet long, people found it a bit too long. Luckily, it is adjustable, so you can make it as long or short as you are most comfortable.
Conclusion
So what's next for you? You've seen the benefits that creating a home gym of your own can bring to you and how simple the process can be. Now it is up to you to execute and get started!
Don't be burdened by monthly membership fees. Select your five quality pieces and map out your design. While it might seem intimidating at first, you'll see that it isn't. The key is to start simple and add as you go.