The right golf shoes are going to be an important part of your golfing competition or practice session. Traversing 18 holes throughout the day ends up being a lot of walking, so it would be better if you have the most comfortable shoes available.
Luckily, there are various options for shoes explicitly made for golfing, with most major athletic brands like Nike, Puma, Adidas all with numerous golf shoe models.
Looking for the best walking golf shoes will ultimately depend on your personal preferences, but ideally, you should be looking for shoes made from top-quality materials and soft. Most Golfers also tend to prefer shoes that do not take to break-in and are comfortable right out of the box.
At first glance, golf shoes may resemble conventional athletic sneakers or running shoes, but they are often made from leather-based materials for a more high-end aesthetic. If you are a more traditionalist, you can even find shoes that look like classic saddle shoes, or if you have wider feet, some shoes with wide toe boxes.
Here is a diverse list of some of the best golf shoes available.
1) Footjoy Men's Flex Golf Shoe
These shoes are some of the more stylish options but with some great specs as well. They have a sleek upper made from textile with added mesh for increased ventilation. As such, these shoes are incredibly breathable and limit too much sweat build-up on the course.
Also, this comfortable golf shoe is relatively lightweight and comes with a cushioned insole that keeps your feet feeling both supported and comforted throughout the day. Also, while it is both comfortable and lightweight, it does not compromise on stability and durability. These shoes are long-lasting and provide great arch support for your feet.
However, this flex gold shoe does come with a couple of drawbacks. Firstly, these shoes are known to be one of the best spike-less options on the market, so this may not be the best bet if you like to have spiked golf shoes. Also, while stable, many customers have claimed their waterproof golf shoe characteristics are not the best and have encountered some problems on wetter golf courses.
2) Adidas Men's Tech Response
Adidas has built up a sterling reputation in the footwear industry, and this golf shoe model lives up to it. The Tech Response comes with a classic aesthetic as well as superior specs. It is constructed with microfiber leather and a mesh upper that is comfortable and durable, even in wet weather. It also has a synthetic material insole that provides enough support for you to comfortably stand for hours during a long session on the green. These shoes are also great for added traction due to their 6-spike system.
Overall, this spiked golf shoe has garnered positive reviews from most users due to its maximum comfort, traction, and water protection, as well as its classic aesthetic. This Adidas shoe comes in four different colors.
3) Puma Men's Grip Fusion Sport's Shoe
Puma shoes are known to be some of the best golf shoes for walking, and this is also true of the Grip Fusion Sport's shoe. This model is designed with an aesthetic similar to the one you would see on a trainer or a sneaker and endorsed by PGA Tour legend Rickie Fowler.
These shoes come with a slick upper mesh built for optimal comfort and breathability. They also have a nice rubber sole that gives these shoes excellent traction capabilities. The insole is also cushioned adequately with 'Fusion Foam' tech, making these shoes incredibly comfortable for most users.
One major drawback of these shoes is mainly their lack of waterproofing capabilities. However, they are still a great golfing shoe that comes in many different sizes and unique sets of coloring options.
4) Nike Explorer 2
As most readers know, Nike is one of the most well-reputed shoe brands globally and has done this again with Explorer 2. These shoes come in a more traditional aesthetic and with a variety of different sizing and color options.
Its upper is constructed with a melange of both leather and mesh that makes these shoes both well-ventilated and well protected against rain and wet surfaces. Its rubber outsole also provides your feet with some added grip without the spikes that often damage the green as you walk through the course. The Explorer 2 also comes with a nice comfortable insole as well with reliable cushioning.
One drawback of the Explorer 2 is the heavier weight since it has not been designed to be a lightweight shoe. For some golfers, this can be off-putting, but it is still one of the best golf shoes for walking you will find.
5) Puma Grip Fusion Sport Golf Shoe
This model from Puma is a great stylish shoe that comes in multiple colors. It also comes with no spikes but still provides you with enough grip to properly traverse the green even in wet conditions without degrading over time.
These shoes are made with a microfibre upper which is both waterproof and ventilated. These shoes are also very comfortable because of Puma's trademark 'Fusion Foam' insole. They are also well-cushioned near the calf as well for more arch support.
Most customers loved the show, but some claimed that the leather material used for the shoe was a bit circumspect.
6) Adidas Men's Traxion CP
This is another great model from Adidas that consistently produces some of the best golf shoes for walking. The Traxion is a great model that comes in sizes from 7-upwards with options for wider feet and three color options: white, grey, and black.
As for the shoe's specs, it is made with a microfibre upper that makes the shoe both well-ventilated and water protected. They also come with a nice spike-less rubber outsole that comes with great traction and durability. As for the insole, it is designed for maximum comfort and lives up to it with its nice sock-liner.
7) Adidas Adipower
To follow with yet another Adidas model, the Adipower is a great spiked shoe that comes with both nice aesthetics and detailed sizing options.
These shoes are made with microfiber leather and a textile upper. This means that these shoes are strong and durable and provide some, if not ideal, waterproofing on wet surfaces. They also come with heel and sole padding designed to add more comfort. They also have great spiked outsoles that provide nice support and traction.
According to most users, these shoes are well received, but some complain that the comfort level is not as great as advertised. Also, some users who regularly golf in wet conditions may feel the waterproofing is not sufficient.
8) Ecco Biom H4 Golf Shoes
Ecco has built up a nice reputation for producing some of the best golf shoes for walking, and the Biom Hybrid 4 lives up to that name. It is one of the best spikeless golf shoe options on the market, with great specs and a stylish aesthetic.
Their shoes are equipped with FluidForm technology, which helps use fluid materials to comfort your feet inside the shoe. These shoes are also nice and roomy for your toes while also helping your shoe feel nice and secure, making it ideal for those with wider, flatter feet.
As for their outsoles, they come with great grip and stability. Lastly, these shoes are well-ventilated and waterproof, which means that your feet can breathe while being simultaneously protected from wet grass.
One possible drawback is that they are not equipped with the softest underfoot cushioning, but on the golf course, this may be a benefit since it provides your feet with a solid base to swing.
9) FootJoy Pro/SL Carbon Shoes
The Pro/SL Carbon shoes come with a carbon fiber insole that fits into the midsole for added stability on the green. Additionally, these shoes also come with great padding around the ankle to make them one of the more comfortable golf shoes for walking. These shoes also have two-tone lacing, so your feet feel extra secure inside. These shoes are also a great spikeless shoe option that still provides the wearer with excellent grip and excellent traction on the green.
10) Puma Ignite NXT Shoes
The Puma Ignite NXT shoes are some of the more sleek summer golfing shoes you will get with a nice sporty aesthetic.
These shoes are comfortable and come with added grip and stability for the wearer. Puma equips these shoes with their trademark TPU outsole, which is lightweight and comes with hexagonal lugs for increased traction.
Overall, these shoes are a great summer shoe option for users seeking comfort. However, one major drawback with these shoes is their lack of waterproofing capabilities.
Buyer's Guide
When it comes to choosing the right golfing shoes, a lot of it will come down to your personal preferences. For some, comfort and stability are important, while others value traction. However, here is a list of things to consider before you purchase some new golfing shoes.
Spikes
Your view on spikes will ultimately come down to your own personal preferences. For example, many golfers value the feeling of spiked shoes as they traverse the course, while some find them a bit cumbersome to walk in.
However, overall a spiked shoe will almost always provide superior traction on the course when the grass is wet, although some new spike-less outsoles have sought to fix this. Also, spikes are not very good for the grass on the course, and some courses even ban spiked golf shoes, so check with your local course before choosing a spiked shoe.
Comfort
This will be one of the most important things to consider before buying a golfing shoe. It will be extra-important to have a comfortable shoe as you walk through the course and when you get ready for each swing you take. Also, you should make sure your sole connects well with the ground. It may also help to have padded insoles as well.
If your shoes are not comfortable, your feet will hurt, and your golfing results will suffer as a result.
Waterproofing
While all the shoes on the list are top-notch, not all are designed with wet weather conditions in mind. Especially when designed for optimal ventilation and breathability, golfing shoes sometimes fall short in terms of waterproofing. If you regularly play in the rain or soggy grass, then waterproofing capabilities will be key to your comfort and traction on the green.
Breathability
Going through an 18 round course can take a lot of time and force you to walk many miles, so your feet must be able to breathe. The best mesh and microfiber materials will ensure proper airflow and keep from sweating too much. Dry feet are a key component of comfort, so this will be a feature to look for.
Stability
Stability and traction are going to play a key role in your golfing shoes. Not only do you need them to walk long distances, but also to properly balance yourself on each swing. The right outsoles, both with spikes and without, will make a huge difference in your game performance.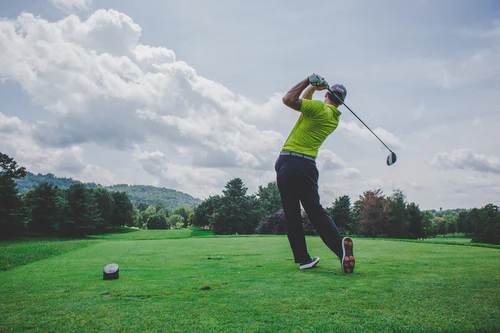 Frequently Asked Questions (FAQ)
How do you add spikes to your golf shoes?
Golf shoe spikes are already installed previously. To add the spikes yourself, you may need a wrench that you can purchase separately. Be careful to purchase the right wrench for the right spikes, as one size may not fit all.
Should I clean my golf shoes?
You must clean your golf shoes as often as possible. It may be best to clean your shoes every time you enter and exit the golf course. The upper part of your shoe needs to be properly wiped and cleaned, and the cleaning process will differ depending on the upper's material. Your outsole should also be well brushed to make sure your shoe traction is not affected.