Finding the best running shoes for high arches can be tricky if you don't know what you are looking for. Folks with feet with high arches, especially runners, know how annoying and painful it can be to deal with this abnormality daily.
Feet that have high arches are also known as "cavus foot" or Pes Cavus, which is when the arch in your feet is higher than the average person. Having a cavus foot means all of your weight is being supported by the heel and ball of your foot when you are walking, running, standing, doing essentially anything that involves being on your feet.
Most of the time, people who have these high arches or "cavus feet" inherited them naturally when they were born. However, they can form over time due to various medical conditions such as muscular dystrophy or cerebral palsy.
It is also more commonly seen on women's feet than men, and if not treated properly, it will only worsen over time. There is no specific treatment to fix a high arch overnight, but there are ways to help ease the pain and make everyday life more manageable when you are on your feet.
Investing in a high-quality high arch running shoe built to support those high arches is a great place to start. No matter what you do for a living or where you live, you are going to be up and on your feet for at least part of the day. Wearing a supportive and cushioned high arch running shoe can help relieve some of the pressure and pain from the balls and heels of your feet.
A good pair of running shoes can also help prevent cavus foot from developing other painful conditions such as shin splints, sore Achilles tendons, or plantar fasciitis.
Today, we will look at some of the best running shoes for a high arched foot, so you can get back to feeling comfortable and happy on your feet. We will compare common and helpful features such as support, cushioning, material, traction, and more.
Let's dive into the best running shoes for high arches so you can relieve some of that dreaded foot pain.
1. ASICS Men's Gel-Venture 7 Running Shoes
The first shoe on our list is the men's gel-venture 7 running shoes from Asics. These men's running shoes are designed to support runners' feet with its rearfoot gel technology system. This gel technology helps absorb shock upon impact, which helps create a smoother transition to midstance.
The ORTHOlite sock-liner molds to your feet and creates a snug and supportive feel the entire time you are on your feet while also being breathable and moisture-wicking.
The EVA midsole of this trail running shoe also provides extra support and durability, which is extremely important for people with high arches. These shoes for cavus feet also have a  sturdy leather synthetic upper, which helps keep your feet in their natural line of motion. You can purchase these shoes in a wide variety of colors on Amazon.
Pros
Rearfoot gel technology system provides support
This shoe is designed for runners in mind
Cons
Does not mention any cushioning features
2. New Balance Men's Fresh Foam 1080 V10 Running Shoe
The second shoe we would recommend to people with high arches is the men's Fresh Foam 1080 V10 running shoes from New Balance. This neutral running shoe is built with tons of support and comforting features, which is precisely what people with cavus feet need.
They have Hypoknit upper specifically designed to provide support and stretch in the areas that need it most, along with an ortholite sock liner to provide that perfect, custom fit. The sock liner also helps with flexibility and is lightweight enough so your feet will not be sweating all day.
The mesh upper also assists in providing breathability, and the blown rubber outsole has excellent traction for running on just about any surface. In addition, these running shoes are known to have a great fit due to their bootie upper construction and ultra-heel design. This is extra cushioning and support for the back of your foot to help keep your foot in place for long runs.
You can purchase these running shoes from New Balance on Amazon in 8 different colors.
Pros
Built with ortholite sock liner, which helps form to your foot
Lots of foam cushioning which is excellent for high arches
Cons
On the more expensive side
3. Brooks Women's Adrenaline GTS 21
The next shoe is from the brand Brooks, and it is the women's adrenaline GTS 21 running shoe. These running shoes are built for support and stability; this is clear because they are certified PDAC A5500 Diabetic shoes and have been granted the APMA Seal of Acceptance. Not only are these running shoes a great choice for people with high arches, but they also use Guiderail's holistic support system, which helps prevent knee injuries. In addition, the 3D-printed mesh upper creates a sleek and lightweight design that provides flexibility and breathability.
Brook's knows how to provide proper comfort and cushioning with its DNA loft crashpad cushions in terms of cushioning. They work with BioMoGo DNA to help cushion every step, regardless if you are walking or going for a long run. It is also just the right amount of cushioning to help with overpronation and provide stability without being too soft. You can find these shoes in a ton of different colors on Amazon.com
Pros
Built with DNA loft crashpad cushions which is great for support for high arches
Certified diabetic shoe and has APMA seal of acceptance
Cons
4. Saucony Women's Omni 19
These running shoes for high arches are from the brand Saucony, and they are the women's Omni 19 running shoes. These shoes are a great way to support your feet if you have Pes Cavus, whether you are running or just walking to the grocery store. They are built with a TPU heel counter which helps with gait guidance, and the formfit material surrounding the entire shoe is comfortable and breathable.
The Triflex outsole provides stability and support for your arches and simultaneously provides an added spring to your step, which is great for long walks and runs. To top it all off, these running shoes are built with medial post supports, which help maintain your body's alignment and add an extra element of control.
You can purchase these running shoes for high arches on Amazon, and they are available in four different colors.
Pros
3D comfort surrounding the entire shoe
Built with medial post supports to help with body alignment while running or walking
Cons
Does not discuss many cushioning features
5. ASICS Women's Gel-Cumulus 22 Running Shoes
Next on our list are the Asics women's gel cumulus 22 running shoes, and they are here to help relieve some of that high arch aching pain. Using FlyteFoam Propel technology, a unique foam formulation that Asics created, helps provide extreme cushioning and bounce in every step.
This bounce happens since the foam is made with a unique elastomer compound, which also provides flexibility. The outsole is made out of a High Abrasion Rubber with the right amount of grip and traction to provide you with the durability and stability you need to last all day on your feet.
The best part about this shoe is the rearfoot and forefoot GEL Technology cushioning system, so they are so great for Pes Cavus condition. It provides great cushioning along with helping absorb shock and "allows movement in multiple planes as the foot transitions through the gait cycle." You can find these shoes on Amazon in over 15 different colors.
Pros
Rearfoot and forefoot gel cushioning technology
Made with a unique foam formulation with elastomer compound for bounce and flexibility
Cons
We can't seem to find any cons about this product!
6. Brooks Women's Ghost 13 Running Shoe
The last shoe on our list is also from the brand Brook's, and it is the women's Ghost 13 running shoe. This shoe is a reliable and certified PDAC A5500 Diabetic shoe. They are designed to completely adhere to your unique foot, creating a sleek and soft feel by incorporating newly engineered mesh and a 3D fit print. This also provides flexibility and breathability without compromising comfort or support.
This shoe provides high energizing cushioning, which is great for runners or people who do many high-intensity exercises. The segmented crash pads provide excellent cushioning and shock absorption for every step.
The BioMoGo DNA and DNA LOFT cushioning provide just the right ratio between stability and softness, which is great for people with high arches since both factors are essential in helping to relieve your foot pain. You can purchase these running shoes for high arches on Amazon in a vast selection of colors.
Pros
Provides just the right amount of stability and softness
Has high energizing cushioning, which is great for running and exercise.
Cons
Does not discuss traction or grip features
Buyer's Guide
Now that you have looked over some of the best running shoes for high arches and high arch support, let's go over some of the important features you should keep your eye out for. This way, you can invest in the right pair of running shoes that will help with everyday high arches, aches, and pains.
Cushioning
The first thing you should be looking at if you have high arches and want to invest in a new pair of running shoes is the amount of cushioning. You don't want so much cushioning that the stability and support are compromised, but enough that you feel like your foot won't be sore after wearing them for one day. Softness and cushioning are two different things, make sure you look for cushioning technology rather than just a soft shoe.
Support
Next and equally as important as cushioning is the support and stability of the shoe. You are looking for something that will support your arches throughout the day and keep your feet stabilized. This can come from the cushioning, the midsole, and the outsole, so make sure to look over all aspects of the shoe before committing.
Comfort
You want to make sure the shoe is comfortable on your foot before buying them. It is normal to take a few days to wear them in, but if they don't sit right and support the places you need support, they might not be the right shoes.
Price
Lastly, you will need to consider the price of your new running shoes. Most running shoes on our list run on the more expensive side, but they are high quality and will last longer than a cheaper, less quality running shoe.
Conclusion
The bottom line is, investing in a high-quality pair of running shoes with the right amount of support and cushioning can help with the pain of high arches. It is an easy and effective way to relieve some aching and pain and can be worn whether you are running or just walking around the office at work.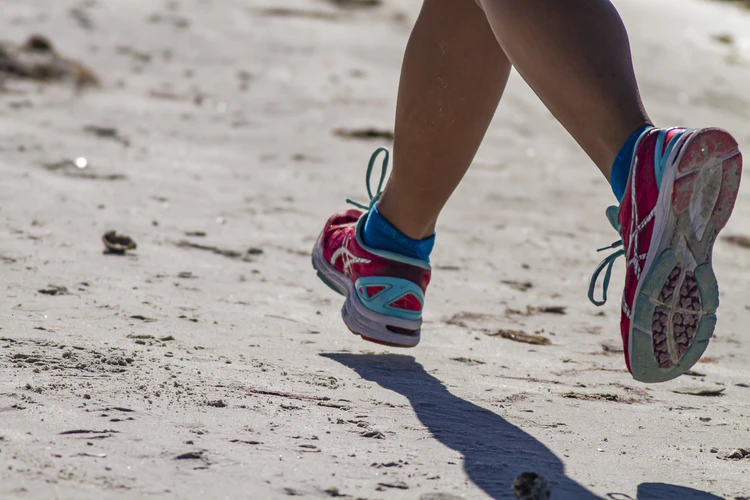 FAQ (Frequently Asked Questions)
How can I tell if I have high arches?
Most people will already know if they have high arches, but an easy way to tell is to do the wet feet on a paper test. Wet the bottoms of your feet and stand on a piece of paper so you can see your feet on the page once you stand up. This way, you will be able to see if your arch touches the paper or not; if not, then you have high arches.
What kind of shoes other than running shoes can I wear that will support my high arches?
Any shoes with the right amount of support and cushioning will help with your high arch pains.
Is it likely I will develop high arches later in life?
It can happen at any time, but most people are born with high arches.
Why do you need specific running shoes for high arches?
When you have high arches, it typically means tat you less flex in your foot. This may mean you need less support but ample cushioning to support your high arches.
Do high arches need a stability shoe?
A stability shoe is good for runners with high arches because they need a comfortable shoe with more cushioning and ample shock absorption. A stability shoe helps when you need more stability due to a more rigid foot type.
Can the right insoles help high arches?
If your feet have high arches, you can discuss this with your podiatrist to see if you can get custom orthotics. The right insoles can offer high arch support and extra cushioning and shock absorption between your feet and the ground when running.
Can the right running shoes for high arches help with plantar fasciitis?
Running shoes are important if you suffer from plantar fasciitis. The right running shoe is also good for other overuse biomechanics injuries because they can provide proper support and cushioning to reduce the biomechanics that cause injuries like plantar fasciitis.
Last update on 2021-09-24 / Affiliate links / Images from Amazon Product Advertising API