Running is one of the best cardio exercises suitable for nearly everyone. In addition to helping you burn off more calories, running also helps improve your lungs so you can breathe better and relax. It also improves your heart health by reducing the risk of cardiovascular problems.
However, getting running shoes isn't as simple as heading out to the store and picking up any pair. You have to consider the type of feet you have, and whether it supinates.
By the way, what exactly is supination? And how can it be an issue when running?
We all understand that having a great posture is beneficial to your overall health. However, supination can make having a good posture a lot harder. Supination happens when most of your weight is placed on the outside of your feet. This causes structural issues since you force your feet when walking, jogging, or running.
Supination occurs when you don't use the proper muscles to run or walk correctly, and this can be dangerous for your bones, hips, knees, and ankles. This is why it is important to get running shoes that can help counter the problem.
If your feet supinate when you walk or run, using the wrong type of running shoes can place excessive stress on your feet and may cause severe problems in the future.
For this reason, you should invest in the best running shoes for supination. You don't have to be an avid runner to benefit from the many benefits these types of running shoes provide.
What to Look for in the Best Running Shoes for Supination
The first thing you need to search for is high archers. This means that your feet have to perfectly fit in the running shoes and there should be no feeling of excessive weight on any part. When you place the back of your foot in a much higher position, you force your foot to balance out the weight to remain stable.
Flexibility is another important factor to consider when getting the best running shoes for supination. Avoid running shoes that offer no support. You don't want a shoe that forces you to stand in a particular way that is unnatural for you.
If you try to force your foot to be in one place without letting it move along with the shoe, walking and running will be uncomfortable. Additionally, your feet will begin to make indents in the shoes until they fit better.
What this means is that if you tend to place your weight on the outside of your shoe, then your feet are bound to make indents on the outside of the bottom. The most effective ways to counter supination are foamy and soft cushions.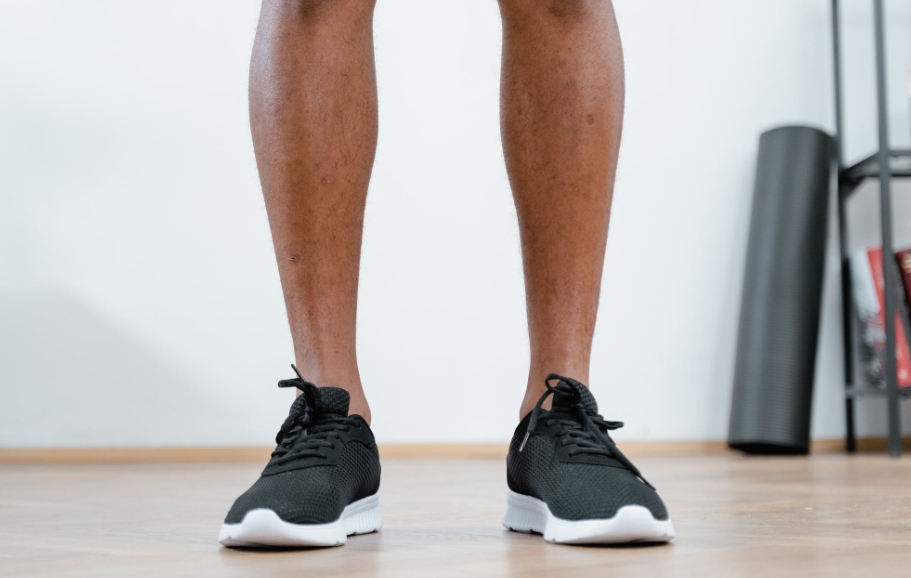 Of course, the last thing you want to do is to get a running shoe that's too wide for your feet. That is why you need to focus on finding shoes that fit snuggly but are not too tight that they hurt your feet.
You must pay attention to how the shoes naturally feel when you wear them. Don't make the mistake of choosing a pair of running shoes just because they are from a popular brand. Balance is absolutely important when choosing running shoes.
Keep in mind that every individual is different. And that means your feet are different from your friends or training mates. Not everyone's feet are suited for shoes from the most popular brands. The best running shoes for supination are those that allow you to feel safe, sound, and secure in them.
If you have cramps in your calf or your shin when you wear a pair of running shoes, it means you aren't properly balanced. While you can fix this using cool-downs and warm-ups, if you don't understand how your muscles work, it might be quite difficult to correct this problem.
Muscles tend to work in pairs, like the calf and the shin. If you supinate, all the stress is placed on your calf and none on your shin (or vice versa) during a movement. If your feet supinate when you walk or run, your movements are irregular and you will need the best running shoes for supination to correct this.
The Best Running Shoes for Supination
1. Brooks Men's PureFlow 7
The Brooks Men's PureFlow 7 is designed to offer maximum support for people with supination. It is an excellent pick regardless of the road or trail where you run. The shoes are designed to be both durable and functional, and they work well for just about any running style, whether it is long-distance or fast-paced runs.
Brook's constructed the Levitate Stability Running Shoes to have a responsive BASF sourced midsole. This feature helps provide consistency without any squishiness. The comfort derived from these running shoes is second to none as the midsole is efficient and supportive during transitions.
Pros
Seamless interiors
Comfort with all transitions
Super responsive ride
Cons
2. New Balance Men's 990v4
New Balance Men's 940 V4 Running Shoe, Magnet/Marine Blue, 10.5
12 mm drop; due to variances created during the development and manufacturing processes, all references to 12 mm drop are approximate
ABZORB midsole absorbs impact through a combination of cushioning and compression resistance
Dual density post offers added stability
Synthetic/Mesh Upper
12 mm drop; due to variances created during the development and manufacturing processes, all references to 12 mm drop are approximate
These running shoes are constructed from the very best textile and leather grades, making them very durable. They have a rubber sole as well as a supportive leather overlay design. This feature combines with the breathable upper mesh to ensure the user is in total comfort during their running sessions.
The New Balance 900v4 is created with dual density materials to provide extreme stability and protection. The outsole is constructed from blown rubber.
New Balance Men's 990v4 is one of the sturdiest running shoes you can find on the market.
Pros
3M reflectivity feature
Support
Sturdy upper construction
Cons
3. ASICS Men's Gel-Kahana 8
Sale
ASICS Men's Gel-Kahana 8 Running Shoe, Black/Classic Red/Phantom, 10 Medium US
Rear foot GEL Cushioning System: Attenuates shock during impact phase and allows for a smooth transition to midstance.
SpEVA Midsole Material: Improves bounce back characteristics and decreases midsole breakdown.
DuoMax Support System: A dual density midsole system positioned to enhance support and stability, positioned sport specifically.
Trusstic System Technology: Reduces the weight of the sole unit while retaining the structural integrity of the shoe.
Trail Specific Outsole: Reversed lugs provide uphill and downhill traction on all types of terrain.
The ASICS Men's Gel-Kahana 8 is one of the best running shoes for supination in the market today. This running shoe is created to mitigate shock from footfalls while providing adequate levels of balance irrespective of the road surface.
They are manufactured and designed using ASICS's rearfoot GEL cushioning system. This provides a smoother transition in midstance and further improves the efficiency of the running shoes.
The ASICS Men's Gel-Kahana 8 features EVA material-constructed midsole, making it a lot difficult for the midsole to break down. The feature also improves the bounce-back property of the running shoes.
The design also features the Duomax support system. This feature consists of a dual-density midsole system, strategically placed to provide comfort throughout a run.
The Kahana 8 Stability Running Shoe can be used in just about every condition, making it one of the most versatile stability running shoes available.
Pros
It is durable
Overall lightweight design
Beautiful front end
Cons
The back sole looks like it is constructed from plastic
It can get dirty quite easily
There are issues with the size measurements
4. Saucony Redeemer
The Saucony Redeemer is one of the best running shoes for supination. It provides excellent performance and is designed to offer incredible balance.
The shoe uses the "Grid" feature, which is a sole-based cushioning and stability system to provide effective comfort and stability. The feature offers added advantage over the competition.
Apart from the grid feature, the Saucony Redeemer provides athletes with additional innovative features, such as the EVERUN sole material and ISOFIT upper construction system.
Pros
Extremely stable
Provides comfort with every step
Provides a great fit without feeling restrictive
Cons
The upper part of the shoe can get extremely hot because it is not breathable
The heel is a bit too wide
5. The North Face Men's GTX Trail Runner
The North Face Men's Ultra 109 Waterproof Trail Shoe, TNF Black/Dark Shadow Grey, 11
TAKE ON THE TRAIL. Excelling in all conditions and available in extended sizes, the Ultra 109 WP has a waterproof DryVent membrane, a durable ultrATAC outsole and a robust toe cap for maximum protection.
WATERPROOF UPPER. Made with a performance-mesh upper and DryVent membrane, these highly durable trail shoes are waterproof so you can hike, splash, and explore comfortably in even the nastiest conditions.
ORTHOLITE CUSHIONING. An Eco-friendly OrthoLite Hybrid footbed is cooler and drier for your feet. Combining recycled rubber and waste foam, this footbed retains the performance attributes OrthoLite is known for with less impact on the environment.
PROTECTION & VERSATILITY. Never Stop Exploring with thoughtful features that help you go further — keep your feet protected from stone bruising with the protective Snake Plate and dial in the right fit with an integrated ghillie lacing system.
ALL-TERRAIN TRACTION & SUPPORT. Hike confidently across a variety of terrain thanks to a high-traction UltrATAC rubber outsole and experience a balance of arch support and rebound thanks to an ESS midfoot shank and single-density EVA midsole.
The North Face GTX Trail Runner is a great running shoe for all athletes, regardless of the type of activity they perform or the intensity of the activity.
These shoes are created from leather and combine just about everything you would expect of running shoes with excellent performance. It incorporates additional features to take them over the edge.
The GTX features a rubber sole to offer maximum underfoot protection. Regardless of the trail or road surface, these running shoes can provide the right traction so the wearer remains comfortable all through.
North Face is renowned for prioritizing durability, and that isn't lost on these running shoes. Each pair is designed for use in cold temperatures. Wearers also get a manufacturer's warranty against material defects for the lifetime of the product.
Pros
Solid and thick sole
Fitted for the hardest of running
Comfortable
Cons
Conclusion
Here's one of the most important things to bear in mind when shopping for the best shoes for supination: every individual has different needs when it comes to running shoes.
You should only buy running shoes that best suit your needs and feel comfortable when you wear them. Don't purchase a pair of running shoes simply because they look nice or because they are popular.
Also, it is usually a good idea to spend a little bit more money to get a higher-quality pair of running shoes. The extra spending will pay off down the line.
Last update on 2022-04-13 / Affiliate links / Images from Amazon Product Advertising API