Last Updated on December 18, 2022 by admin
To highlight the 10 best neutral running shoes it is important to define what neutral shoes are. Neutral running shoes are a type of shoe designed for people who don't under pronate or overpronate their feet when they run.
The term "overpronate" means to roll your feet inward. On the other hand, "under-pronate" means to roll your feet outwards. For many people, the degree of under-pronation or overpronation is slight. However, it is something that should still be addressed.
One way to address it is by getting running shoes specially designed to support this feet type. This will prevent injury, especially if you do a lot of running.
Keep in mind that you shouldn't use running shoes designed to support under-pronation or overpronation if you are a neutral runner. Instead, you need to keep an eye out for shoes designed to cater to the needs of neutral runners.
Unlike shoes for people who pronate when they run, neutral running shoes have don't provide any sort of stability control. Instead, they offer the most effective support to neutral runners to keep their feet injury-free.
Just as with other types of running shoes, various features go into the design and construction of neutral running shoes.
Some neutral shoes are specially designed for people with atypically low or high arches. You should choose running shoes that provide the type of support for the arch you have in your feet.
Again, some neutral running shoes are specially built for people with wide or narrow feet. In other words, you also need to factor in the shape of your feet in addition to the arch of your feet when choosing the best neutral running shoes.
How to Know if you Need a Neutral Running Shoe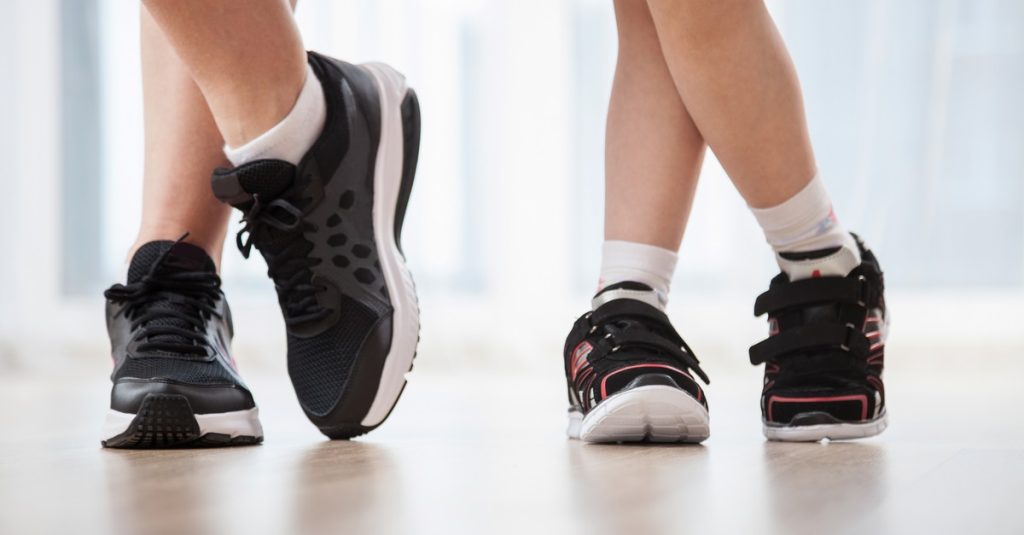 How do you determine whether or not you pronate? The following are a couple of methods you can use to identify your feet type to find the most appropriate running shoes.
Observe How You Stand
Put on your regular shoes and stand upright. Pay attention to your feet to see where naturally tend to face:
If your feet both face straight forward, you are most likely a neutral runner.
If your feet appear to spread out like a V shape from the front to the back, then you most likely overpronate.
Your feet most likely under-pronate if they curve inwards from the back to the front.
Do an Arch Test
The arches of your feet enable you to remain upright. Some people have flat feet, where all or most of their feet remain in contact with the ground when they stand. These are overpronators.
On the other hand, some people have high arches so the middle part of their foot doesn't make contact with the ground. These are under-pronators.
Neutral runners tend to be somewhere in the middle.
To conduct an arch test, place a paper (a newspaper will do) on the ground. Dampen your bare feet, briefly step onto the paper and then step off. You should be able to see your imprint.
You have a flat foot if you can see almost the entire outline of your foot.
If the front foot and heel are visible, but not all of the middle is visible, you are neutral.
If your front foot and heel are visible, but the middle part of your foot isn't visible, then you have high arches.
10 Best Neutral Running Shoes
1. Nike Flyknit Lunar1+
Nike
Mens Shoes
White/Black/Dark Grey/University Red
Synthetic
The Nike Flyknit Lunar1+ has a one-piece, knit upper polyester yarn design and that makes it one of the most desired neutral running shoes out there.
The minimal upper ensures the shoe remains light, while the strategically placed Flywire cables ensure high-level snugness.
All of this when combined with the flex grooves and elite responsiveness, results in one of the best neutral running shoes.
2. Asics GEL-Nimbus 15
Lace-up sneaker featuring reinforced toe cap and mesh sock lining
The Asics GEL-Nimbus 15 comes with plenty of innovative techs that work together to provide an excellent fit and comfort.
For one, it has the new FluidRide midsole system that better integrates the GEL. This allows the shoe to provide a lot more support. Also, the FluidFit stretch mesh upper enables individuals with all foot sizes and shapes to fit snugly and comfortably.
These additional features together with the external heel counter help the Nimbus 15 feel comfortable, even though it has a slight increase in weight over the previous versions.
3. Brooks Ghost 6
THIS WOMEN'S SHOE IS FOR: Runners looking for a smooth ride that won't distract from the fun of the run. The Ghost 14 offers a simplified midsole construction which creates more seamless transitions. This Brooks Ghost 14 is a certified PDAC A5500 Diabetic shoe and has been granted the APMA Seal of Acceptance.
SUPPORT AND CUSHION: The Ghost 14 offers neutral support while providing high energizing cushioning. Ideal for road running, cross training, the gym or wherever you might want to take them! Predecessor: Ghost 488
BALANCED, SOFT CUSHIONING: BioMoGo DNA and DNA LOFT cushioning work together to provide a just-right softness underfoot without losing responsiveness and durability – yet it feels lighter than ever. DNA LOFT now makes up the entire midsole, for a softer, smoother, ride.
SMOOTH, STABLE RIDE: No matter how your foot lands, our Segmented Crash Pad – an integrated system of shock absorbers – will cushion every step and stride for smooth heel-to-toe transitions.
SOFT, SECURE, FIT: More strategic use of the 3D Fit Print upper technology provides structure that moves with the foot.
The Brook Ghost 6 is as its name suggests; the sixth iteration in this line. The running shoe provides an excellent responsive feel and fits more than previous versions.
That being said, the Ghost 6 is a little lighter than previous iterations, but it is still a heavy neutral running shoe. It benefits from the minimalist trend that seems to be sweeping across the industry.
4. Nike Free 5.0+
NIKE
406-BLUE LAGOON BRIGHT CRMSN CLEARWATER
FREE 5.0
10.0
M
For those not familiar with Nike's new numbering method, it might seem as if the Nike Free 5.0 is a completely different line but that isn't the case. The Free 5.0 is an updated version of the Nike Free 3.0 v5 (mentioned later on this list).
The Free 5.0 comes with a heel to forefoot drop of 10.6 millimeters, which is typically seen in more traditional designs.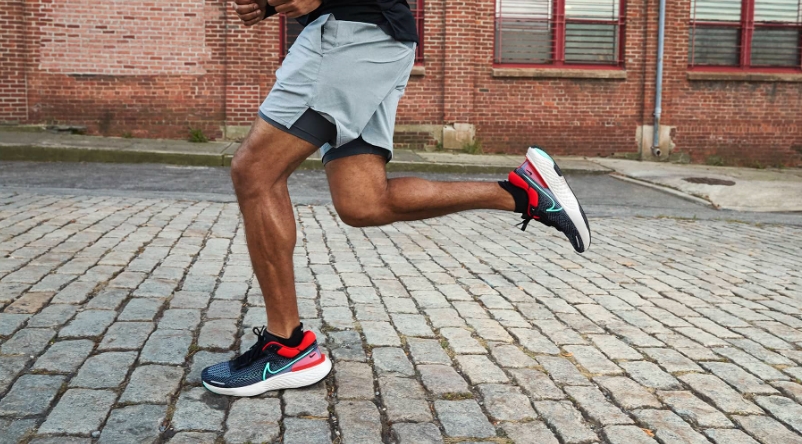 That being said, the running shoe differs a bit by offering a minimalist approach to the neutral running shoe. While it weighs comparatively less than your average neutral running shoe, it doesn't sacrifice any of the cushioning.
The Free 5.0 comes with additional overlays as well as more cushioning. It also features the sliced outsole associated with the Nike Free line.
5. Saucony Kinvara 4
Sleek running shoe with lightweight design, bright seamless overlays, and overall ombre effect
4mm heel-to-toe offset
FlexFilm upper
Full-length PowerGrid cushioning
Pro-lock lacing system
The Saucony Kinvara 4 is an extremely lightweight and breathable neutral shoe. Ever since the first Kinvara was released, the brand has constantly worked on fine-tuning this line.
In line with this, the midsole foam has been upgraded to provide additional cushioning without any extra weight. It does seem like Saucony prefers to test out its new designs and technologies on the Kinvara and this iteration is no different.
Overall, it is one of the best neutral running shoes currently available on the market.
6. Mizuno Wave Rider 25
MIZUNO ENERZY (FOAM): Offering versatility in its application, while still maintaining softness and resilience. It will help enhance performance capabilities.
MIZUNO WAVE: The MIZUNO WAVE plate disperses energy from impact to a broader area providing a stable platform and a superior cushioning.
X10 Outsole: Durable carbon rubber that allows for longer wear.
U4ic Midsole: Delivers optimal shock reduction, durability, and a superior ride. Innovatively light, well cushioned, responsive, and resilient.
Engineered Mesh Upper: Both breathable and durable for high performance.
The Mizuno Wave Rider 25 is said to be the company's most cushioned and softest long-distance running shoe. One of the reasons for this is that this version builds on the foundations of Rider 24. It has a full-length midsole layer made from luxuriously soft Enerzy foam.
Previous Riders combined several foam types such as the U4icX and U4ic at the top of the wave plate and the bottom. And while this combination made the underfoot comfortable, it also made the shoe's overall ride feel disjointed, especially during transitions.
By using Enerzy foam throughout the entire shoe, it makes the ride a lot more consistent and smoother, especially when combined with the castor bean-inspired wave plate. The new wave plate design was created at a higher amplitude. This ensures that the Rider 25 can return more energy while comfortably matching the shape of the wearer's arch with each foot strike.
7. Saucony PowerGrid Cortana 2
Eye-catching running shoe with breathable mesh upper featuring lace entry and PowerGrid full-length cushioning
FlexFilm seamless upper
Sauc-Fit arch and heel support
Durable iBR+ midfoot outsole pods
4mm heel-to-toe drop
The Saucony PowerGrid Cortana 2 incorporates a couple of the currently trendy minimalist properties without being another cookie-cutter neutral running shoe.
It is designed to ensure the foot remains steady and centered, thanks to the Powerfoam material that makes your gait smooth.
Saucony also took into account individuals who care about aesthetics, which explains why the PowerGrid Cortana 2 is extremely attractive. It takes its place as one of the most cutting-edge and modern neutral running shoes out there.
8. Nike Free 3.0 v5
The Nike Free 3.0 v5 takes on a minimalist approach to neutral running shoes. It comes in a host of vibrant color options, which are offset by a white outsole.
The Free 3.0 v5 hugs the feet, thanks to an integrated bootie. This design is also lightweight, so it won't make any run feel like a slog. Just as with all Nike Free running shoes, the Free 3.0 v5 comes with sliced outsoles that provide additional flexibility required to get a natural running experience.
9. Brooks Glycerin 11
1201371B813
Mens Brooks Glycerin 11 Pink Blue Silver – 7 B
In a lot of ways, the Glycerin from Brooks is just your regular high-tier neutral running shoe since it provides the usual level of comfort and cushioning.
However, this latest iteration (Glycerin 11) builds on these qualities and offers a lot more. It comes with the screen-printed upper technology that enables fine detailing.
The foam used in the heel collar gives a wonderful first impression when the shoe is slipped on. The cushioning is reflected in the overall weight making the Brooks Glycerin 11 one of the heaviest neutral running shoes available on the market.
10. Asics GEL-Cumulus 15
Running shoe with mesh upper featuring synthetic overlays and moisture-wicking ComforDry sockliner and Solyte midsole
Personal Heel Fit dual-layer memory foam collar
Guidance Line vertical flex grooves in sole
Over the years, the Asics GEL-Cumulus 15 has remained one of the top neutral running shoes despite not undergoing drastic changes. There isn't much weight saving in this version. However, its already impressive cushioning system is enhanced by the addition of more GEL in the heel and the forefoot. Secondly, this version features an extra outsole segment, which improves this shoe's overall flexibility.