Last Updated on October 20, 2022 by admin
Long-distance runners tend to place a lot of demand on their running shoes. The best long distance running shoes are sufficiently soft to damper unforgiving road surfaces, yet firm enough to provide adequate miles after the first step has been taken.
These running shoes also have to be sufficiently burly to take long hours of long pummeling, while still being light enough on your feet. Comfort and durability are important characteristics of long-distance running shoes since you will be spending a lot of time wearing them.
It doesn't matter if you are searching for new shoes to keep up with your mileage increase or training for a marathon; it is good to pick the best long distance running shoes you can find. This is why we've handpicked some of the best options in this article.
To make it a complete guide, we also included some of the mistakes to avoid when choosing long-distance running shoes.
But before we get into all of that, here are the most important factors to consider in your search for long-distance running shoes.
Factors to Consider
Most long-distance running shoes share important features – at the least, the best ones do! These include longevity, comfort, and of course, value.
That being said, the more time you spend on your feet, the better it would be to have a wider toe box as well as an expansive upper structure to help with possible swelling. Some experienced runners prefer minimalist shoes while new runners want long-distance running shoes that provide additional padding.
Considering that you will be spending miles in the running shoes, you will need a durable outsole, made from solid rubber. These are a lot more durable than flexible blown rubber, even if the latter can add to the cushioning and softness of the running shoe.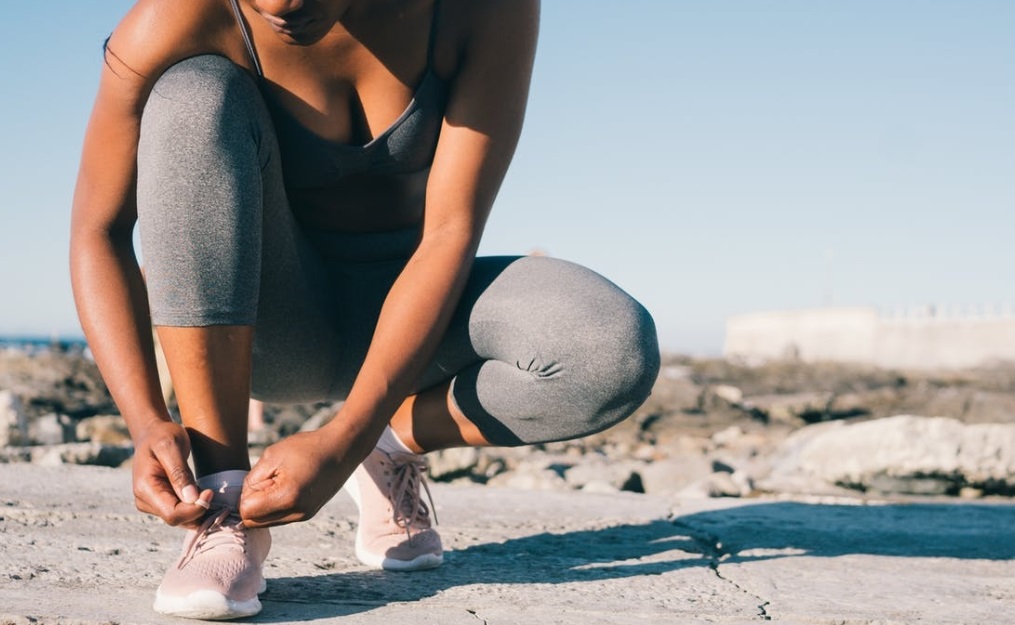 The best long-distance running shoes have polyurethane (PU) and thermoplastic polyurethane (TPU) foam at the midsole. These materials provide better longevity and durability than ethylene-vinyl acetate (EVA) foam.
In addition to your body mechanics, think about the duration and terrain of the run when picking a long-distance running shoe. You also want to factor in the speed – slow-paced or race.
Choose long-distance running shoes designed to withstand hours of training. The more miles you place on your running shoe, the greater the level of wear. Keeping track of how many miles you intend to run can help make your decision easier.
When it comes to terrain, where you are predominantly running will play a vital role in determining the shoe style you go with. It has to meet the unique requirements of the running surface. You want to pick something that will be sufficiently durable to withstand continuous pavement pounding while keeping you safe on trails. The harder the terrain, the more force the shoe will have to take.
If you are spending time on rougher terrains, then you will need a long-distance running shoe with improved stability and traction. For softer ground, go with options that offer superior energy returns. This can help you to cover more ground with less effort.
This is why it is important to search for running shoes that provide a sufficient level of durability (particularly in the sole) without sacrificing flexibility and comfort.
If you want to increase your speed, you might consider a lightweight running shoe with bouncy toe-off and an energy-efficient design. For slower runners, durable running shoes with breathable fabrics and extra midsole cushioning can be beneficial.
Mistakes to Avoid When Getting a Long Distance Running Shoe
Thinking Shoe Sizes are the Same Across Brands
This is a common mistake with many people. They tend to believe that manufacturers use universal shoe sizes. For example, it is common for people to think that a size 8 New Balance shoe is the same as a size 8 Adidas.
This is simply not correct!
Shoes with the same "size label" can vary in "actual size" between brands. This size disparity is due to the different foot forms, upper shapes, and stitching methods used by different manufacturers.
This is why it is super important to measure your feet every time you think about getting a new shoe. If possible, try out the shoes for fit before buying them.
Choosing Long Distance Running Shoes at the Wrong Time of the Day
Many people shop for running shoes in the morning. Unfortunately, they come back the next day complaining that the shoes are too small or not the right fit in many cases. This happens because the feet typically begin to swell in the morning until around 4 pm.
For this reason, it is always best to buy running shoes in the evening where your feet are at their largest.
This is particularly crucial if you are looking to buy a long-distance running shoe. You'll spend a considerable amount of time wearing it, and the last thing you want is to choose something uncomfortable.
Choosing Running Shoes that are Too Small
Wearing tight-fitting running shoes for long distances can lead to black toenails and blisters. This is something you want to avoid by all means.
One quick trick to know if the shoes you are eyeing are a good fit is to wiggle your toes (as if playing the piano) while trying out the shoe. Ideally, you should have at least half an inch of room in the front for your toes.
Choosing Long Distance Running Shoes Based on Looks
When choosing a long distance running shoe, it is always best to focus on fit, function, and overall feel. These are far more important than fashion.
You have to make sure it is the appropriate shoe for your specific running needs. Whether a shoe looks chic and fashionable, it is useless to you if it doesn't suit your purpose.
The Best Long Distance Running Shoes
Now that we've seen the factors to consider and the mistakes to avoid, it's time to delve into the best long distance running shoes.
1. Hoka Mach 4
Hoka One One
Mens Shoes
Running Shoes
Black/Dark Shadow
Synthetic
The Hoka Mach 4 is the latest iteration of long distance running shoes from the brand. It comes with a ProFly foam and rockered sole to promote propulsion. It is also extremely plush and lightweight, promoting an explosive rebound with each step.
Hoka takes it even further with its midsole construction by incorporating the technology from its competition into Mach 4's design.
2. Mizuno Wave Rider 25
MIZUNO ENERZY (FOAM): Offering versatility in its application, while still maintaining softness and resilience. It will help enhance performance capabilities.
WAVEKNIT
MIZUNO WAVE: The MIZUNO WAVE plate disperses energy from impact to a broader area providing a stable platform and a superior cushioning.
U4ic Midsole: Delivers optimal shock reduction, durability, and a superior ride. Innovatively light, well cushioned, responsive, and resilient.
X10 Outsole: Durable carbon rubber that allows for longer wear.
The Mizuno Wave Rider 25 is said to be the company's most cushioned and softest long distance running shoe. One of the reasons for this is the full-length midsole layer made from luxuriously soft Enerzy foam. This is a step up from Rider 24.
Previous Riders iterations combined different foams like the U4icX and U4ic at the top of the wave plate and the bottom. And while this combination made the underfoot comfortable, it also made the shoe's overall ride feel disjointed, especially during transitions.
By using Enerzy foam throughout the shoe, it makes the ride a lot more consistent and smoother, especially when combined with the castor bean-inspired wave plate.
The new wave plate design created at higher amplitude ensures that the Rider 25 can return more energy while comfortably matching the shape of the wearer's arch with each foot strike.
3. New Balance Fresh Foam 880 v11
The Fresh Foam 880 v11 is one of the best long-distance running shoes for many reasons. For one, it has everything you would expect from an impressive running shoe. It is durable, comfortable, and also delivers a snug fit.
These long-distance running shoes are designed with a completely redesigned midsole from the previous iteration. This ensures runners get a softer sensation when they land as well as a little bit more bounce when transitioning from heel to toe.
That being said, it does offer adequate support when pushing off from the ground. New Balance also tuned the compounds using pressure-mapping data, resulting in varying support zones.
To some runners, the New Balance Fresh Foam 880 v11 might be slightly heavy. However, for others, it is a perfect blend of bounce, good looks, weight, fit, and comfort. It also helps that the upper is now jacquard mesh, which not only trims a bit of the weight but also improves breathability.
4. Reebok Floatride Energy 3
Between bad weather and long workdays, you still find the motivation to get your miles in. These men's Reebok running shoes support your dedication with a Floatride Energy midsole that delivers a lightweight feel and a smooth, responsive ride. A breathable square knit upper helps keep feet cool.
Breathable square knit upper
Comfort flared heel collar
Lightweight, responsive Floatride Energy Foam
If you are searching for a long-distance running shoe that provides the right balance of cushioning and price, then the Reebok Floatride Energy 3 is for you.
The midsole has been redesigned to be lightweight. Yet, it offers a significant amount of bounce and protection. This is because it was created from steam-molded thermoplastic elastomer or TPE beads.
While it offers more durability and comfort than the Run Fast 3 which uses Pebax, it doesn't feel as light as its more expensive cousin.
For the Energy 3 update, Reebok has altered the upper to provide a more comfortable heel collar. This, in turn, provides a locked-in fit.
Quite a lot of flexible rubber has been added underfoot to enhance durability without affecting ride comfort or unsettling the weight balance of the outsole.