Last Updated on December 8, 2022 by admin
A lot of fitness talk is focused on pre-workout supplements. As a beginner looking for that extra boost, all those many options can be daunting. The main aim for your pre-workout may not be to bulk up your muscles but to keep you sharp and promote your hydration.
If you are considering a pre-workout, you have probably heard reports of tingling or even itching that can be worrying.
You expect you can push harder yet you really do not want such distractions before you exercise. A raised sense of anxiety that can really put you off your workout.
The best pre-workout should work for you, suiting your body and what you want to get out of your exercise.
The included supplements should leave you sharp and focused on achieving your best. With so many on offer, knowing the contents and their own objectives should give you a better idea of which pre-workouts can boost your performance.
Best For High-Rep Exercises
BSN N.O.Xplode
The Original Pre-Workout Igniter; Re-Engineered
Supports explosive energy, enhanced endurance, and maximum performance
Supports focus, muscular strength, and power
Advanced ingredient technology
Amazing flavors and great mixability
If you want to turn heads, try BSN N.O.Xplode. With the right blend of ingredients and effectively high levels of dosing, you can expect to smash your high-rep workout.
That explosive energy and laser-sharp focus comes from ideal doses of creatine, caffeine, and citrulline.
The only struggle you might have is choosing which of the six flavors you prefer, all of which we enjoyed in our experience of this product.
Pros
Explosive Energy – The pre-workout is designed to give you explosive energy with better stamina
High Dose of Creatine – Ideal fueling comes from effective doses of caffeine, citrulline, and creatine
Six Flavors – You should be able to find a flavor you love when you can select from Fruit Punch, Blue Raz, Grape, Green Apple, Watermelon, and Razzle Dazzle
Cons
Lack of Cholinergic Compounds – You may get extra focus and power from other products that include cholinergic compounds
Best For An Effective Blend
Optimum Nutrition Gold Standard Pre-Workout
VITAMIN D Provides Immune Support
Product Note: Exposure to heat or sunlight may lead to melting/damage of product. Hence customers are expected to be available during the product delivery
PACKAGING MAY VARY – New look, with the same trusted Quality
175MG OF CAFFEINE- help fuel your mind and body to train at the highest level
3G CREATINE – help support overall performance
For an effective boost, consider Optimum Nutrition Gold Standard Pre-Workout. Not only can you expect better strength but also power from their blend of beta-alanine and creatine.
There is also a healthy 175mg caffeine dose which is derived from natural sources for that extra focus which we liked in our testing.
That all of those benefits should come from a small scoop may be the big surprise in a pre-workout that truly delivers.
Pros
175mg Dose of Caffeine – Natural sources are used for a hugely effective dose of caffeine from a small scoop
Beta-Alanine And Creatine Blend – Expect enhanced performance and stamina with their blend of caffeine, beta-alanine, and creatine
Long-Lasting – There should be 30 servings which should prove long-lasting
Cons
Fails To Effectively Dissolve – You may still see some pockets of powder left in your drink, even after shaking
Best For A Vitamin And Mineral Complex
Cellucor C4 Original Pre-Workout
BUILD MUSCLE and STRENGTH – Formulated with a super creatine compound to support strength and performance. Whether you're just starting your fitness journey or you're striving for a new goal, C4 will help unlock your full potential
INCREASE REP COUNT – C4 pre workout for women and men is formulated with CarnoSyn Beta-Alanine, a premium clinically studied beta-alanine, which has been studied to support muscular endurance and fight fatigue and may cause a harmless tingling sensation
MORE CAFFEINE, PLEASE – Formulated with a patented and clinically studied compound that may help the body prolong its caffeine tolerance buildup. Take 1 serving of sugar free pre workout mixed with 6 fl. oz of water 20-30 minutes before training
INCREASE REP COUNT – C4 pre workout for women and men is formulated with CarnoSyn Beta-Alanine, a premium clinically studied beta-alanine, which has been studied to support muscular endurance and fight fatigue and may cause a harmless tingling sensation
DELICIOUS FLAVORS UNLIKE ANYTHING ON THE MARKET – Cherry Limeade, Fruit Punch, Icy Blue Razz, Orange Burst, Strawberry Margarita, Juicy Candy Burst, Watermelon, and Pink Lemonade
Cellucor's C4 Original Pre-Workout is award-winning and that should as little surprise. With such effective dosing, you should feel it working soon enough. Their inclusion of a creatine compound also supports you in hitting your full potential.
Then there is a vitamin and mineral complex that can provide up to six times your daily needs. As well as an effective pre-workout, you will also be getting the essentials for your body which we enjoyed in our experience of this product.
Pros
Great Reputation – The brand can boast about being America's leading selling pre-workout
Creatine Compound – Creatine is included to support your performance and help you reach your potential
Effective Dosing – Little surprises from a blend you can rely on for reliable support in your regular workouts
Cons
Slight Tingling – The pre-workout can provide a mild tingling sensation from the beta-alanine
Best For Bodybuilding
Bodybuilding Signature Pre Workout Powder
DELAY MUSCLE FATIGUE: Carnosyn Beta-Alanine and caffeine are found in our Pre Workout to protect your muscles against lactic acid. We help keep your soreness down and your energy up
INCREASE PERFORMANCE: L-Citrulline and L-Leucine circulate oxygen better and trigger fuel sources so you maximize your workouts and get the best pump every time
FUEL YOUR LIFE: With the perfect blend of amino acids and caffeine, it's perfect for a 3PM slump, before your workout, or to just sip on all day
Should you want to lift that bit more, then choose a pre-workout that has been developed with bodybuilders in mind.
Bodybuilding Signature Pre Workout Powder uses proven ingredients like beta-alanine and a 200mg dose of caffeine to reduce muscle soreness and maintain energy levels.
Throw in some of the amino acid L-Leucine and you can expect some muscle growth and extra fuel which we liked in our testing.
Pros
Proven Ingredients – Beta-alanine and caffeine are included for their pump and muscle recovery benefits
200mg of Caffeine – Enhance your focus and your lifts with a full 200mg of caffeine
Includes L-Leucine – The formula includes amino acid L-Leucine for muscle growth and as a fuel source
Cons
No Creatine – For a pre-workout to boast about boosting your strength, the creatine is conspicuous in its absence
No products found.
Best For Muscle Strength
Pre-Kaged Pre-Workout Powder
DELIVERS INTENSE ENERGY & LASER-LIKE MENTAL FOCUS*: Formulated with PurCaf organic caffeine from non-GMO green coffee bean, taurine, tyrosine, and a complete profile of fermented, plant-based branched chain amino acids (BCAAs), PRE-KAGED pre workout powder delivers a clean, intense surge of energy and relentless focus that will get your mind and body locked in and ready to obliterate your workout.* It's so good, you'll never use another pre-workout product again.
TRIGGERS BIGGER, LONGER-LASTING MUSCLE PUMPS*: Every serving of PRE-KAGED preworkout for men and women delivers a massive dose of pure L-citrulline. This scientifically superior vasodilator helps drive nutrient rich blood and oxygen deep into your muscles for dense, hard muscle pumps.* PRE-KAGED also includes Spectra, a patented blend of 29 fruit and veggie superfoods that not only provide important antioxidants, but it also supports nitric oxide production.*
AWARD-WINNING PRE-WORKOUT FORMULATED TO INCREASE MUSCLE, STRENGTH & PERFORMANCE*: PRE-KAGED is an award-winning pre-workout powder that delivers a unique combination of patented ingredients, scientifically tested to deliver increases in muscle size, strength, and athletic performance.* This includes patented Creatine HCl, patented CarnoSyn beta alanine with self-affirmed GRAS status, and patented BetaPower, a purified betaine extract.
THE INDUSTRY'S LARGEST, MOST FULLY DOSED SCOOP: With max dose ingredients, and a massive 32g per serving, just one scoop does it all. Kaged Muscle is a health-forward brand, so like all our products, PRE-KAGED has been 3rd party tested, screened for banned-substances, and our ingredient profiles are transparent. So, even the most meticulous athletes can see exactly what they're getting. There's a reason it's one of the highest-rated & most-awarded pre-workout supplements available.
THE KAGED MUSCLE DIFFERENCE: We develop our formulas with some of the most premium, patented, and cutting-edge compounds available. After all, why train to get bigger, stronger, fitter, and healthier, but use supplements with low-quality ingredients? Or worse yet, in dosages that aren't effective? Kaged Muscle supplements are formulated for performance-minded men and women who not only want real results, but also want clean products that provide incredible value for their money.
You can feel the difference with Pre-Kaged Pre-Workout, almost as soon as you begin your workout. For a clean burst of energy and mental focus, this powder delivers.
That boost comes from a single 32g scoop that packs in a lot, with a blend that we enjoyed in our testing. PurCaf organic caffeine for focus, L-citrulline for dense muscle pumps, and their patented creatine HCl and CarnoSyn beta-alanine for muscle strength.
You may be concerned about such a formidable energy boost yet you need not be. Not when it is Informed Choice and Sport Certified, as well as third-party tested and has a Micropure Quality Guarantee.
Pros
Organic Caffeine – Only PurCaf organic caffeine is included which comes from non-GMO green coffee beans
Certified – The pre-workout is Informed Choice and Sport Certified, it also comes with a Micropure Quality Guarantee
Huge Doses – Just one scoop is 32g and is packed full of effective doses including patented creatine HCL and CarnoSyn beta-alanine to increase muscle strength
Cons
Substantial Caffeine Dose – Each scoop contains 275mg of caffeine which may be excessive for some
Best For Bulking
Transparent Labs PreSeries BULK
Greater Energy and Endurance with BCAA: Valine is essential in pre-workout supplementation due to its involvement in metabolism and muscle growth. It helps to reduce tryptophan build-up in the brain and allows for greater energy and endurance. Leucine is a strong activation of the gene responsible for protein synthesis which significantly increases strength and prevents muscle degradation while preserving lean mass. Isoleucine aids metabolism during workouts and executes anti-catabolism effects.
Citrulline malate is the "star child" of pre-workout science. We chose citrulline malate over L-arginine because it provides better absorption, higher plasma arginine levels, and has been found to: Improve strength, aerobic performance, and muscle endurance. Be at least twice as effective as L-arginine supplementation at raising nitric oxide. Enhance the use of branch chain amino acids like leucine during exercise.
Muscle Growth and Decrease Cortisol: Clinical studies suggest that betaine supplementation triggers a significant muscle growth response. This response is independent of testosterone. Betaine supplementation has also been shown to: Reduce fatigue when taken before and during weight training. Increases total repetitions and volume on the bench press exercise versus placebo. In a recent study, betaine was found to significantly increase IGF-1, while decreasing cortisol in bodybuilding men.
Delay Fatigue and increased cellular carnosine levels: Beta-Alanine increases cellular carnosine levels, which are quickly depleted during intense exercise. Most pre-workout supplements contain beta-alanine but at significantly underdosed levels. Proper dosing of STIM-FREE delays the onset of neuromuscular fatigue in men and women during intense exercise and Promotes the formation of healthy proteins Significantly increase lean mass and decrease fat in wrestlers.
Long-Lasting Mental Focus and Performance: Infinergy prolongs the ergogenic effects of caffeine and provides a longer-lasting increase in mental performance and thermogenesis without the jitters and crashing from ordinary caffeine. L-tyrosine reduces the effects of stress and allows for greater mental focus and endurance. L-tyrosine improves memory and performance in bodily stressing climates, and it is believed to counteract the hypothyroid promoting conditions associated with extensive exercise.
Some pre-workouts do exactly what they say on the tub and Transparent Labs are known for their transparent labels. With a specially designed formula, Transparent Labs PreSeries BULK is great for bulking up muscle mass which we liked in our testing.
Key ingredients include leucine for protein synthesis and to maintain lean muscle mass. Betaine is also on the list of ingredients due to its muscle growth response, you should also feel less tired when weight training.
In total, nineteen active ingredients are in every scoop for the production of nitric oxide, known for increased blood flow and to increase the 'pump'.
Pros
Muscle Growth – Betaine is included for muscle growth response and reduce fatigue for weight training
Protein Synthesis – The formula also includes leucine to activate the gene responsible for protein synthesis for increased strength and to preserve lean muscle mass
Nineteen Active Ingredients – Each serving is designed to increase nitric oxide production for the 'pump'
No Artificial Sweeteners, Flavors, Or Additives – Only ingredients that have been supported by scientific research are included
Cons
18+ Restriction – The formula is not designed for anyone under the age of 18
No products found.
Best For A Steady Boost
Optimum Nutrition Amino Energy
With a comparatively low 100mg dose of caffeine, Optimum Nutrition's Amino Energy is great for a steady energy boost whenever you need it.
Whether about to head to the gym, out for a run, or just as preparation for a long day. Amino acids are also included for swift muscle recovery while each serving should be low in calories with zero sugar which we liked in our testing.
Pros
Reliable, Steady Energy Boost – Not only should this pre-workout boost your performance in the gym but also anytime you need a steady boost
Amino Acid Delivery – A proprietary blend of amino acids is contained for muscle recovery
Zero Sugar Content – Each serving is only between five and ten calories
Cons
Pricey Serving Size – For the size of the scoops, you may be able to get better value
Best For Post-Workout Recovery
Hardbody Supplements O.M.G. Pre-Workout
[Competition-Tested Performance] – The Hardbody Team has trained competition-leading bodybuilders to reach their best condition — Now you can use their pre-workout super formula to get extraordinary results in the gym with less effort AND less time
[Weight Management & Muscle Gain] – Change your body composition by gaining muscle and reducing fat at the same time through superior body chemistry! Combines creatine muscle support & appetite suppression: low body fat, high endurance and strength
[Guaranteed Results] – If OMG is not the cleanest, best-feeling pre workout supplement powder you've ever tried, we'll be shocked. OMG has ZERO illegal substances & total "ingredient transparency". That's why we offer a 100% satisfaction guarantee
[Clean Energy, No Junk or Artificial Sweeteners] – OMG has ZERO: carbs, sugars, calories, and artificial colors. Treat your adrenal glands and body kindly with our organic caffeine, n-acetyl Tyrosine, stevia, electrolytes, and muscle pump formula
[Improves Post-Workout Recovery] – Muscles grow between workouts, but most pre-workout supplements make muscle recovery more difficult, not easier. OMG is different. We keep your muscles oxygenated, reduce acid buildup and balance your metabolism
A lot of pre-workouts will purely just be for providing a boost before your workout. Hardbody Supplements O.M.G. Pre-Workout aims to aid your post-workout recovery so your muscles grow between workouts.
That's mainly done by maintaining muscle oxygenation, reducing the buildup of acid, and balancing your metabolism which we liked in our testing.
You may even find that the formula helps with weight management through appetite suppression and muscle support through the use of creatine.
Pros
Cons
Serving Recommendation – You are recommended to take one to three servings a day for three months which may be deemed excessive
Best For Improved Endurance
Sheer Strength Labs Rise Pre-Workout
No fillers, no jitters, just results – Stim heavy pre workouts usually are all show and no go. Rise Pre Workout leaves out the fillers and focuses on what matters most; proven ingredients to give you the endurance to rise above and meet your goals.
Peak performance: Sheer Strength Rise Pre-Workout uses 6000 mg L citrulline malate to target strength, beta alanine for endurance and red ginseng for peak energy so you have the extra push to finish your workouts without crashing.
Great tasting flavor: Sheer Rise Pre-Workout blackberry blast flavor blends perfect into your favorite smoothie or water. 1 scoop, 20-30 minutes before your workout is all you need to get you one step closer to your goals.
Made in the USA: Sheer Rise Pre-Workout is formulated and manufactured in the USA in a facility following strict cGMP guidelines to ensure the highest quality, potency, and purity in each batch.
60 Day satisfaction guarantee: All Sheer Strength Labs Products come with a 60-day satisfaction guarantee to make sure you love your results (See below for full details).
For many gym-goers or runners, simply going that bit further is a major step. If you need a formula to increase your endurance then consider Sheer Strength Labs Rise Pre-Workout.
With proven ingredients such as beta-alanine and red ginseng, you should be able to hit that extra push without suffering any jitters.
As if that wasn't enough, L-citrulline malate is included for strength and coconut water powder for significant hydration. All that without any sugar and no crashes which we liked in our testing.
Pros
Beta-Alanine – To improve your endurance, beta-alanine is included
Red Ginseng – You can also expect an extra push with red ginseng
Coconut Water Powder – Excellent for hydration and introducing electrolytes
Cons
Flavor Concern – Some users have reported that the Blackberry Blast flavor is a little too sour
Best For Value
PEScience Prolific Pre Workout Powder
INCREDIBLE VALUE – Each container of Prolific contains 40 scoops, providing 20 to 40 workouts, which is nearly twice the industry standard in serving size.
ENERGY – Featuring 2 forms of caffeine and multiple energy optimizers for smooth, jitter free zero crash, Prolific will guide you through even the most intense workouts.
FOCUS – With cognitive boosting or "nootropic" ingredients like citicoline, Prolific unleashes the ultimate mind muscle connection that you need to dial things up to max.
PUMP – NITRIC OXIDE – Prolific contains 6000mg of PURE L-Citrulline (NOT MALATE!) in every two scoop dose. L-Citrulline is renowned for its ability to increase nitric oxide, and has been shown in clinical studies to incease endurance, lean body mass, and strength training.
AMAZING TASTE | MIXABILITY | Available in several incredible flavors.
For a pre-workout that covers everything from energy to focus, pump and performance, look no further.
PEScience Prolific Pre Workout Powder has all that taken care of with a set of cognitive enhancers to bring your energy into sharp focus.
This should be a steady boost that comes without some of the jitters you sometimes get with other pre-workouts. Though the formula lacks substantial caffeine, there is L-citrulline for increased endurance and lean body mass which we enjoyed in our experience of this product.
Pros
Great Value – Forty scoops are included in each tub which is almost twice as much as the industry standard
Cognitive Enhancers – Feel the focus of high energy and an enhanced state of mind for your workout with ingredients like citicoline
L-Citrulline – For increased endurance and lean body mass through nitric oxide production, L-citrulline is included in the formula
Cons
Lack of Caffeine – Though there should be no jitters, some users would prefer more caffeine to be included
Buyers' Guide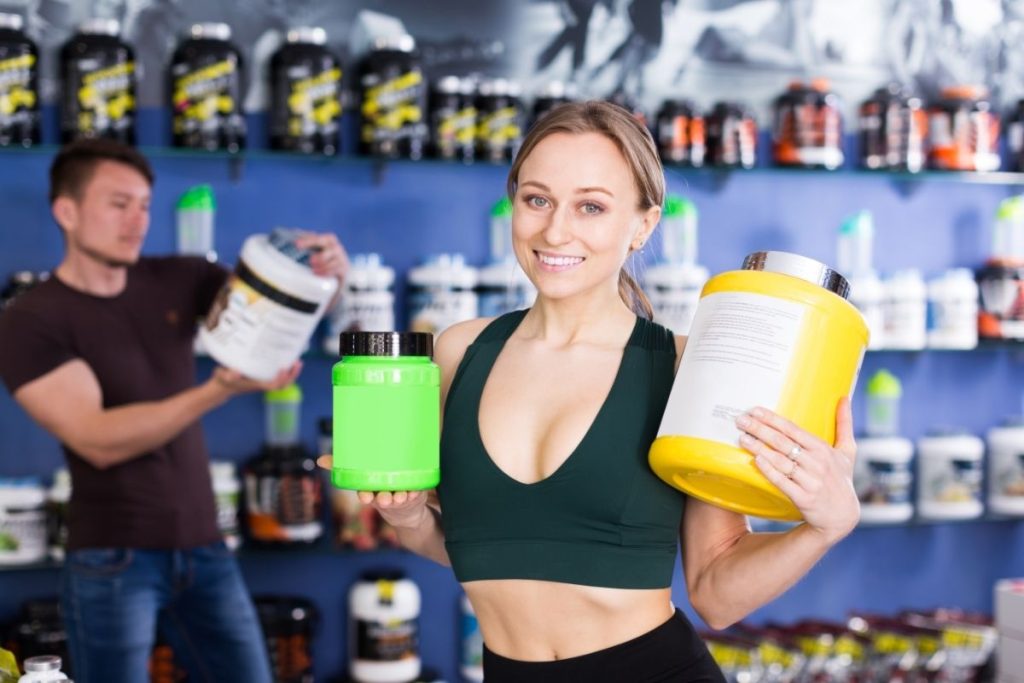 Just finding a brand you feel you can trust may be difficult enough if you are a beginner trying to find their pre-workout.
They all seem to claim that their formula is the one for muscle gain, endurance, strength, or all three.
While you may not have aspirations to compete in any bodybuilding competitions, you could simply want a pre-workout that helps you focus just when you need to.
Caffeine Content
Your pre-workout should give you a boost, otherwise you would fail to know it is working as expected.
A lot of that energy boost comes from the caffeine content. If you are someone that enjoys a coffee (or five) then you may want to consider how much caffeine is contained in each scoop.
Some formulas will only contain around 100mg per scoop whereas others will go as far as 400mg. That may be deemed excessive, it is certainly not ideal if you want to curb your caffeine intake.
If you struggle to sleep most nights, having a huge dose of caffeine before a late-night workout or run could really make matters worse. You could also suffer the dreaded caffeine crash a few hours later.
Caffeine Alternatives
Including an alternative to caffeine is crucial in your pre-workout if you have an intolerance or a heart condition. Put simply, there is no direct alternative that will replicate the effects of caffeine but there are potential solutions.
However, in any case, if you have a heart condition then you should steer clear of all stimulants, not just caffeine. Should you be able to handle a minimal dose of caffeine then combining it with theanine could effectively improve your performance and focus.
There are also several vitamins and minerals that could perform the role of improving your alertness. These include vitamin B12 though you can consult your physician for a theobromine supplement that can compete with caffeine to mimic the effect without the associated risks.
Other Ingredients
Aside from caffeine, there are specific ingredients that you should ensure are on the label of your pre-workout. One is beta-alanine which can boost your endurance to help you go that bit further for longer without crashing.
The substance should also aid your muscle recovery so if it is not included in the formula you could always buy it separately.
Creatine is also important for enhancing your strength and power. This is one of the most crucial ingredients for a pre-workout as it not only supplements your muscle-building but your recovery, hydration, and even your cell health.
If you keep seeing pre-workouts that mention the 'pump', chances are the formula includes citrulline.
The substance has been valuable to bodybuilders for increased blood flow to increase muscle mass. Citrulline can also improve your post-workout recovery and 3g is a good amount to seek out.
Vitamins And Minerals
For general wellbeing, you should consider the vitamins and minerals included in your pre-workout.
They also help your performance and alertness before your run or gym session. There will also be certain pre-workouts that go above and beyond providing you with your daily doses, some will even provide as much as 600%
Frequently Asked Questions
Why Should I Take A Pre-Workout As A Beginner?
If you are wondering why you are yet to take the step-up to a certain PB in running or at the gym then you should take a pre-workout. While you may imagine that taking supplements is just for gym-obsessives and bodybuilders, they can give you that push you need.
Pre-workouts can enhance your endurance, energy, mental focus, and muscle gain. That is not just for advanced fitness levels but beginners too.
You may need an extra reason to work out and knowing that you have that extra energy and focus from your pre-workout can be just the motivation.
When Should I Take My Pre-Workout?
A lot of manufacturers have included directions on how to mix your pre-workout and when to consume it. As a general rule to feel the best results, you should take your pre-workout about half an hour to an hour before your run or gym workout.
That should be ample time for the pre-workout to hit your bloodstream and provide that energy boost.
However, simply because it is called 'pre'-workout does not necessarily mean you need to take it before your session. If you want a quick boost during a long session, take it an hour in, or at the halfway stage, of your session.