Last Updated on October 20, 2022 by admin
Are you considering purchasing Redcon 1 Total War pre-workout? Perhaps you have heard people in the gym raving about it and want to know more? Or maybe you are just curious about the world of pre-workout supplements? Whatever your reason might be, we are here to help!
Here, we understand the importance of pre-workout supplements and how they can make or break your routine.
Total War is one we have used, and know just how it helps you perform! Often lumped in with other mainstream pre-workout supplements like BPI Sports, Optimum Nutrition, and Cellucor, it's earned a reputation for itself.
But does it deserve that reputation? That's what we are here to find out! Today we dive into Total War to bring you a complete review of the pre-workout supplement. Just keep reading to find out more!
Redcon 1 Total War Pre-Workout – The Basics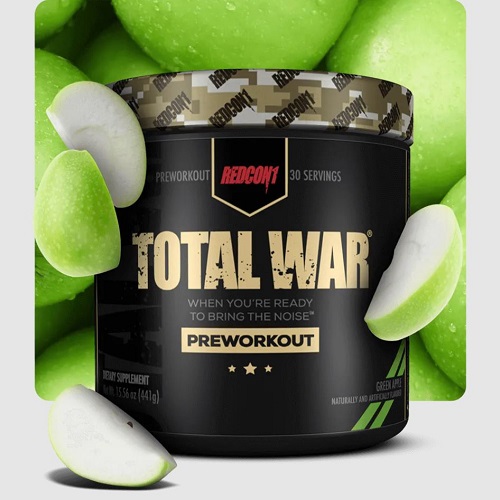 Let's get straight into it! Today we are here to give you a complete review of the Redcon 1 Total War pre-workout.
To help you decide if this is the right option for you, we will be looking at a range of factors including how effective it is, the ingredients, price, flavors, and where you can purchase it today.
But before we dive into finding out how effective this pre-workout is, let's start with the key information that you should know about the pre-workout supplement.
How Many Servings Do You Get?
One tub of Total war offers 30 servings and weighs 441g. In the world of pre-workout supplements, this is a pretty good amount of servings!
What Size Is The Scoop?
Now, of course, this depends on the scoop you use, but you can expect one scoop of Total War to weigh 14.7g. Again, when we compare this to other pre-workout supplements out there, this is a decent size.
Stack Suggestions
If you head over to Total War's website, you will find this pre-workout supplement available in a range of bundles.
You can search and select your bundle by your workout goal, which we think is a pretty sweet feature. Total War pre-workout features in most of these stacks, so you won't have any trouble locating it!
Redcon 1 Total War Pre-Workout – Complete Review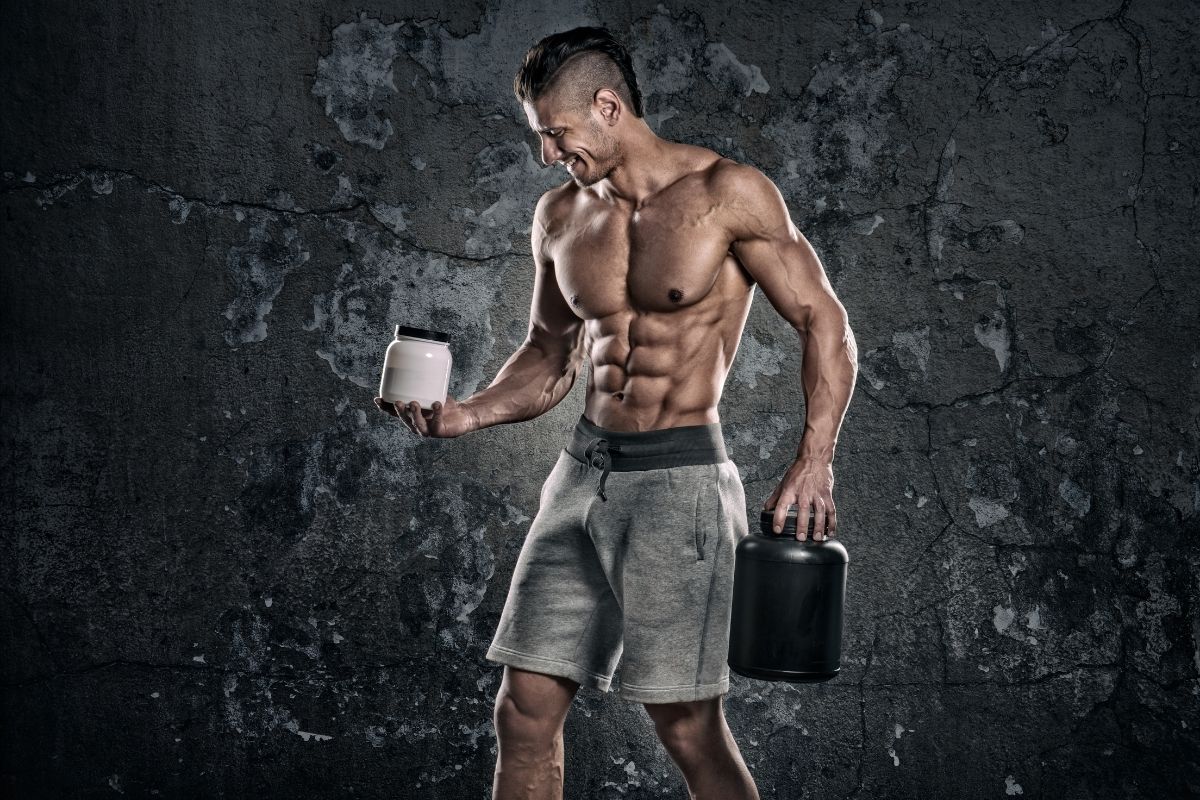 Now that we have covered the basic facts you should know, let's dive in and take a closer look at this pre-workout supplement to see if it is the one for you or not.
According to Redcon 1, their pre-workout supplement is filled with clinical dosages to help deliver efficiency, and you can't find a stronger product milligram for milligram on the market.
So let's put that to the test and see what is lurking in this pre-workout supplement!
Ingredients
Now, looking at their label, we can see there is a lot of transparency and clinical dosages are listed along with the ingredients, there are some areas that we should examine closely.
So let's take a look at the ingredients in Total War and the dosages now.
Citrulline Malate 2:1
First up, we have Citrulline malate which has a dosage of 600mg in Total War. For those that don't know, Citrulline malate is a compound made up of L-citrulline and Malic acid. 2:1 is the common ratio, giving us 400mg of L-citrulline and 200mg of Malic acid.
This 600mg dosage is within the clinically effective dosage range, but the lower end of the range. There are stronger doses out there in other supplements, throwing Redcon's earlier claims into question.
Beta-Alanine
Next, we have a 3200mg dosage of Beta-Alanine. According to studies, this dosage of 3200mg is the optimal amount of Beta-Alanine.
However, it is not as simple as that. These studies also state that you need a loading phase of Beta-Alanine to increase carnosine concentration levels in your muscle tissue.
This loading phase would require you to have 179g of Beta-Alanine over 28 days. Only by doing this will you see results. Now, you can't get this loading phase with the pre-workout supplement.
You would need to take an additional Beta-Alanine supplement to see any benefits and notice a difference in your performance.
Agmatine Sulfate
This 1000mg dose of Agmatine Sulfate is on the lower scale of the common dosage (1000mg to 1500mg) that we find in pre-workout supplements. So what is it? Well, Agmatine Sulfate is a decarboxylated metabolite that is part of the L-arginine amino acid family.
There are lots of studies that show Agmatine sulfate can help regulate eNOS production and increase nitric oxide levels in your muscle tissue.
However, it is worth noting that these studies are still in their infancy and more research is required.
How Effective Is Total War?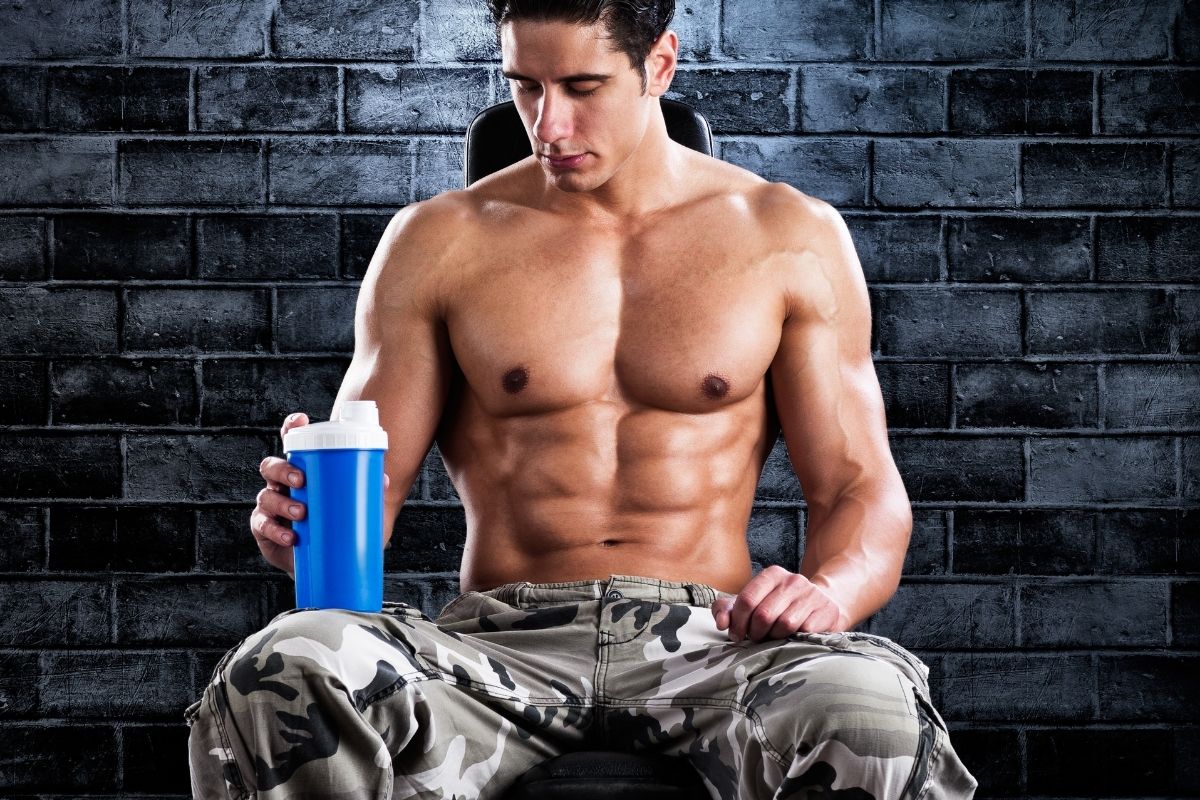 So how effective is Total War? Well, when we look at the dosages and combination of caffeine di-malate, theobromine, and caffeine anhydrous, then it's a great combination for stimulation and energy!
But, the pump wasn't the best, and we didn't feel as though we had the insane focus Total War claimed we would.
The dosage of agmatine sulfate and citrulline does give you energy, but it's far more energy than any other benefit you would expect from a pre-workout supplement.
So, if you are looking for a supplement that will give you lots of energy to prepare you for a workout, then it's one worth trying!
Theobroma Cacao
The technical name for the cocoa plant, Theobroma Cacao, or Cacao features in Total War's ingredient list.
A dose of 5mg with links to studies for cognitive benefits, it's a nice addition to the supplement. It's not just Redcon 1 that is including it, lots of supplements use cocoa.
However, Redcon 1 is in the minority that uses the Theobroma Cacao extract. Is there an added benefit of using this? The research is not conclusive to tell us, but hopefully, there will be an update soon!
Green Tea Leaf
This 45mg extract of Green tea leaf is commonly used in pre-workout supplements. Green tea is proven to increase fat oxidation rate, which could help you boost the amount of fat you are burning. It's great to see this included in Total War's supplement.
BioPerine
BioPerine is an extract from black pepper fruits that are currently patented. The extract is an antioxidant that can help increase nutrient absorption.
This is a fine ingredient to include and you are sure to feel the benefit if you are taking other supplements too. Total War has added 10mg of BioPerine to their supplement.
Naringin
You get a dose of 25mg of Naringin in this supplement. For those that don't know, Naringin is a flavonoid glycoside found on the skin of oranges and grapefruit.
It's what gives these fruits their bitter taste, so you don't want too much of it in your supplements!
Taurine
Next up, we have Taurine, a controversial ingredient in the pre-workout supplement world.
While the ingredient does have some anti-inflammatory properties, it can counteract your goal of pumping as much blood as possible into your muscles.
You get 1000mg of Taurine in this supplement, which is enough to divide opinions about it!
Juniper
Juniper is thought to be beneficial, but there isn't any evidence that can back these claims up. You get 150mg of it in the supplement, and in all honesty, it isn't needed.
If any studies show conclusively that Juniper can help you with your workout, great, but until that time, it seems unnecessary to add it to Total War.
Caffeine Anhydrous
Total War features 250 mg of caffeine anhydrous, which is a massive win! Caffeine Anhydrous is the most common form of caffeine and one we see in most supplements. 250mg is considered an excellent dosage too!
Di-Caffeine Malate
That's right, we have even more caffeine! This time, 100mg of Di-Caffeine Malate is a slow-release form of caffeine. This helps to prevent any energy crashes that you get from regular caffeine.
The 100 mg dosage is equivalent to 70mg of regular caffeine, making it the standard dosage we see in supplements.
What Flavors Are There?
Now that we have looked at what is in the supplement, let's take a look at the flavors it is available in.
Total War comes with an impressive range of over 20 flavors, meaning there is sure to be one that tickles your taste buds. Let's look at your options now.
Blue Coconut
Blue Lemonade
Blue Raspberry
Cali Splash
Candy Apple
Grape
Green Apple
Lemon Lime Blast
Patriot
Pineapple Juice
Orange Crush
Olympia Fireball
Strawberry Kiwi
Strawberry Mango
Sour Gummy Bear
Tiger's Blood
Vice City
Watermelon
That's a whole lot of flavors to choose from! But how do they taste? While some taste delicious, others are not the best.
Both the Grape and Blue Lemonade have a nasty artificial taste that is hard to get past. We struggled to finish the drink, even with lots of ice in our shakers! There was something about it that didn't taste right to us.
Now, this could be pure bad luck, and as we said other flavors, like Watermelon, were tasty, but it seems to be a hit-and-miss situation.
We recommend checking out the reviews to see what others think about the flavors before you make your selection.
Where Can I Buy Total War?
Total War can be bought directly on their website, or you can head over to Nutrition Faktory and purchase it there.
How Much Is Total War?
So how much can you expect to pay for Total War? Well, as with everything, the price is subject to fluctuations, so be sure to head over to their website to see an accurate cost of the supplement.
The pre-workout supplement is fairly priced though when we compare it to other supplements on the market at the same size. But, as with everything, be sure to check your budget beforehand to ensure that you can afford Total War.
Final Thoughts
And there you have it, everything you need to know about Redcon 1 Total War pre-workout!
As you can see, when it comes to pre-workout supplements, Total War is a pretty solid choice, especially for a high-stim pre-workout! If you want a high stim, high energy pre-workout with some muscle pump, then this is the one for you!
Now, the side-effects we mentioned aren't pleasant, and the flavors aren't to everyone's tastes, but if you can look past that and manage to chug it all down, you should be pleased with the final results.
Don't just take our word for it though, why not give it a whirl today?