Last Updated on October 27, 2022 by admin
Boxing headgear plays a key role in preventing fighters from sustaining injuries. That entails reducing the impact of punches, ensuring they suffer fewer knockouts from continuously being struck in the head, and preventing bruises and abrasions.
With boxing headgear being a game of tradeoffs, you want optimum safety, which means most of your face is protected without blocking your vision. However, you don't want the gear to be overly heavy and bulky. There's a boatload of sizes, types, and styles to suit every fighter, so we'll explore everything you need to know to select the ideal boxing headgear for you. Read on!
What Are the Different Types of Boxing Headgear?
There are three main categories of universally accepted boxing headgear. Whether you're a professional boxer, having amateur matches, or messing around in the gym, most organizations will demand that you wear sparring headgear.
In doing so, you avoid sustaining facial injuries and cuts that would give you leeway to claim on the insurance.
1. Open-Face Headgear
It provides ample protection for your temple, chin, and around the top of your head while leaving your face open. Although you're susceptible to nose and eye injuries, open-face boxing headgear is not only the lightest but also permits optimum flexibility, giving your opponent the smallest target.
It's comfortable to wear and is ideal for women and juniors that typically don't hit as hard, so they don't require as much protection around their nose, eyes, and cheeks. The intensity of the blows they receive isn't sufficient to cause adverse damage. Open-face headgear is an excellent way of establishing an ideal balance of protection, comfort, and speed.
2. Cheek Protection
Commonly used in gyms across the globe, cheek protection headgear protects fighters from abrasions and facial damage, including black eyes. When purchasing this headgear, ensure the pieces are firmly against your cheeks but don't block your vision.
3. Full Face Protection
It covers your entire head and is marked by a thick protection strap running parallel across the front to protect your face from any damage. When purchasing full-face protection headgear, select the right size to ensure your vision isn't impaired.
Additionally, choose a sleek design that prevents the guard from weighing you down and delivering a larger target for your opponent. Full-face protection headgear is suitable for anyone looking to minimize damage to their face.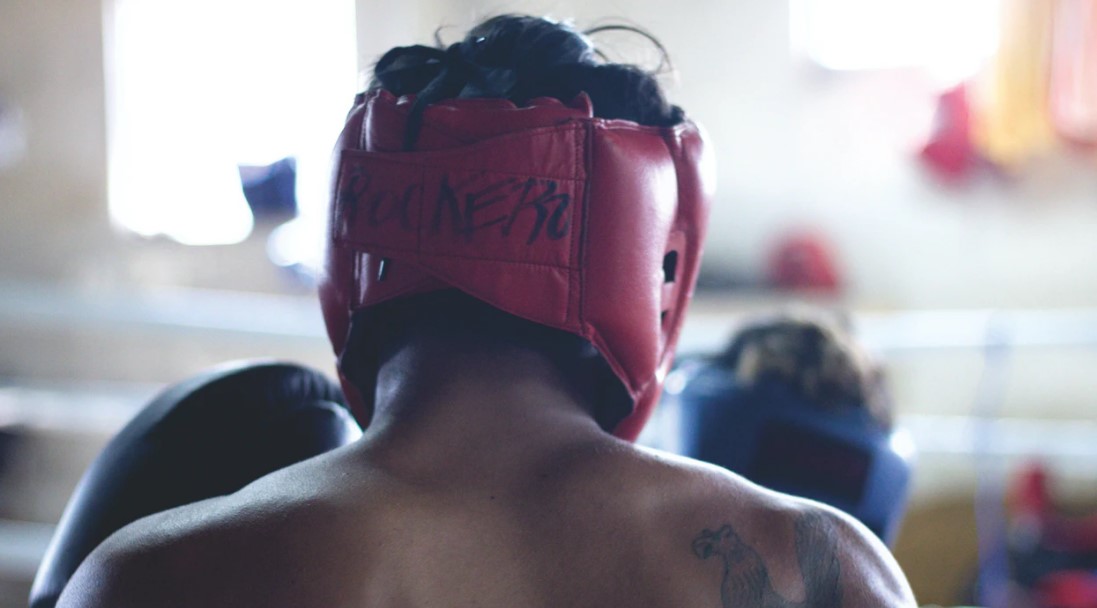 Benefits of Boxing Headgear
Let's delve into the perks that come with using the best boxing headgear.
Protection from Superficial Injuries
It doesn't take a hard punch to trigger a black eye. Although it's not a serious injury, no one wants to walk around with a black eye. A dry glove landing on the skin can easily open up a cut, more so if there's scar tissue from a previously open cut on the face. The best boxing headgear protects you from these facial injuries.
Protection Against Elbows
Sparring can become competitive and tough. When it does, neither boxer will back down. They jockey for position in the Octagon, using their elbows and arms to get their opponent out of the way and land a few clean shots. Doing so can cause broken noses and cuts from elbows. Fortunately, great headgear will protect you from this type of damage.
Prevents Knockouts
There's no denying that perfectly fitting headgear gives you a sense of security in the Octagon. It stops knockouts by cushioning the shots and absorbing some of the punishment. With this added feeling of safety, you can take more chances in the Octagon and aim for the riskier blows on your opponents. As a result, you can hone your skills since the headgear will cushion any shots that land on your chin or face.
Great for Hygiene
Granted, using communal boxing headgear that's available in your gym is convenient. However, it's no secret that the headgear is usually doused in sweat from many fighters. It not only develops an unpleasant smell but can also usher in a wealth of infections and viruses. Investing in headgear is more hygienic, more so when sparring becomes part of your lifestyle.
Best Boxing Headgear
Below are our top 4 picks that will give you the best bang for your buck.
1. Fg2900 Winning Headgear
Medium(Japanese Size): 21.0-23.0inch / 54-59cm
Large(Japanese Size): 22.5-24.5 inch / 57-62cm
very light headgear 9.5oz
Made in Japan
As a lightweight product that comes in different colors, Fg2900 Winning Headgear is hand-stitched in Japan and delivers an unmatched level of comfort. You're assured of excellent protection for your temple and chin. The Fg2900 Winning Headgear is also armed with top-notch cheek protectors that keep you safe from bruising and cuts. Upon matching this with an all-rounded boxing defense, you'll endure minimal punishment during sparring.
2. RDX T1
RDX Headgear is contrived with Maya Hide Leather material. The material reassures resistance against tapping out on performance. Ideal for MMA, Boxing, Kickboxing, Muay Thai and more.
Tri-slabs of attenuating foam supporting layer. It is helpful for absorption.
Quick-EZ hook-and-loop strap offers a secure and adjustable fit reducing chances of slipping off. Unique Quick EZ-Strap provides steady closure.
The PVC grill provides a minimal buffer against strikes. It further confirms your vision is not disturbed.
EVA-Lution sheet delivers resistance. The Foam layer support uniformly dissipates the across surface area.
Contrived with premium Maya hide leather that guarantees resistance against tapping out amidst performance, the RDX T1 boxing headgear gets the job done for experts and novices alike. With three slabs of impact attenuating foam padding, this product protects your head by delivering robust shock absorption.
The EZ loop and hook strap guarantee an adjustable and protected fit, lowering the likelihood of the head protector slipping off. The detachable grill keeps your face safe from high impact blows and serious cuts.
3. Venum Elite
100% semi leather construction for great durability and high fighting performances
Made from 100% Skintex leather, the Venum Elite delivers impressive durability. Its pleasantly lightweight nature also ushers in quicker head movement. For ultimate shock absorption, the headgear has triple density contoured foam. Handmade in Thailand, the mesh open-top design guarantees improved moisture absorption and perspiration evacuation.
4. Hayabusa T3
Featuring a compact design, the Hayabusa T3 delivers optimum protection without the increased bulk. Although its streamlined fit feels smaller, it doesn't sacrifice your ultra-broad range of view. The patented T-Cross closure delivers a snug fit that diminishes shifting, whereas the mesh ear coverings coupled with the open-top release heat, keeping you cool during your workouts.
The Hayabusa T3 has increased cheek protection, lowering the likelihood of scratches and direct impacts while sparring. The exterior is built from Vylar leather, the most resistant and sturdiest material for intense training sessions or matches. For effective heat expulsion, the headgear's interior is made of a soft lining.
The Bottom Line
The most crucial piece of protective equipment for fighters is their headgear. With the vast assortment of options that have littered the market and each having unique characteristics, investing in excellent boxing headgear is make-or-break for your health, safety, and performance. Armed with the information in this guide, you can now make an informed decision on the best fit for you.