To do well in the gym starts with you having the right equipment in your bag. For kickboxers, this means having a quality pair of kickboxing gloves that will keep your hands protected and comfortable during training.
Just as with any type of protective gear, kickboxing gloves work best when they're sized properly. There are several different styles of kickboxing gloves, ranging from those specialized for professionals and those for training.
By knowing how to choose the right kickboxing gloves for you, you'll be one step closer to being the best kickboxer you can be.
How to Choose Kickboxing Gloves
When you search for the best kickboxing gloves, it's important that you keep in mind that a lot goes into the design of kickboxing gloves. Because of this, the slightest variation in a pair of kickboxing gloves can make a huge difference and affect your overall technique.
So, make sure that you take your time and do your homework when you start shopping for your new pair of kickboxing gloves.
Here are five pro tips to help get you started in your kickboxing glove search.
Size and Weight
One of the most important things to look at when you're shopping for kickboxing gloves is the size and fit of the gloves. Sparring or training with kickboxing gloves that don't fit isn't practical and could lead to serious consequences.
To find a pair of gloves that will fit you best, you should become familiar with the standard sizes of gloves and try them on before buying to ensure that they fit snugly around your thumb, wrists, and knuckles.
The standard sizes and weights for kickboxing gloves are:
| | |
| --- | --- |
| Size | Weight |
| 88 | 119 pounds, 8 ounces |
| 119 | 149 pounds, 10 ounces |
| 149 | 185 pounds, 12 ounces |
| 185+ | 14 ounces |
The sizes listed above are considered the best bag and pad workouts, whereas 14, 16, 18, and 20 are best used for training. Take note that your hand circumference and weight should play a part in finding the best pair of kickboxing gloves, but so does the purpose of the gloves.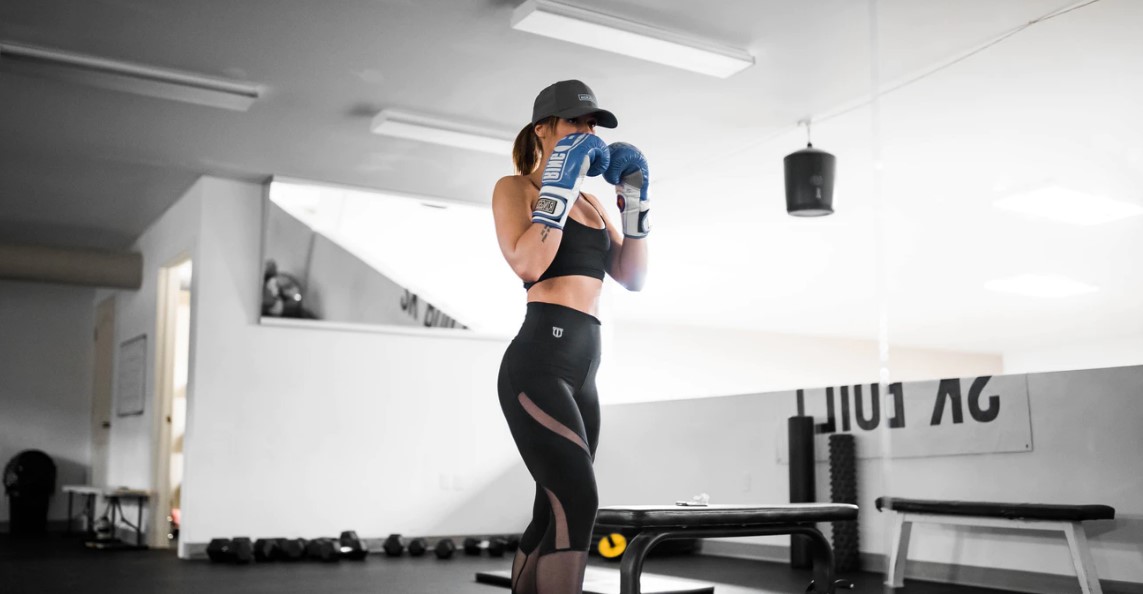 Padding
Another thing to think about when choosing kickboxing gloves is the padding level.
Do you want kickboxing gloves that have more or less padding?
Kickboxing glove padding is made from either gel or foam. Foam is considered to be an outdated choice for padding, even though it will still protect you and absorb the force impact.
However, most companies nowadays are using gel because gel padding offers the same level of protection as foam but is more durable. Gel padded kickboxing gloves are more expensive.
Material
What the gloves are made from plays a huge role in how long they're going to last you, the price, and the comfort of the gloves. Some of the most common materials used to make kickboxing gloves are vinyl and leather.
Vinyl gloves are much cheaper compared to leather kickboxing gloves and are great for beginners. However, if your goal is to train regularly, you should think about wearing leather gloves because of their durability and comfort.
Vinyl kickboxing gloves aren't designed to be used for a long time and tend to be less breathable. But if you're only planning on taking a kickboxing class for fitness, they're the best option.
Enclosure System
There are two types of enclosures, lace enclosures, and loop enclosures. Beginners tend to choose Velcro because they're easy to put on or take off. On the other hand, laces provide you with more wrist support as well as a tighter fit, but you'll need your trainer's help to lace them up before and after a kickboxing session.
Purpose and Type of Kickboxing Gloves
How you plan on using your kickboxing gloves will point you in the right direction of what type of kickboxing gloves to get. For instance, if you want to hit the pad or bag a lot, you want to go with a pair of gloves with lighter padding. If you want to go up against a partner, you'll need well-padded kickboxing gloves for your safety and the safety of your partner.
The type of kickboxing you plan on doing will determine the type of kickboxing gloves you go with. Each kickboxing style has its own type of glove. For example, MMA gloves are different than Muay Thai gloves.
Best Kickboxing Gloves of 2021
Now that you know what to look for in the best pair of kickboxing gloves and the top five pro tips to help you find a good pair, let's take a look at the best kickboxing gloves on the market today.
1. Venum Challenger 2.0
Venum is a well-known name when it comes to the design and creation of martial arts equipment and combat sports accessories. Their products are well known because of the glove construction as athletes, both professional and amateur, attest to their leather designs' quality.
Other than the use of leather to boast their quality, they're also very durable for high-performance sparring and training. They're built for prolonged use and can absorb shocks.
One complaint about these kickboxing gloves is that the lining used to make the gloves fails to hold itself together and the stitching can be lost even if you just bought them.
Pros:
Work great during intense sessions
Very comfortable
Affordable
Great design
Cons: 
Leather can be considered low quality
Great for newbies, but not so much for professionals
2. Fairtex Muay Thai BGV9 Gloves
The gloves made by Fairtex are mostly used by professional Muay Thai fighters and recreational kickboxers.
The gloves are designed to be all-purpose boxing gloves, making them great for bag training, sparring, and everything in between. These gloves are made from high-quality leather and come with a Velcro strap and a tight fit.
Pros:
Designed specifically for Muay Thai fighters
Gloves are made from high-quality leather
Cons:
3. Sanabul Essential Gel Kickboxing Gloves
If you want a pair of kickboxing gloves designed to protect your fingers and hands, these are the gloves for you. They are designed specifically to keep your fingers and hands from being seriously injured.
What's great about these gloves is that they offer amazing hand protection and a great fit without being heavy. These gloves are designed to look simple and comes in a variety of sizes and colors.
These are ideal if you're on a tight budget because they tend to be cheaper than other kickboxing gloves on the market. Additionally, they're great for beginners as well as professional combat enthusiasts.
Pros:
They're designed to fit your fist
Made with an advanced Velcro closure
Lightweight
Cons:
They aren't very durable because of the stitching
4. Everlast Pro Style Training
These gloves have been specifically designed for training, especially on heavy bags. They're not only durable, but they're also comfortable to wear.
They are also designed to protect your fingers and hands from injuries when you're in a match or training. They're more affordable than other pairs of kickboxing gloves on the market today that have the same durability and quality.
The gloves have thick foam padding, and the thumb of the glove is designed to fit the MMA fighting style.
Pros:
Unique MMA thumb design
Velcro closure system
Leather is durable and soft
Cons:
5. Ringside Apex Gloves
If you're new to kickboxing, these might be the best pair of kickboxing gloves for you. It doesn't matter what you intend to use these gloves for – sparing with a partner or gym training – the Ringside Apex gloves are designed for any type of practice.
A great feature of these gloves is that the extra thick foam padding helps absorb all kinds of shocks that would've caused injuries to your hands.
They're well designed with a mesh palm, which absorbs the sweat on your hands. They also have a wraparound Velcro wrist enclosure that attaches to the thumb piece for safety, so they're easy to put on and pull off.
The design might not be appealing to some, but they do come in a variety of colors.
Pros:
Thick padding
Velcro wrist enclosure
Leather is durable and soft
Cons:
Conclusion
Now that you know what goes into choosing the best pair of kickboxing gloves, you can go ahead and start shopping for the pair that best fits your style and needs as a kickboxer.
You should know after reading this article that you should find a pair of gloves that fit your hand because it's worthless and dangerous to wear a pair of gloves that don't fit.
Remember to always do your research before you buy a pair of kickboxing gloves to ensure that you get a pair that will work best for your kickboxing needs.
Last update on 2021-06-24 / Affiliate links / Images from Amazon Product Advertising API