If you want to try out one of the most potent and strongest pre-workout supplements on the market, then Wrecked Pre-Workout by Huge Supplements might be the one for you.
For those who have never tried a pre-workout supplement before, you may not know what to look out for, how they work, or what effects they can have on your body. All of this will be covered in this review of Wrecked Pre-Workout.
We are also going to cover the ingredients to see what works and what doesn't the suggested servings, effectiveness, pros and cons, and much more.
Read on to find out if you should add Wrecked Pre-workout to your exercise routine.
Wrecked Pre-Workout – The Basics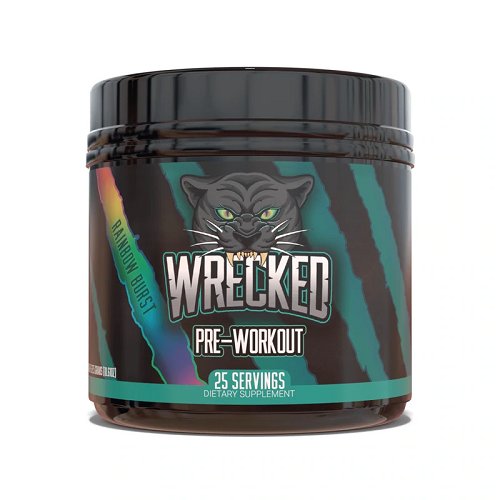 Here is all the important info you need to know about Wrecked before you get started.
Tub Size/Servings
Every tub of Wrecked contains 25 servings of their formula, with the tub in total weighing 505 grams. One serving is 21.1 grams of their pre-workout formula.
Scoop Size
For people who have tried pre-workout supplements before, the recommended scoop size of 21.1 grams of formula may seem like a large amount. However, this is the optimal dosage to squeeze out every last drop of goodness from the eighteen ingredients contained in this supplement.
Can it be stacked?
A supplement stack is a strategy for optimizing your outcomes by stacking supplements. When vitamins are stacked correctly for your fitness or weight-loss objectives, their synergistic impact is maximized.
Like almost all supplements, Wrecked Pre-Workout can be stacked with other products. The people at Huge Supplements have created their own bundle of other products to stack this one with.
In this bundle, you will find their Puump Serum, which is a pre-workout that does not contain any stimulants, and Formula XII, which is a supplement that can be used mid-workout or post-workout.
If you do not want to use these products to stack though, then the Wrecked Pre-Workout supplement can still be stacked with the other workout supplements that you use.
Wrecked Ingredients
In every 21.1 grams of serving, there are 18 ingredients in total. Here are the core ingredients, their total servings, and what each of them does.
L-Citrulline Malate 1:1 – 9000mg
This is the most prevalent ingredient in Wrecked. This substance helps to increase your blood flow by widening your arteries in a process called vasodilation. While you are working out, this can help to reduce muscle fatigue while also allowing for more pumps and drive.
Wrecked Pre-Workout uses less L-Citrulline Malate than other supplements commonly do. You will usually find doses of this substance at a 2:1 level, while Wrecked only has 1:1.
However, thanks to the 9-gram dosage found in this supplement, you are actually getting a purer version of this substance than you would find in products using 2:1 and the standard 6-gram dosage.
Beta-Alanine – 3200mg
This substance is naturally produced in the body, though the majority of people cannot make enough needed for intense workouts and exercises. This substance helps the body to make Carnosine, a chemical that helps to reduce muscle fatigue.
By raising the levels of Beta-Alanine in the body, you should be able to work out harder for longer without getting drained or fatigued.
The standard dosage of this substance found in supplements is 3000mg-3200mg.
Betaine Anhydrous – 2000mg
This is another common ingredient used in pre-workouts to help reduce muscle fatigue. The difference with this one however is that no studies conducted on this substance have been able to prove that it is effective in doing this.
Any results seem to show that it is pretty useless. Still, it does not seem to cause people any harm, so it is added anyway.
The usual dosage for Betaine Anhydrous is 2000mg
Agmatine Sulfate – 1250mg
People always get nervous when they see "sulfate" as this chemical is not known for benign very healthy for people. That being said, it is a common ingredient found in almost all pre-workout supplements.
In theory, this is able to help boost nitric oxide levels in the body, while also increasing muscle pump. Like with Betaine Anhydrous though, there has been no proof of this as Agmatine Sulfate has yet to be thoroughly researched.
The standard dosage for this substance is around 3.5g, though 1000-1500mg of Agmatine Sulfate is considered a safe amount.
L-Tyrosine – 1000mg
This substance is not used in weight loss at all. Instead, it is used to balance you out due to the high levels of caffeine in this product.
After taking too much caffeine, you have a headache, get down or moody, get dehydrated, and dizzy. All these things will make doing an intense workout even harder.
L-Tyrosine can prevent these off putting side effects of caffeine by giving you a cognitive boost while also helping to balance your mood and preventing any other negative side effects.
Lion's Mane Mushroom (Hericium Erinaceus) – 600mg
This substance is a nootropic. Little is known about this substance except that it works with L-Tyrosine to improve your cognitive function and general well-being.
VasoDrive-AP (Casein Hydrolysate) – 255mg
This is found in nearly every pre-workout supplement. It helps to lower your blood pressure while also improving your nitric oxide levels.
Inositol Hexanicotinate – 250mg
This is also known as "flush-free Niacin". Niacin is vitamin B3, which is used to make food into energy. Though there is not enough research, it is said that this may lower HDL cholesterol levels.
Caffeine Anhydrous – 250mg
We have already mentioned that caffeine is one of the main ingredients in pre-workout supplements and is found in high quantities here. 250mg of caffeine is usually on the high end of caffeine content.
Di-Caffeine Malate – 100mg
This caffeine releases itself slower in the body. While the previous caffeine will hit you quickly with the effects lasting around 3-4 hours, Di-caffeine takes longer to hit you, but the feelings last 5-6 hours instead.
The most important thing this does is prevent crashing. When you ingest caffeine you get a quick "high" where the body is energetic. But once the effects wear off, you can suddenly feel too tired to carry on. Di-Caffeine ensures that you can keep going for hours if you need to.
Himalayan Pink Salt – 100mg
Salt is good for making you retain water which can help with strength while working out. This also contains much-needed electrolytes.
S7 – 100mg
Think of this as a smoothie. It is a blend of several ingredients including green tea extract, green coffee bean extract, kale, turmeric extract, broccoli, tart cherry, and blueberries. All of this helps to improve the production of nitric oxide.
The clinical dose of S7 is usually 50mg, while Wrecked contains double the amount.
N-Methyltyramine (NMT) – 75mg
Found in several plants, this substance is used as a focus enhancement/stimulant
Higenamine (HCL) – 50mg
While supposedly used to burn fat, there is little research to prove that it works.
Theobromine – 50mg
This stimulant is commonly found in coffee beans and dark chocolate. Like caffeine, it is a stimulant, but it releases a lot slower.
Wrecked Pre-Workout contains a tiny amount of Theobromine compared to other supplements, with the standard dosage being 200mg-400mg. However, as this supplement already has two caffeine stimulants, it's understandable that they only use a little amount of this one.
Isopropylnorsynephrine – 20mg
This mouthful is used as a fat burner as it breaks down fat to convert it to energy.
Rauwolscine (Rauwolfia Vomitoria Root Extract) – 1mg
As it can easily burn fat, it leads to a rise in overall adrenaline levels.
Effects of Wrecked Pre-Workout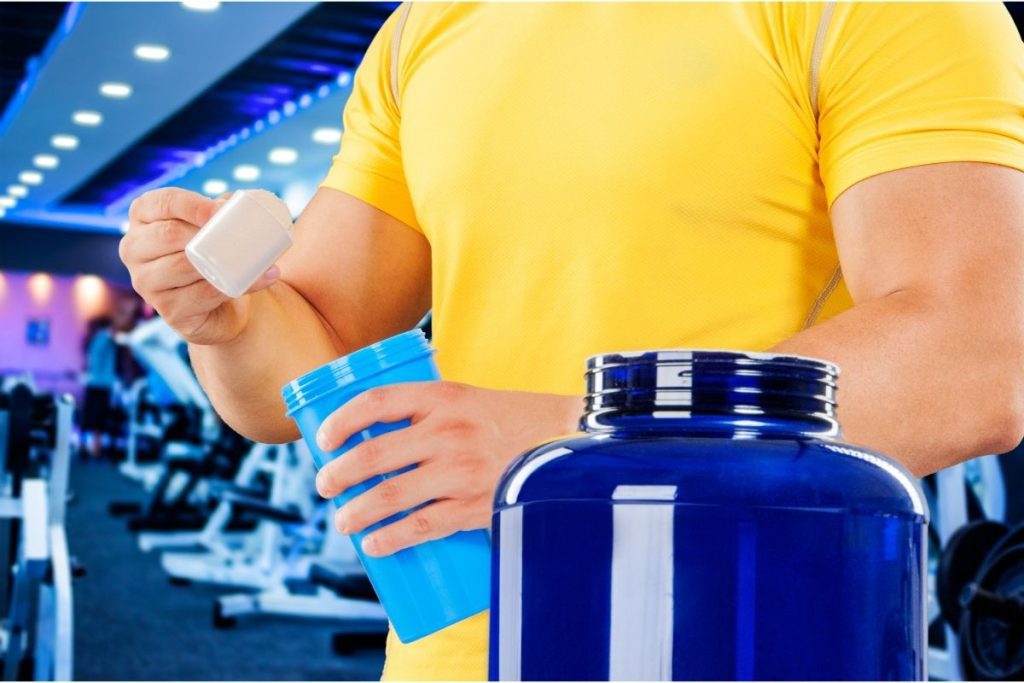 When it comes to workout supplements, there are three main areas that you need to look at to see if the product is successful. These are energy, focus, and pump.
Here is how well Wrecked Pre-Workout performs in these areas.
Energy
Wrecked Pre-Workout provides a one-two punch of energy in every dose of this supplement. With a total of 400mg of stimulants coming from Caffeine Anhydrous, Di-Caffeine Malate, and Theobromine, you'll be able to do a high-intensity workout for hours.
The combination of fast-acting and slow-acting stimulants prevents you from crashing and from feeling fatigued near the end of your workout.
Focus
Many of the ingredients in Wrecked are cognitive enhancers and mood/energy boosters. These include Lion's Mane Mushroom, Hordenine HCL, and NMT.
Pump
The pump provided by this supplement is excellent. It really could not be better. The combination of Himalayan Pink Salt, VasoDrive-AP, and a very high citrulline Malate content gives you more vascularity and muscle pumps.
Flavor
It is nice to have a wide choice of flavors. After all, if a supplement tastes a bit gross you won't want to use it.
So far, Huge Supplements have released two flavors for their Wrecked Pre-Workout. The standard and signature flavor is Rainbow Burst, but just recently a new flavor has been released – Peach Rings.
Both flavors taste great when mixed properly. If none of these suit you though, then you may not have to wait too long for new flavors to be released.
As Huge Supplements keeps growing and becoming a highly successful company, they aim to expand all of their product lines, and that includes increasing the flavor options.
Price and Where to Buy
Wrecked Pre-workout is pretty expensive compared to other supplements of the same purpose. Most pre-workout suppliments cost $30, with $50 considered high. Wrecked Pre-workout can cost anywhere from $45-$50 depending on the supplier.
While the price may be a bit offputing, you ahve to remeber that this product is absolutely packed with things to make your workout more successful. All 18 ingredients are well dosed, and are tailored to make every workout the best one.
The scoop size is also higher than average, with a dose of Wrecked coming in at 21.1 grams.
No matter which way you look at it, you're getting your money's worth and more if you buy this product.
But where can you get it?
Wrecked can be bought from Huge Supplements own site. Huge Supplements also sells the Enhanced Pre-workout Stack on their website if you want to up your fitness game even more.
While you may find a few of Huge Supplements products on Amazom.com, they usually sell exclusively through their own site.
Pros
High stimulant content – the combination of fast/slow-acting stimulants found in Wrecked means that you will be able to keep up a high-intensity workout for a very long time. You are also far less likely to crash suddenly thanks to the dosage levels
Very well-dosed – all ingredients in Wrecked have been dosed perfectly to give you the best workout possible. Some ingredients have double to dosage compared to the standard which will provide you with a much-needed energy boost
Effective ingredients – There seems to be a reason for every ingredient to be in the supplement, with nothing being added only to pad out the list of ingredients
Can be bought as stack combo – buying this bundle from the Huge Supplements website means getting ready for a workout is now even easier
Cons
Not all ingredients may be effective – while everything in Wrecked seems to be there for a reason, some of the ingredients have not been proven to work, or have been tested and found to be more or less ineffective. This doe snot mean that the whole product is ineffective, just that it may not work as well as you would hope
Limited flavors – with only two flavors, the options leave a lot to be desired. We can only hope that Huge Siupplemts releases more in the future.
Wrecked Pre-Workout – Should You Buy It?
Huge Supplements Wrecked Pre-Workout supplement seems to be a wonderful product that any avid gym goer will appreciate. It contains everything a person needs for a high-intensity workout, while also providing healthy boosts to both your body and mind.
While it is slightly on the pricy side of supplements, the larger dose of 21.1 grams and the well dosed and effective ingredients make this higher price worth it. Once you try it, you will never go back to your old supplement again.