Last Updated on October 20, 2022 by admin
If you are starting to feel the burn during a tough gym workout, you may wonder if your supplement is doing the job.
You may be sweating yet if you are failing to gain muscle and struggling to recover after then you should be looking for some extra help.
There is nothing wrong with reaching out for a different supplement if you want a change in results. The last thing you want is to feel that you are suffering while seeing everyone else excelling.
How much is it worth getting through a tough workout when you fail to make any gains and you feel dehydrated?
Only recently has the importance of essential amino acids (EAA) in the form of supplements been fully laid out. Now athletes are reaping the benefits by doing tougher workouts and creating even bigger muscle gains.
EAA supplements can help an athlete keep hydrated and stimulate vital muscle growth through protein synthesis while also helping in recovery.
Here are the best EAA supplements you should look out for. We have also included a handy buyer's guide and FAQ section that will help you navigate the world of EAA supplements and select the best one for you!
Best EAA Supplements
Primeval Labs EAA Max – Best For Energy Boost
You should feel the effects of using Primeval Labs EAA Max and its full EAA profile. This includes a substantial 5g dose of 2:1:1 BCAAs and all nine essential amino acids.
There is also a full variety of nine different flavors to choose from including fruity ones such as Cherry Lemonade and Mango Pineapple.
Their blend of electrolytes should also keep you hydrated throughout the day, not just for your workout. However, they might not be the best value for your money on the market.
Pros
Full EAA Profile – Benefit from each EAA and a 5g dose of 2:1:1 BCAAs
Nine Delectable Flavors – From Cherry Lemonade to Gummy Bear via Sweet Tea, Mango Pineapple, and five others, take your pick
Hydration Design – A blend of electrolytes will keep you hydrated from the start of the day
Cons
Poor Pricing – With only 30 servings, you can find better value
Also Available At
Optimum Nutrition – Amino Energy – Best EAA Supplement With Caffeine
For that extra boost of caffeine that could make a substantial difference to your workout, try Optimum Nutrition – Amino Energy.
You could take that early in the morning or just before your workout for that timely boost, either way, 100mg in each serving should be felt.
Despite that boost, each serving should only be five to ten calories which are without sugar. Then there are 65 servings in each container so you can feel the boost over and over again.
Pros
100mg Caffeine – Each serving contains 100mg of caffeine which is derived from coffee beans and/or tea leaves
Few Calories – Only five to ten calories are included in each serving, and that's without sugar
65 Servings – Each container holds 65 servings for great value
Cons
Temporary Effects – Though there is a substantial amount of caffeine, some users have noted that it feels like a short-term energy boost
Also Available At
Apollon Nutrition – Enigma – Best For Intra-Workout
If you need an EAA supplement to work for you before, during, and after your workout then Enigma from Apollon Nutrition could be the one.
The complex and complete hydration and electrolyte matrix contain a single gram of coconut water powder and electrolytes to keep you hydrated even if the session proves tough.
There is also a massive 14.5g of EAAs in each serving and it still tastes great.
While you can enjoy good value with this supplement, the high price point might be out of reach for some budgets.
Pros
Huge Dosage – 14.5g of EAAs is in each serving
Complex Hydration And Electrolyte Matrix – Ensure you are hydrated to the max throughout the day and your workout
Great Taste – Few EAA supplements have so many beneficial ingredients and still tastes good
Cons
Price Point – This may be good value but still comes at a high price
Also Available At
Nutrex Research – EAA+ Hydration – Best For High-Intensity Workouts
When you need an EAA supplement to turn up for you, choose one that is designed for high-intensity workouts. This could be in the gym or out on a bike, running, or even swimming.
The hydration complex formula in Nutrex Research – EAA+ Hydration is specifically designed to keep your muscles performing with coconut water, electrolytes, and Albion minerals.
There are also no calories due to a lack of carbohydrates or sugar which is a bonus. However, there are artificial flavors included in this supplement.
Pros
Cons
Artificial Flavors – Though there are no calories, there are artificial flavors
Also Available At
BulkSupplements Essential Amino Acids – Best For Budget
For EAAs in their simplest form at a price point, you can get by with, try BulkSupplements Essential Amino Acids. These can help you improve your focus and then build lean muscle.
This formula is also unflavored so comes without any artificial sweeteners or flavors. You can also choose which container size you want as you can order a set of five full kilogram containers, just the one full kilogram container or down to 500g, 250g, or just 100g.
Pros
100 Servings – The full kilogram (2.2 pounds) should last you quite a while, even with regular use
Variety Of Container Sizes – If a full kilogram was deemed too much you can go down to 500g, 250g, or 100g but then up to a pack of five full-kilogram containers
Unflavored – A lot of users simply prefer the lack of flavor and it certainly does not contain any artificial flavors or sweeteners
Cons
Too High Quantity – Their standard container is a full kilogram which may be considered an excessive amount
Also Available At
NutraBio Alpha EAA – Best For Choice Of Flavors
After an 8.2g blend of EAAs included in a serving of their Alpha EAA supplement, you can believe NutraBio for providing enough energy to face the day, then your workout, and the following muscle recovery.
The most difficult part of it may be deciding which flavor to choose as there are seven of them. Whichever one you pick, it will include KSM-66 Ashwagandha to balance out your cortisol as well as Taurine and coconut water powder to suitably enhance your hydration.
Pros
Seven Flavors – Select from Blueberry Lemonade, Cherry Lime Slush, Dragon Fruit Candy, Grape Berry Crush, New York Punch, Peach Tea, and Strawberry Lemon Bomb,
KSM-66 Ashwagandha – Helps balance out cortisol levels
Better Hydration – The inclusion of Taurine and coconut water powder provide electrolytes
Cons
Very sweet – customers noted that the flavors were overly sweet
Also Available At
Kaged Muscle – Amino Synergy – Best For Added BCAAs
For high-quality ingredients, you should opt for Kaged Muscle – Amino Synergy. This is one of the cleanest formulas out there with freeze-dried coconut water and no artificial flavors or dyes.
There are also 30 servings so you should be getting value for money from your fermented and vegan sourced EAAs. You can also choose between a caffeine-free variation if you get your caffeine elsewhere or the formula that contains organic caffeine.
Pros
Caffeine-Free Variation – You can choose between the caffeine-free option or one that contains organic caffeine
30 Servings – Few containers pack in as many servings
Fermented And Vegan Sourced EAAs – This is an exceedingly clean formula without any artificial formulas or dyes
Cons
Lackluster Flavor – Some formulas simply have a more tasty flavor
Also Available At
Jacked Factory EAA Surge – Best For Rapid Absorption
If you need an EAA supplement that you want to work quickly then choose Jacked Factory EAA Surge. The formula is naturally fermented for quick absorption and includes L-Taurine and coconut water powder to help with muscle recovery and gains, as well as blood flow.
A delicious flavor is to help you get it down while it proves easy on the stomach too. Best of all is Amino9, a precise matrix that includes all nine EAAs.
Pros
Includes Amino9 – This is a precise ratio featuring all nine EAAs
Coconut water powder And L-Taurine – Vital ingredients for muscle pumps and strength gains
Delicious Flavor – The flavor is designed to be enjoyed so you can savor the benefits
Cons
Limited Servings – Only 20 servings are included in each container
Also Available At
VitaMonk Clean EAAs – Best For Clean EAAs
Sometimes it is easier to simply select the cleanest formula, one which is without any artificial fillers. VitaMonk's Clean EAAs is ideal as there are no artificial sweeteners or colorants, just pure essential amino acids that are also purified.
The taste is even flavored with Stevia in a formula that is free of gluten and considered dairy-free to ensure a lack of jitters and prevention of weight gain.
Pros
No Artificial Fillers – The formula does not contain any artificial sweeteners or colorants
No Dairy Or Eggs – Not only is it is dairy-free but also gluten-free which is ideal for those with allergens
Only Natural Zero-Calorie Sweeteners – Benefit from Stevia and Monk Fruit instead of sugar that can burn you out
Cons
Large Price Tag – You should be expected to pay more for such a specialist formula
Also Available At
Huge Nutrition BCAA – Best For BCAA's
With a formula of branched-chain amino acids (BCAA's), you can expect to benefit from the crucial nutrients you need.
Their effects should be felt on muscle recovery, muscle synthesis, and muscle growth. You can choose between three refreshing flavors and even choose between having it twice a day or just use it with your pre-workout for a substantial lift.
Either way, you can use this to combat muscle fatigue effectively.
Pros
Three Tasty Flavors – Choose from Kiwi Blueberry, Bomb Popsicle, and Watermelon Lemonade
Huge BCAA Quantity – 8000mg of BCAA's are contained in each scoop
Versatility – Can be drunk before, during, or after your workout due to the high-quality ingredients
Cons
Limited Servings – Each container only contains 25 servings
Also Available At
Buyers' Guide
When you are buying an EAA supplement, you should be looking for one with a flavor you enjoy as well as several benefits that should enhance your aerobic performance.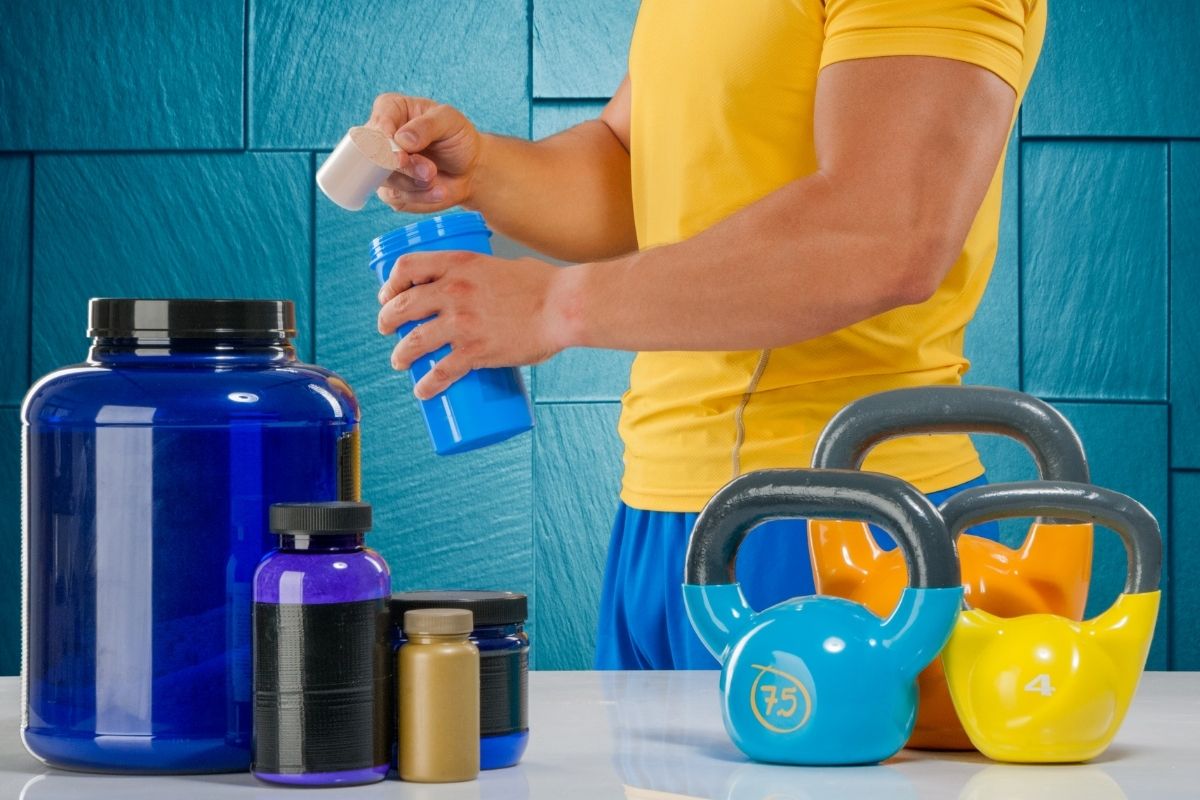 These essential amino acids are ones that your body fails to synthesize as they are produced through ingestion.
The nine to look out for are leucine, isoleucine, valine, histidine, lysine, methionine, phenylalanine, tryptophan, and threonine.
Their benefits include improving your muscle strength and supporting muscle growth. They should also support your metabolic health, prevent any muscle loss, reduce any muscle soreness and the occurrence of DOMS. Finally, EAA supplements should support your immune system.
BCAA/EAA Ratio
The BCAA ratio in an EAA supplement is something to look out for as there are certain ingredients that you should hope to find. You may favor these ingredients over others so the ratios do come into play.
For instance, you could have a 3:1:1 ratio of three grams of leucine for every gram of valine and isoleucine. That can be compared to other supplements so you can pick and choose.
Amino Acid Profile
The amino acid profile is important yet there is typically less difference across most supplements. The three dominant amino acids should be leucine, isoleucine, and valine.
Further down the profile, you should find lysine, threonine, and phenylalanine in diminishing amounts. Finally, tryptophan, histidine, and methionine should be included but to a lesser extent.
Servings
The number of servings in each container is a good indication of how much value for money you can achieve.
Instead of comparing the weight of each container across the range of supplements, you should divide the cost by the number of servings to find out the individual cost of each serving.
It may be preferable to find a container with as many as 30 servings that can last you over a month.
That should be a general average yet you can find some containers that hold as many as 100 servings yet may cost more per serving. There is also the amount of space you will have free to hold the container.
Flavors
If the EAA supplement tastes good, there is more chance you will enjoy consuming it. There will be some manufacturers who decide that unflavored is the way to go.
However, many have provided a range of fruity flavors, some supplements can come with up to nine, even eleven flavors.
While that may be too much choice, you should be able to find one you like though lookout for one that boasts that it does not contain any artificial flavorings.
Electrolytes/Hydration Mix
The electrolytes are essential for ensuring that the EAA supplement can keep you hydrated. They tend to include taurine, Albion minerals, and coconut water powder.
Not only can these ingredients aid your hydration but they will also go some way to helping your muscle recovery and muscle performance.
This is essential if you perform a gym workout in a hot environment as you can quickly find yourself dehydrated unless you keep on top of your fluid intake.
Caffeine
The amount of caffeine in each serving can sway you between supplements. Some supplements boast that their formula is caffeine-free which may be ideal if you prefer to workout at night and do not want to be kept awake.
However, you may prefer the caffeine for that initial boost alongside your daily caffeine intake from coffee and tea.
Try to search out organic caffeine simply so it provides you with a more natural reaction as opposed to anything synthetic.
If you do opt for an EAA supplement with caffeine then you may discover that you can take it in the morning simply for that boost. Aside from that, it can simply be taken as a pre-workout so you enjoy the benefit during your gym session.
A good amount of caffeine to look out for maybe as much as 100mg. However, try the EAA supplement at various times of the day as it could mean that you only enjoy a small-term energy boost and not the long-lasting effect you desire.
Ingredient Profile
Sometimes it is not just the ingredient profile itself that matters but how transparent the manufacturers are in displaying it.
Each ingredient should be listed alongside its specific quantity and even ratios. Alongside the nine amino acids, you can also expect caffeine to be included too in the form of green tea and green coffee bean extract.
If the ingredient profile includes proprietary blends then the exact quantities of certain ingredients may be unknown which can be a concern.
The use of filler ingredients can also be an issue as you do not want your supplement to have any artificial ingredients and flavorings. The list of ingredients should be extensive, transparent, high-quality, clean, and active.
Frequently Asked Questions
Why Should I Take EAA Supplements?
After a heavy lift session, you may feel tired and your muscles should ache. You may even feel weak which is where essential amino acids come in.
These EAA supplements help to build the protein contained in your body in a process known as protein synthesis. This helps to repair your muscles which is why EAA supplements are so important for recovery.
When Should I Take EAA Supplements?
For the best results when taking EAA supplements, you should drink them around half an hour before your workout. This should give the amino acids enough time to absorb into your body.
However, there are EAA supplements that can even be taken during your workout which are known as intra-workout supplements. Some EAA supplements are specially designed for consumption during the day as a meal spa0fd-20nt or caffeine boost.