Last Updated on October 21, 2022 by admin
Working out many times, involves huge outburst of energy. Many times, athletes and sports people might need to supplement their energy levels. As a result, some turn to energy drinks to provide them with a way to boost their energy. There are series of energy drinks available on the market, and not all of them are created equally.
The best energy drink that will boost your energy level while also ensuring you aren't sent crashing down later should have the correct dose of sugar, caffeine, and other ingredients. Such can can help you make it through the day on the field.
What Exactly are Energy Drinks?
Energy drinks have been created to provide an energy boost when needed the most. In most energy drinks, the energy boost is created by combining sugar and caffeine. Sugar provides a rapid increase of energy by causing your blood sugar levels to rise.
On the other hand, caffeine is a stimulant that affects the central nervous system, resulting in increased reaction time, concentration, and alertness. Apart from sugar and caffeine, energy drinks typically contain additional ingredients such as taurine, guarana, ephedrine, and ginseng, which are meant to raise your endurance and wakefulness. This way, you can go long hours on the field without fatigue
What are the Benefits of Energy Drinks?
There are various reasons why energy drinks are trendy; let's have a look at a few of them:
They Can be Convenient and Come in a Range of Colors
Energy drinks do not require heating or brewing, making them a lot more convenient than tea or coffee. You simply buy, open and drink. Additionally, they come in various flavors, so that there is something for everyone.
They are Fast-Acting
Energy drinks are generally consumed cold, making it easier to gulp them down. Conversely, tea and coffee are usually consumed hot, so they have to be sipped. This means it might take longer for the caffeine to affect your system.
They Have a Specific Amount of Caffeine
Depending on the types, tea and coffee tend to have varying levels of caffeine in them, making it difficult to pinpoint just how muchcaffeine you are getting. That isn't the same with an energy drink, as the caffeine level is always consistent regardless of what time of day you open the product. Additionally, the level of caffeine is typically printed on the packaging, which enables you to limit just how much caffeine you consume daily.
They Provide an Energy Boost
One of the most glaring benefits of energy drinks is that they can make you feel alert and awake. This can be especially helpful if you are operating on a lack of sleep. Energy drinks can also help provide you with a much-needed energy boost to handle particular tasks such as working out.
What to Consider when Getting Energy Drinks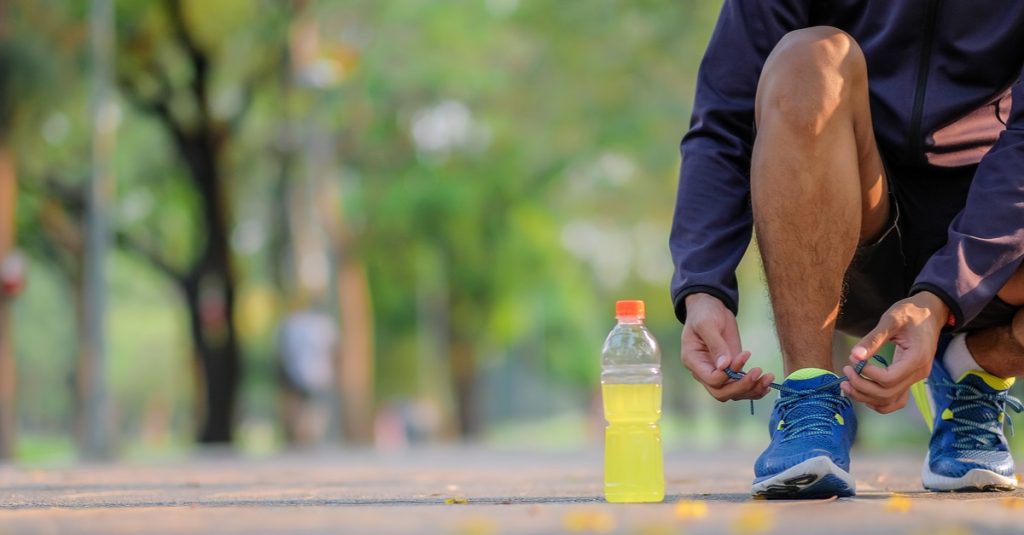 Size
The majority of energy drinks come in bottles and cans that contain about 8 to 16 ounces of liquid. Nevertheless, some drinks come in smaller sizes, about 2 ounces. These smaller energy drinks have concentrated formulas meant to be consumed in a couple of gulps. This method provides energy as quickly as possible.
Sugar Content
One of the main ingredient in energy drinks is sugar; however, having too much sugar can cause obesity, diabetes, and other health issues. It is essential to make sure the energy drink is healthy, so it is best to consume options with a maximum of 10grams of sugar per serving.
Caffeine Content
While the main ingredient in energy drinks is caffeine, you must consume only a healthy amount since having too much caffeine can cause you to become agitated and jittery. Medical experts typically recommend consuming a maximum of 400 milligrams of caffeine each day. As a result, you need to avoid any energy drinks that do not print the amount of caffeine in each bottle on the label. You should look out for 300 milligrams of caffeine per 16 ounces.
Flavor
When energy drinks first hit the market, they had a reputation for being unpleasant, having a medicinal taste. Thankfully, today's energy drinks come in various flavors, making it easy to find one that appeals to you. Some familiar flavors are orange, berry, citrus, tropical punch, and lemon-lime.
Calories
Several people do not consider the number of calories present in the beverages they consume. An energy drink with a lot of sugar can pack many calories. It is always best to stick with energy drinks with 150 calories or less.
Other Ingredients
Energy drinks aren't typically regulated, so it is essential to know any additional ingredients present. A few of the ingredients found in energy drinks are:
Ginseng: This herb is known to boost energy. Nevertheless, some studies have shown that ginseng could potentially decrease your endurance level during an exercise. It can also lower blood sugar, so people with diabetes should refrain from consuming energy drinks with ginseng.
Taurine: This is an amino acid that increases athletic performance and speeds up metabolism. Experts recommend that one should only consume 3,000 milligrams a day.
Guarana: is derived from the guarana plant in South America. It has twice the caffeine content as coffee.
Green tea extract: green tea extract offers a small amount of caffeine. It also has antioxidants that can fight cancer.
Carnitine: This amino acid boosts endurance and encourage fat burning. Ideally, you should only consume 3 grams per day; else, the result might be an upset stomach or seizures in severe cases.
Green coffee extract: Green coffee extract provides a dose of caffeine without coffee flavor.
Ginkgo biloba: this is a supplement derived from the leaves of the ginkgo tree in China. It is said to promote mental alertness and boost memory.
B vitamins: B vitamins such as niacin, folic acid, B6, and B12 can boost energy. The good thing about them is that they are water-soluble, meaning they do not stay in the system for too long.
The Best Energy Drinks for Workout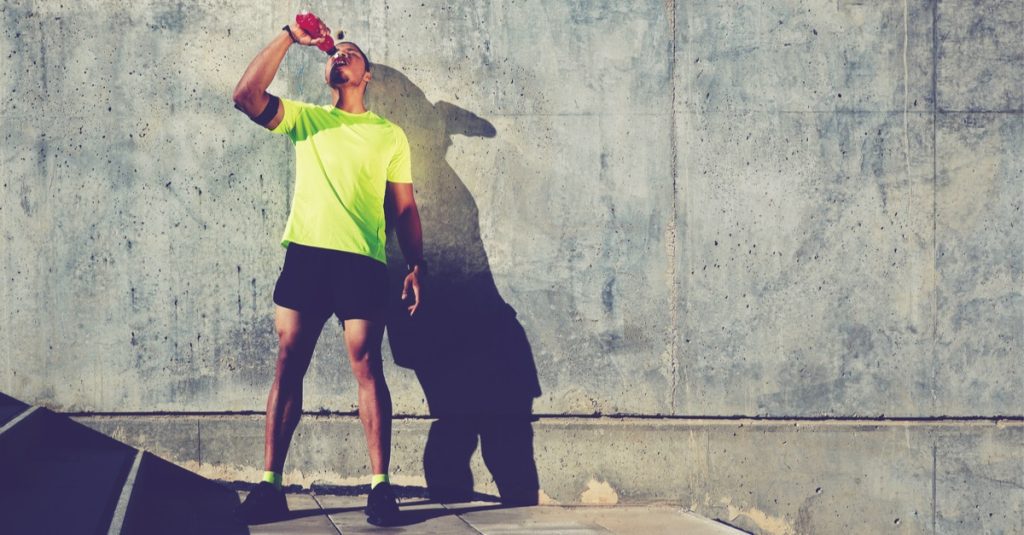 1. Bang Cherry Blade Lemonade Energy Drink
Bang energy drinks deliver a safe, sugar-free, carb-free, crash-free, great-tasting, sustained energy beverage experience.
Studies suggest that the caffeine in Bang energy drinks increases mental focus, alertness, endurance and possibly even strength.
Bang energy drinks have ZERO carbohydrates ("carbs") — this helps avert the blood-sugar spikes so prevalent with other energy products, and avoids empty calories as well.
Bang not only gives you energy, it also contains great ingredients like CoQ10, essential amino acids (EAA Aminos) and the patented Super Creatine — the only form of creatine that is sustainable in liquid for an extended period.
Bang energy drinks are gluten-free and vegan-friendly, so they are perfect for any lifestyle or diet.
Bang Energy drink comes with 300 milligrams of caffeine, ensuring you have the energy needed to power you on the field. It has a pleasant flavor making it go down smoothly. The drink also contains creatine which is helpful when engaging in high-intensity activities. Since this energy drink is gluten-free, with zero calories and sugar, it is a great way to gain energy without any additives.
2. Zipfizz Healthy Energy Drink
Vitamin Enhanced Energy/Sport Mix
Loaded with Vitamins, Antioxidants, and Electrolytes
Low Carb and ZERO Sugar with 4-6 hours of Energy
Great for Traveling & On-The-Go
Gluten Free. Contains 100 mg of caffeine from natural sources. Limit 3 tubes per day
Zipfizz is another healthy energy drink that provides more than just extra energy. It also comes with a dose of antioxidants and vitamins to supplement your health. This energy drink comes with 100 milligrams of caffeine with B12 to provide an energy boost. There are also 500 milligrams of Vitamin C to help lift the immune system. Electrolytes have been added to support post-workout recovery. Zipfizz comes in tubes that provide the proper serving. It can also be seamlessly dissolved in beverages. One negative is that the energy mix might have too much fizz and bubbles when added to carbonated drinks.
3. Celsius Fitness Energy Drink
12 oz. Slim Cans – Flavors May Vary
Pre-Workout Drink
Your Ultimate Fitness Partner
Healthy Energy, 200 mg Caffeine
Energy to Live Fit
Celsius Fitness Energy Drink is an energy drink best suited for workouts. It can be used as a workout supplement as it provides a lot of energy and increases your metabolism when consumed. It is packed with a blend of guarana, taurine, caffeine, ginger, and green tea. It is a fruit-flavored drink that comes with 200 milligrams of caffeine, making it a great pre-workout supplement. Additionally, it has no added sugars, artificial flavors, or dyes, making it an excellent natural choice. It is important to note that this isn't for casual drinking due to the amount of energy.
4. Monster Ultra Black Energy Drink
FULL FLAVOR, ZERO SUGAR: Monster Ultra Black has 10 calories and zero sugar, but with all the flavor you're accustomed to and packed with our sugar-free Monster Energy blend
REFRESHING TASTE: Monster Ultra Black offers a crisp, slightly sweet black cherry flavor. Ultra Black is great for any occasion
UNLEASH THE ULTRA BEAST: Just about 300 miles north of Chicago, nestled on the eastern shore of Lake Michigan is the "Cherry Capital of the World" Traverse City, MI. Long warm summer days and cool nights cause the black cherries to ripen right around the 4th of July, but you gotta get `em while you can `cause all too soon they're gone. Now, like those famous black beauties, crisp, slightly sweet and for a limited time only; Monster Ultra Black a. k. a. the "Black Monster", refreshingly light, sugar free and packed with our Monster energy blend. Get it while the getting's is good
STOCK UP WITH A 24 PACK: For those looking for a Monster that's lighter tasting, has zero sugar, and contains the full Monster Energy blend, Monster Energy Ultra Black is available in a convenient pack of 24
Due to new FDA nutrition labeling requirements, product labels may vary from those pictured
Monster Ultra Black Energy Drink is a great low-calorie drink, perfect for those attempting to watch their weight. It also doesn't contain any sugar and has only ten calories. A pack comes with two dozen cans with 140 milligrams of caffeine mixed into a carbonated and tasty black cherry flavor. The no sugar and low-calorie formula makes Monster an excellent choice for anyone watching their weight or on a diet. One negative is that a large amount of caffeine might not suit some.
5. Red Bull Energy Drink
Red bull the blue edition red bull energy drink, with the taste of blueberry
Red Bull Energy Drinks formula contains high quality ingredients: Caffeine, Taurine, B group Vitamins, Sugars, Alpine water
Case of twenty four (6 packs of 4) 8.4 fluid ounce Red Bull The Blue Edition cans
Red Bull cans are made of 100 percent recyclable aluminum
Vitalizes body and mind
Red Bull energy drink is one the most popular energy drinks on the market. It has a great flavor while providing a significant boost to energy levels, making it one of the go-to energy drinks on the market. It has 110 calories and includes 80mgs of caffeine. A pack contains 12 recyclable cans filled with an energy formula that is dairy-free and gluten-free. Included in the ingredients are B vitamins and taurine for added energy. Not many people, however, finds the taste pleasant.