Last Updated on October 25, 2022 by admin
When our favorite running shoes are worn out, they usually don't feel like they used to. They lose many of their features and comfort. Some may be broken in, have badly worn soles, or even lose the fit and get a little baggy. By the time you notice this, you may need to replace your current running shoes with new ones.
Once you've decided to buy a new pair of running shoes and wear them for the first time, it's not uncommon for the latest footwear to cause chafing or discomfort of some kind. Today, most running shoes on the market are designed to fit the foot like a sock. It's just a matter of finding a model that fits the size of your foot and your athletic needs.
However, when your feet are already used to wearing the same pair of sneakers for a while, wearing a new pair can be uncomfortable. Here's how to break in running shoes quickly to enjoy them as soon as possible.
How to Break in Running Shoes Quickly
There are many strategies for fitting your athletic shoe to achieve a proper fit. However, some of them can be detrimental to maintaining the good condition of your shoes because they require the use of chemicals. This is not very advisable because even if this method softens your shoes, it is possible to damage them.
Therefore, you should discard the use of techniques that involve chemical solutions and use these non-invasive but effective techniques.
Bend the shoes. Without being extremely rough, carefully and slowly bend your running shoes back and forth repeatedly. Next, please do the same thing but this time, bend them sideways. Remember to do this slowly and very carefully so as not to damage the shoes.
Use very thick socks. To adapt the size of your running shoes, you can wear them with thicker socks than the ones you use for running. If you don't have thick socks, you can put one sock over the other to make your foot wider. Then, put on the sneakers you want to adapt for a few minutes.
Slip several pairs of socks into your running shoe. Roll the socks into a ball and tuck them into the shoes. Use a little force to stuff as many socks as possible, ensuring that no space is left in the shoe empty.
Insert newspaper or magazine. Slightly dampen the newspaper or magazine sheets and crumple them into small balls. Insert as many sheets or newspapers as possible until there is no space left. Allow a few hours for the paper to dry.
Use potatoes. The starch contained in potatoes can help you to enlarge your shoes. In addition, with this method, you will neutralize the odors of your running shoes. Put a few potatoes in your shoes and leave them in overnight. The next day, wipe the inside of the shoes with a damp cloth. Be sure to remove any residue that might be left from the potatoes inside your shoes.
Other Tips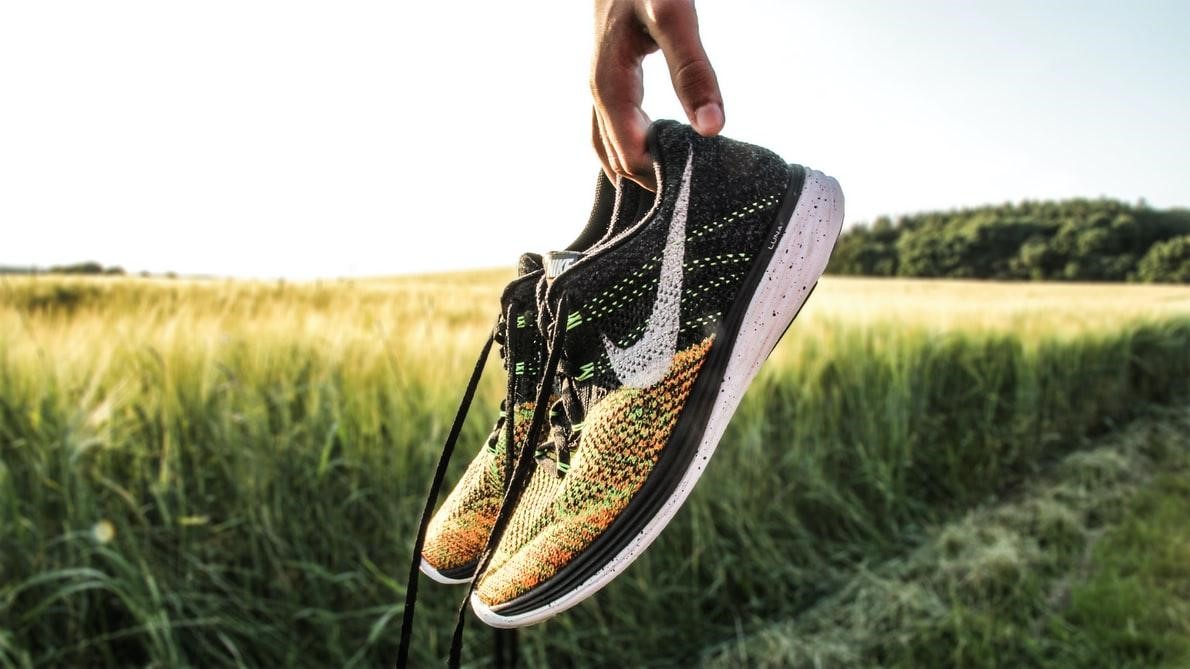 For a shoe to fit you properly and work for you to go on a long run comfortably, it is paramount that you have chosen the suitable model and size for your needs. If you've chosen a good pair of comfortable sneakers, it shouldn't take too long to adjust to your new pair. From the first day you go running in them, you will feel relatively comfortable. However, this does not mean that you should run a marathon in your new shoes.
New Shoe Models
If you bought a new running shoe model or trail shoe different from the one you are used to wearing, you might feel discomfort when wearing them for the first time. It will probably take you 2 to 3 weeks at most to get used to them. To shorten this time, you can take advantage of a few strategies to avoid discomfort, chafing, or injury.
Use Your Shoes at Home
If you bought a new pair of running shoes, you don't need to try them out at a race or during your next training session. It's best to test them in the comfort of your own home. Walk around and do your usual household activities.
By wearing them at home, you will be able to notice any problems you might have in the middle of a race, with the difference that at home you will have to take them off without causing pain. This test will also help you if you have purchased your shoes online.
You'll be able to tell if they're too big, too small. Or if you feel any chafing that may cause blisters. Knowing this will help you make the best decision and prevent an injury in the middle of a race.
Wear Your Sneakers on a Treadmill
If you've been wearing your new running shoes at home for a while and have noticed little or no discomfort, it's time to try them with a little more movement. Use your running shoes on a treadmill or treadmill.
The advantage of doing this test is that if you notice any discomfort while running, some stores will allow you to return or exchange the product as long as the shoes have not been used outdoors. Running on the treadmill while wearing your new running shoes gives you a rough idea of how your shoes will perform on the track or pavement.
Before Buying New Running Shoes
Even if you already know your shoe size, some shoes may fit too small or too big. Sizes often change model to model and brand to brand. It is essential to remember to take your foot measurements and the rule of buying ½ size up in your shoe size.
Even if you buy a running shoe model that you have already bought before, size up! The brand may have updated its newer running shoe with little to no notice, and you might notice it too late. Remember that the best thing to do when faced with a bad fit is to prevent it.