Last Updated on November 8, 2022 by admin
Making sure you have the most appropriate size whenever you buy footwear is important. This is not just so that they will feel comfortable when wearing them, but because there is a risk of injury, sometimes permanent injury, if you continuously wear footwear that is the wrong size.
In the case of running shoes, it is important that you are wearing the right size for similar reasons, however, there are some nuances when it comes to selecting which size of running shoe you should order. In this article we will explain what these are and how to make sure the size of running shoe you are wearing is the right size.
Why Running Shoes Can Feel Tight
If you have been wearing the same running shoes comfortably for some time, and they suddenly start to feel tight, there can be several reasons for this. Before we outline them, we are going to assume you not a growing child whose feet are getting bigger simply because of that growth.
For an adult, running shoes starting to feel tight can be for several reasons. The first is that your toenails have grown too long and need cutting. Another reason is that as we age, our feet can change shape and in particular they tend loose support and flatten.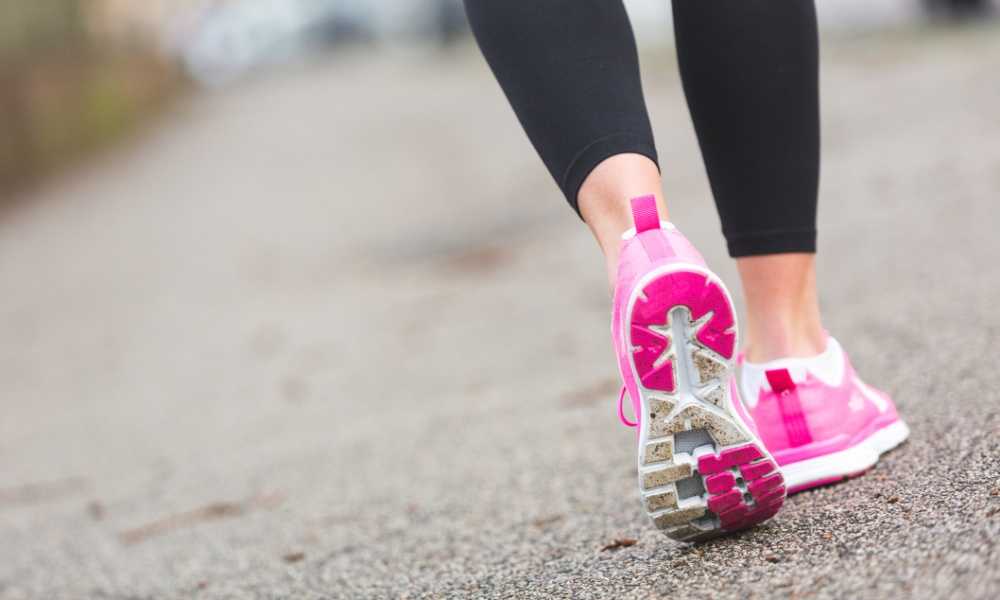 Pregnancy can cause a women's feet to swell, and for everyone else, the list of reasons for feet swelling includes injuries, excess fluid, long periods of standing, or weight gain.
How to Measure Your Feet Properly
There are two main ways you could measure your feet. The first is in the store by the assistant, and this is likely to be done using something called the Brannock device. This iconic foot size measurer is something which everyone who has visited a shoe shop will have had their feet measured with.
The second way you can measure your foot size is basic but also very effective. You get a blank sheet of paper and wearing socks of a thickness that you are likely to wear when running, you draw around your foot using a pen. You then do the same with the other foot.
Using a ruler to measure the length of the longest part of the outline, and width at widest, whichever of the two foot sizes is the greater, is the one which you use to determine which running shoe size you need.
How Tight Your Running Shoes Should Be
When you put in a pair of running shoes, there is no single part of the foot that is going to identify whether they are too tight or not. Different parts of the foot react in different ways and it's by tuning in to these parts you will be able to determine if the running shoes you are wearing fit correctly or are too tight.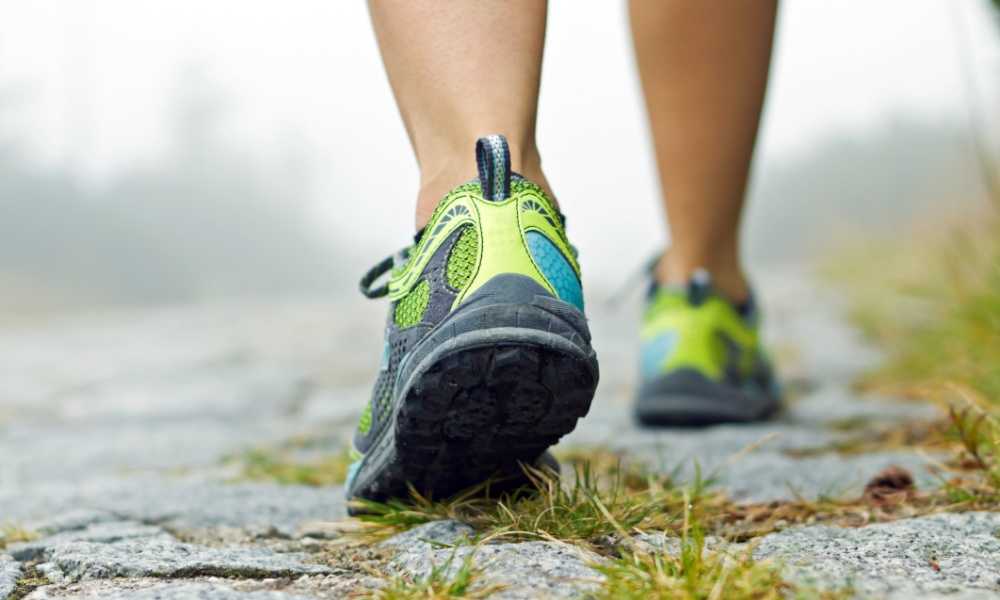 Heel
If your running shoes are too big, you are likely to get what just about everyone who has ever run or played sport has suffered from, and that is a blister. This is obviously caused by excessive rubbing from the back of the shoe on the heel area. You want the heel area to fit snuggly, but not that tight that it could constrict heel movement.
Mid-Sole
This is a critical part of the running shoe which provides the support and stability that are essential when you are running. Your running shoe should feel snug in this area, even before the laces are tied. This part of your foot may swell slightly when running so running shoes which are too tight will soon cause pain and discomfort.
Toes
As a result of the impact of each stride you take when running, naturally occurring fluids build up in your feet which is why there needs to be the wiggle room you often hear shoe store assistants asking about when you try shoes on. The rule of thumb, literally, is that you should have a thumb's width of wiggle room between your big toe and the inside of your running shoe.
How to Select the Right Size of Running Shoe
Due to the natural widening and lengthening of your foot, due to the impact with the ground when you are running, the considered opinion is that you should select running shoes which are half a size longer than your normal shoe size. To determine the actual running shoe size, you should use a shoe size conversion chart.
One consideration is whether you tend to run fast over short distances or jog slowly over longer distances. If it is faster running you do, then you want your running shoes to be as snug as possible as this helps with pace.
BESTSELLER NO. 1
Under Armour Men's Charged Assert 9 Running Shoe
Lightweight mesh upper with 3-color digital print delivers complete breathability
Durable leather overlays for stability & that locks in your midfoot
EVA sockliner provides soft, step-in comfort
Charged Cushioning midsole uses compression molded foam for ultimate responsiveness & durability
Solid rubber outsole covers high impact zones for greater durability with less weight
BESTSELLER NO. 2
Brooks Women's Ghost 14 Neutral Running Shoe
THIS WOMEN'S SHOE IS FOR: Runners looking for a smooth ride that won't distract from the fun of the run. The Ghost 14 offers a simplified midsole construction which creates more seamless transitions. This Brooks Ghost 14 is a certified PDAC A5500 Diabetic shoe and has been granted the APMA Seal of Acceptance.
SUPPORT AND CUSHION: The Ghost 14 offers neutral support while providing high energizing cushioning. Ideal for road running, cross training, the gym or wherever you might want to take them! Predecessor: Ghost 566
BALANCED, SOFT CUSHIONING: BioMoGo DNA and DNA LOFT cushioning work together to provide a just-right softness underfoot without losing responsiveness and durability – yet it feels lighter than ever. DNA LOFT now makes up the entire midsole, for a softer, smoother, ride.
SMOOTH, STABLE RIDE: No matter how your foot lands, our Segmented Crash Pad – an integrated system of shock absorbers – will cushion every step and stride for smooth heel-to-toe transitions.
SOFT, SECURE, FIT: More strategic use of the 3D Fit Print upper technology provides structure that moves with the foot.
BESTSELLER NO. 3
ASICS Men's Gel-Venture 8
GEL Technology – Cushioning provides excellent shock absorption
Re-engineered outsole lugs for better off-road traction
BESTSELLER NO. 4
ASICS Women's Gel-Excite 9 Running Shoes
Guidance Line Midsole Technology – Vertical flex groove decouples the tooling along the line of progression for enhanced gait efficiency.
BESTSELLER NO. 5
adidas Women's Puremotion Adapt Running Shoe
Running-inspired laceless shoes for women
Regular fit; Snug, sock-like feel
Lightweight textile upper provides durability
Cloudfoam midsole for step-in comfort and superior cushioning
Synthetic outsole for light weight