There's a reason why golf shoes rank top among the most popular sports shoes in the market for many years. Golf shoes are made of high-quality materials that come with numerous advantages:
waterproof
comfortable
breathable
adequate support
overall performance
value
and a lot more.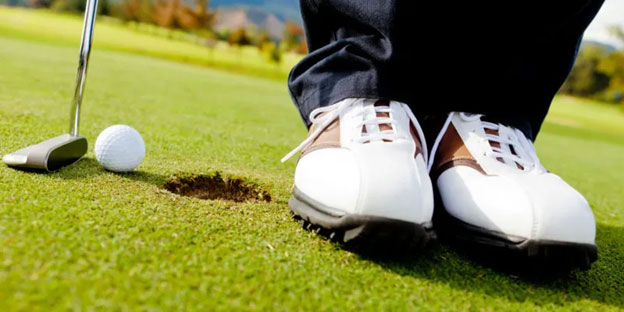 Why Wear Golf Shoes?
Wearing golf shoes when on the golf course goes beyond aesthetic purposes. Golf shoes are sturdy which is why they are worn to prevent your feet from moving or slipping. They are designed to provide stability, flexibility, and balance during a swing.
While wearing golf shoes is not mandatory, they're recommended by many professional players. Wearing golf shoes also improves the player's performance during the game. It helps by preventing slipping or sliding during the swing movement. The grip that it provides also helps in making good contact with the golf ball resulting in good impressive shots.
Sneakers on the golf course are fine but a good pair of golf shoes make so much difference. The sturdy foundation adds more flexibility and adaptability to all the terrains.
Skechers Golf Shoes
Skechers is known for its high-quality footwear that stands the test of various obstacles. Skechers golf shoes are considered among the best golf shoe brands in the market today. Check out some of their best-selling products below:
Skechers GO GOLF Pro V.4
The Skechers GO GOLF Pro V.4 has a classic design. It comes with replaceable Softspikes and waterproof Skechers H2GO Shield for added protection.
Skechers Go Golf Blade 2 Golf Shoes
Skechers GO GOLF Blade 2 has a run-inspired, athletic style and a new hybrid traction system.
Skechers Go Golf Elite 3 Golf Shoes
The Skechers GO GOLF Elite V.3 Golf Shoes provide you with unmatchable comfort, response, and ultimate durability. It has an improved seam-sealed waterproof protection which is why it's perfect to wear during wet seasons.
Skechers Go Golf Focus 2 Golf Shoes
If you want to get a more stable golf shoe to spice up your game, the Skechers GO GOLF Focus 2 is perfect! Its replaceable Softspikes helps you remain steady and relaxed during the game.
Skechers Go Golf Drive 2 Golf Shoes
Skechers Go Golf Drive 2 combines aesthetics and purpose into one. Get a pair of casual sneaker-style golf shoes that comes with Goga Mat technology for extra comfort.
Skechers Women's Max Golf Shoes
The Skechers Women's Max Golf Shoes has an added cushioned comfort and breathability. It's lightweight, durable, and flexible making it ideal for intricate movements.
The Disadvantage of Regular Sneakers
Regular sneakers are slippery on the green ground and wearing spikeless or ordinary shoes can bring a lot of threats to the player himself. Slipping and sliding can lead to injuries that may not only affect the performance but jeopardize one's safety as well. Skechers Golf Shoes are made and designed to prevent unwanted mishaps during the game.
Having a good grip on your hands on the golf bat and your feet on the ground is important in golf, and one great way to ensure your grip is on point is through wearing the proper gear. Wearing the right pair of shoes gives athletes a boost of confidence in addition to traction and stability.