CrossFit training has slowly become more and more popular in recent years due to its multifaceted training regimen. The ultimate goal of every cross-training exercise is to blend strength training, HIIT workouts, and strength training into one for optimal physical capacity. As such, the name of the game when it comes to CrossFit training shoes will always be versatility.
CrossFit shoes are essentially a blend of the stability, durability, and cushioning you see in lifting shoes while also being lightweight enough for any intensive cardio exercise. Also, the best CrossFit shoes for women will provide just enough cushioning and shock absorption on the soles, so make sure you feel nice and comfortable throughout your workout.
Since these shoes are also meant to handle many different types of workouts as well, they will also aim to be as adaptable and flexible for workouts ranging from heavy lifting to jumping HIIT training. Since CrossFit does incorporate a lot of running and cardio exercises, many CrossFit trainers use basketball shoes for their workouts since they also offer substantial stability.
However, the problem with basketball shoes is that they often have a bulky structure and restrictive ankle padding that can hinder your performance for some more flexible workouts in the CrossFit training regimen. A women's CrossFit shoe also needs to have added traction and balanced stability that you may not get with any basketball shoes.
One issue with the CrossFit shoe market is that it tends to dominate male-oriented designs and aesthetics. As such, we have compiled a list of some of the best CrossFit shoes for women available on the market.
1. Reebok Women's CrossFit Nano 7.0 Track shoes
Reebok's new Nano 7.0 model is one of the best CrossFit shoes for women you will find due to their CrossFit-specified design structure.
The first noticeable feature of the Reebok CrossFit Nano 7.0 model is its 'power launch toe box". This provides more support for your toe box, which gives you more support for strenuous weight exercises. Also, if you suffer from wide or flat feet, this toe box will make sure your toes do not feel too tight in the shoe during strenuous strength training workouts.
The rubber outsole is made of rubber, making the shoes both sturdy and comfortable. The laces are also reliably thick and rarely come undone in the middle of the workout, meaning your feet will always be well-secured and snuggly fit.
As for a cardio CrossFit workout, these shoes also have you covered. These shoes are made from a breathable mesh fabric that will limit heat absorption and keep your feet nice and dry during HIIT cardio and running workouts. Many users cite this characteristic as a critical factor in their satisfaction with the product, as breathability is sometimes an issue with other CrossFit shoes.
These shoes also come with a reliably low-cut design that you see with most Reebok footwear. These shoes do not ride too high on the ankle, which allows for more agile ankle movement for a more flexible CrossFit workout like rope climbs and jump training. However, they do not compromise on stability either since they add a reinforced heel cup that gives your ankles support during squats or clean and jerks.
However, some users claim the Reebok Nano has some drawbacks. This Reebok CrossFit shoe does have flat shoe bottoms, a natural design for many CrossFit designs but can be a problem for some weight training exercises, especially if you suffer from flatter arches.
2. Altra Women's HIIT XT Cross-Training Shoes
The HIIT XT model from Altra was originally designed for HIIT cardio workouts, but many users have found them useful for cross-training.
This CrossFit training shoe is constructed with a sculpted footbed to aid your foot's position and form during all workouts. This is helpful since the right form can be the difference between a successful workout and a serious injury. As such, these shoes are often recommended for users who are novices, so they develop the correct workout techniques.
As for their uppers, a comfortable mesh is used for great breathability and limited heat absorption. Speaking of comfort, this workout shoe also comes with a zero-drop platform with added cushioning and a 'sticky' rubber sole for more stability during weightlifting exercises and other CrossFit activities.
The main drawbacks of this athletic shoe is their sizing and color options. Their sizes tend to run a little small, so you may need to purchase a size bigger than you normally would. Also, these shoes only come in three different colors, which can be a negative to many trainers who want a bit more customizability.
3. Inov-8 Women's F-Lite 235 V2 Cross Trainers
These F-Lite 235 V2 shoes from Inov-8 are some of the best CrossFit shoes for women you will find. They are constructed to handle the diverse exercises found in most CrossFit training regimens like gymnastics, strength training, and cardio. They also come with a great low-profile aesthetic with five different color options.
This cross training shoe comes with a breathable upper mesh to ensure your feet do not overheat during cardio workouts and provides sufficient grip and traction for rope climbing workouts and other CrossFit activities. Another interesting feature is its low-cut design which gives your ankles added range of motion during any CrossFit exercise.
However, this is not popular with some users who tend to use their CrossFit trainers for intense weightlifting since they may need extra support for their ankles.
Another great feature of the F-Lite 235 is its secure lacing system. They are constructed with a metcradle lacing system that tightens and loosens throughout your workout. As such, your untied laces will never hinder your performance nor cause injury during your workouts.
The only real drawbacks of this weightlifting shoe is their uneven insole padding and their sizing. Its insole padding is a bit thicker in the back than the front, which is likely for added support during strength training workouts but can be uncomfortable for some users. Also, these shoes do sometimes run a little big, so you may need to buy a half size lower than your normal size.
4. Nike Women's Metcon 3 Training Shoes
Nike's newest Metcon 3 model is one of the best CrossFit shoes for women due to its blend of cushioning for cardio workouts and stability for strength training workouts.
These Nike Metcon 3 shoes come with a mesh fabric on their heels and ankles that ensure your feet stay cool and dry throughout intense workout sessions. These shoes are meant to handle your sweat during different workouts, and most users agree it succeeds in doing so. These shoes are also incredibly lightweight and breathable, which is a huge asset during HIIT training.
On the other hand, these Nike Metcon shoes provide excellent stability and traction with their flywheel cables on the shoe's bottom. Also, these shoes have a lot of extra reinforcement at the back since some CrossFit workouts may wear on the shoes. This extra reinforcement means that shoes are incredibly durable and long-lasting but means that you cannot use these shoes for running or walking.
There are few other drawbacks to these CrossFit sneakers, but some users dislike the long break-in period these shoes tend to have. Also, they only come in just three color options which can be frustrating for users who want a personal touch on their aesthetic.
5. New Balance Women's Minimus 20 V7 Cross Trainer
The Nimiums 20 V7 is a model designed specifically for CrossFit purposes. As such, it is one of the models on this list that comes with great comfortability, stability, and durability.
As the name implies, these shoes have a minimalist design with a low-cut design that gives you or any CrossFit athlete more range of motion for your ankles.
The Minimus 20 V7 is constructed with 100% synthetic materials and, as such, is a very breathable shoe. In addition, it is made with mono mesh spots for added breathability and limited heat absorption. This is especially true of its flexible upper, made from nylon-infused yarn that provides you with lateral support without compromising flexibility.
These shoes are also made with a molded foam collar that will fit your shoe size that allows for more natural foot movement.
In terms of comfort, this CrossFit specific shoe has a REVlite midsole that provides you with great cushioning for a more comfortable feel during HIIT workouts and cardio.
6. Ryka Dynamic 2.5 Women's Training Shoe
Although these Ryka Dynamic 2.5  trainers are not explicitly made for CrossFit training, they are often an excellent choice for many CrossFit trainers due to their wide-toe box, which gives your feet extra room while weightlifting. This is especially useful for those with wide or flat feet, who are often stifled by the narrow toe space in some other CrossFit shoes.
These shoes are great for cardio because of their well-ventilated upper that provides your feet with both breathability and limited heat absorption, so you limit sweat build-up. Also, these shoes are generally comfortable and with a cushioned insole that provides you support for jumping workouts and running. However, these shoes are also very stable, with a nice durable outsole to make sure your feet stay balanced and gripped.
While all these factors are noteworthy, perhaps these shoes' best quality is that they are tailor-made for women. They come with a narrower heel and secure footbed, which will reduce instability and subsequent injury. As such, they are some of the best shoes for women on this list.
Buyer's Guide
Many factors contribute to the best and most stable CrossFit shoes, and many will come down to your specific regimen and personal preferences, but here is a list of some things to look out for in your products. Sales representatives in stores will also be able to fill in the blanks on any details you might need when purchasing.
Stability
When it comes to weightlifting exercises, stability will be one of the most critical parts of your workout success. As such, the shoes you have must have excellent grip and traction so they will not slip under heavyweights. Also, your shoes should have heel counters and added padding in the underfoot and midfoot.
Flexibility
To deal with some of the more dynamic CrossFit workouts, such as box jumps, rope climbs, or jumping lunges, you will need to have shoes that provide you with an agile range of motion. The best CrossFit shoes will use flexible materials for their forefoots and uppers to reach higher jumps.
Comfort
At the end of the day, you will want shoes that you feel comfortable in. If a shoe is too tight or loose, it will inhibit your workout performance. You should look for shoes with insole cushioning for cardio, HIIT workouts, jumping exercises, and breathable materials that make sure your shoes stay cool and dry. Also, it would be best if you considered the shape of your feet before you buy new ones since this often impacts the health of your feet.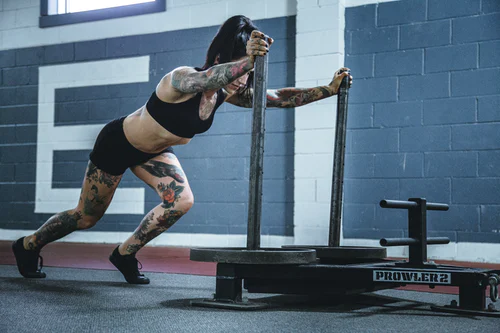 Frequently Asked Questions
Are CrossFit shoes really necessary for CrossFit workouts?
While many experts may claim that a sturdy set of trainers may be fine for CrossFit training, it may not be enough if you want to take your workouts to the next level. For example, lifting shoes will not provide you with enough agility, cushioning, and freedom of movement, which can be a problem for the more cardio-intensive exercises.
However, running shoes will not be stable or durable enough to handle high-intensity weightlifting and may cause you to slip due to limited traction.
Can I use CrossFit shoes for everyday use?
CrossFit shoes are often a great choice for normal everyday walking or jogging. However, they are highly versatile, so they are usually fine for daily use as well.
Why is CrossFit a great workout?
There are far too many to list at once. Still, since it combines so many types of workouts, it can burn calories, build muscle, increase flexibility, and improve overall fitness.
Last update on 2021-07-28 / Affiliate links / Images from Amazon Product Advertising API