Last Updated on February 17, 2023 by admin
There are numerous reasons why sports watches are growing in popularity at such a rapid rate.
These powerful little tools can help you achieve your fitness goals by making it easier to monitor your progress. This also allows you to set realistic fitness goals, as you can easily check your current status and determine what would represent good progress based on that personal information.
The right fitness watch can also help you monitor essential health figures, like your heart rate, sleep patterns, and even your blood oxygen level. Because sports watches are also more affordable than ever, you might wonder why you have yet to purchase one.
This is where we can help! Since there are now more sports watches on the market than ever, choosing the right one can be difficult. This guide will break down the most critical factors that separate low-quality sports watches from those worth your hard-earned money.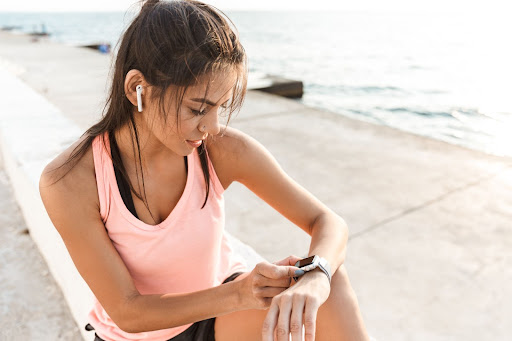 The 7 Most Important Factors When Buying a Sports Watch
While it is not easy to find a sports watch that checks every box, we have made things easy by narrowing down the seven most important factors you should look for. Review the following list and consider your personal preferences.
Once we have explained these factors and why they are important, we will provide recommendations for high-quality sports watches!
1. A Lengthy Battery Lifespan
Just like your smartphone, the best sports watches have rechargeable batteries. Unfortunately, some lower-quality sports watches have poor-quality batteries that only hold a charge for a short time.
Sports watches tend to offer far more accurate data when worn frequently, including when you are not actively exercising or playing a sport. It allows the watch to accurately read your baseline resting heart rate and other vitals. As you would expect, you are far less likely to wear a sports watch that regularly needs to be charged.
Your sports watch should have a battery that lasts at least two or three days on a single charge. The best sports watches also have low-power modes that disable unnecessary functions to extend the battery's lifespan.
2. Smartphone App Compatibility
While sports watches can track your activities and health measurements accurately, reading and understanding that information on their small screens can be tricky. The best sports watches support smart fitness app syncing.
This means you can instantly pull up the data your sports watch has collected on your smartphone, tablet, or laptop. Not only does this make it easier to see the information, but you can also more easily spot trends and measure your progress, as you can zoom out and get the bigger picture.
3. Waterproof Exterior
If you are wearing a good sports watch, you should not have to worry about it getting wet while you are wearing it. Not only will this protect your sports watch from breaking if you are caught in the rain or accidentally drop it in water, but it will also protect it from sweat. After all, these watches are intended to be worn by an athlete during hard workouts.
The best brands test their sports watches in all conditions, including rain, snow, hail, and even fully submerged in water.
4. Non-Sports Activity Tracking
As mentioned above, sports watches work best when they can also track your vitals and activities while not participating in sports and exercising.
While accurately measuring your active performance statistics is undoubtedly important, you will have a much more thorough and useful picture if your sports smart watch tracks sleep data, daily steps, calories burned, resting heart rate, and other non-active metrics.
Knowing how you perform while you train or compete in a sport will only give you half the picture. Other vital data like sleep quality and resting heart rate will let you monitor your overall fitness level.
5. Durability
While choosing a waterproof sports watch is essential, it is also important to assess its durability. The best sports watches offer impressive impact resistance, so you will not have to worry about the watch breaking if it is dropped, stepped on, smacked into a hard object, or scratched on an abrasive surface.
Sports watches are meant to be functional rather than fashionable. While a traditional wristwatch can be seen more as a fashion statement, it is essential that a sports watch can live up to an active lifestyle.
Look for a sports watch where the manufacturer specifically mentions the watch's durability and shock resistance. The top brands test their sports watches in the most demanding and hostile environments, like backcountry mountain bike trails, weight rooms, and ski hills.
6. A Built-in GPS Tracker
For avid runners, hikers, and cyclists, choosing a sports watch with GPS tracking capabilities is incredibly useful. This will help the watch accurately track your distance, speed, and elevation rise, and you can even review past routes.
For those training for competitive races, reviewing how you progressed through specific segments of a particular route can be very useful. For example, if you notice that you always seem to slow your pace at a particular hill, you can figure out why the rise in elevation at that specific segment of your run is causing so much trouble.
While a built-in GPS can be incredibly useful and a factor you should consider when shopping for a new sports watch, you should also remember that GPS tracking tends to wear down battery power at an accelerated rate. This is another important reason for choosing a sports watch with a high-quality lithium-ion rechargeable battery.
7. Affordability, Warranty, and Customer Reviews
While the right smartwatch features are essential, you also need to consider your budget. Fortunately, sports watches have decreased in price drastically since they were first introduced. Finding a high-quality sports watch from a reputable brand is now possible without breaking the bank.
You should also look for a brand that backs their sports watches with a lengthy and comprehensive warranty, as this will speak to the manufacturer's confidence in the quality of their product.
Finally, read customer reviews! Every brand will claim that their sports watch has every feature and can outperform the competition. Still, nothing will give you better insight than seeing what other fellow athletes have to say about a particular sports watch they have first-hand experience using in their workouts.
Is it Possible to Find the Perfect Sports Watch?
While it can be challenging to find a sports watch that ticks all of the boxes we went over, there are certainly options that come very close. For most people, affordability becomes an issue.
For this reason, we recommend focusing on the features that mean the most to you and choosing a watch that delivers in those categories. With that said, you should always value long-lasting battery life, meaning a battery that lasts for at least 48 hours on a single charge.
We also highly recommend only buying a sports watch with a high level of water resistance and a durable body designed to withstand shock and impact damage. Smart app compatibility and the ability to sync with various fitness training apps can also be incredibly useful. From there, you get into cost considerations and personal preferences.
The Best Sports Watches on the Market
To make finding the perfect sports watch for your unique needs easier, we have highlighted some of the best sports watches on the market today.
We reviewed a wide range of sports watches and found that the following options all balance affordability and quality. We also selected these sports watches because they have essential features.
Sale
Fitbit Versa 4 Fitness Smartwatch with Daily Readiness, GPS, 24/7 Heart Rate, 40+ Exercise Modes, Sleep Tracking and more, Black/Graphite, One Size (S & L Bands Included)
Get inspired and stay accountable with Versa 4 + Premium - learn when to work out or recover, see real-time stats during exercise and find new ways to keep your routine fresh and fun.Operating temperature: -14° to 113°F.
Built for better fitness results: Daily Readiness Score(1), built-in GPS and workout intensity map, Active Zone Minutes, all-day activity tracking and 24/7 heart rate, 40+ exercise modes and automatic exercise tracking, water resistant to 50 meters
Tools to measure and improve sleep quality: personalized Sleep Profile(1), daily sleep stages & Sleep Score, smart wake alarm and do not disturb mode
Maintain a healthy body and mind: daily Stress Management Score, reflection logging, SpO2(2), health metrics dashboard(3), guided breathing sessions, menstrual health tracking and mindfulness content
Designed for fitness & beyond: on-wrist Bluetooth calls, texts and phone notifications(4), customizable clock faces, Fitbit Pay(5), Amazon Alexa built-in(6), Google Wallet & Maps (Google Maps Android only, coming Spring 2023 to iOS), 6+ day battery(7)
Fitbit quickly established itself as one of the major players in the wearable fitness tracker industry. Their low-cost, high-quality sports watches have become so popular that they now sell over 100 million devices each year. That said, it is not surprising that their new Versa 4 Smartwatch reached the top of our list.
This latest version of the Fitbit Versa offers valuable features, like a built-in GPS tracker, which links with a workout intensity map. You also get a 24/7 heart rate monitor and sleep tracking and sleep quality reading each night. It even measures stress levels.
The watch also offers over 40 exercise modes, automatically detecting the type of activity you are doing based on your movements. This means the Versa 4 can tell the difference between running and cycling without you having to press anything, so the data it collects will be far more accurate.
One of the best features is the upgraded battery, which has a six-day lifespan! It also charges exceptionally quickly. The watch is lightweight, comfortable, stylish, and thoroughly water-resistant. Text and call notifications, Amazon Alexa compatibility, Google Wallet support, and Spotify connectivity are some unique and convenient features the Versa 4 offers. Overall, this is an outstanding sport watch available at a very budget-friendly price!
Garmin is another top brand in the sports watch industry. The Forerunner 735XT packs all the features you would expect from a high-end GPS sports watch, but it is available at an entry-level price.
It supports Bluetooth connectivity to track your stats and progress on your smartphone, tablet, or laptop. You get an incredibly accurate heart rate monitor and dynamic sports tracking. It is so waterproof that it can even be worn while swimming!
One of the most outstanding features of this watch is its industry-leading battery life. On a single charge, it can last up to 11 days! It also has a built-in GPS mode, which relies on Garmin's unique UltraTrac system to obtain accurate data regarding your speed, distance, route, and elevation climb.
This Garmin watch also offers VO2 max estimates, lactate thresholds, race predictor information, and recovery suggestions. The watch face is also highly customizable so you can adjust it to your preferences. Overall, it is another excellent option that works just as well for amateur athletes as it does for professionals.
Sale
Garmin 010-01614-00 Forerunner 735XT, Multisport GPS Running Watch With Heart Rate, Black/Gray
GPS running watch with multisport features.Special Feature:Bluetooth.Water Resistant: Yes.Forerunner Specifications - Operating temperature range : From -20º to 50ºC (from -4º to 122ºF)
Estimates heart rate at the wrist so you can run freer on race day.Shock resistant. Battery life : Smartwatch Mode Up to 11 days. GPS mode Up to 14 hours. UltraTrac mode Up to 24 hours without wrist heart rate
Provides advanced dynamics for running, cycling and swimming7, including ground contact time balance, stride length, vertical ratio and more (when paired with a Running Dynamics Pod, HRM Run or HRM Tri Monitor, sold separately)
Offers VO2 max estimate, lactate threshold (when used with a chest strap heart rate monitor), race predictor and recovery advisor
Connected features4: smart notifications, automatic uploads to Garmin Connect, live tracking and more
While SAMSUNG is relatively new to the sports watch scene, the electronics specialist has used much of what they learned in the smartphone industry to manufacture some of the highest quality sports watches on the market today.
The Galaxy 5 has valuable tools, including advanced sleep tracking and coaching features. It also offers up-to-date body composition analysis readings, so you always know your current fitness status and progress. Like the Fitbit Versa 4, it also has automatic workout and sports tracking thanks to powerful and sensitive sensors.
The battery life is also fairly impressive, and it easily connects with other smart devices, including smartphones, tablets, and computers. Its sapphire crystal glass screen is designed to be at least 1.6 times stronger than the watch face of other sports watches, so it is an excellent option if you are involved in extreme sports or plan on wearing it to work in a hands-on industry.
This GPS sports watch is also incredibly accurate and supports voice navigation, so you get plenty of practical benefits. Overall, it is another excellent option, especially for those looking for a durable and rugged sports watch.
SAMSUNG Galaxy Watch 5 + 35W Duo Wall Charger Bundle, 40mm Bluetooth Smartwatch w/Body, Health, Fitness, Sleep Tracker, Gray Band and Dual Port USB C Adapter, Super Fast Charging Block, Black
ADVANCED SLEEP COACHING: Manage your overall sleep quality with an advanced sleep tracker that detects and analyzes sleep stages while you rest; Plus, Advanced Sleep Coaching helps you develop better sleep habits by analyzing your sleep patterns*
BODY COMPOSITION ANALYSIS (BIA)**: Galaxy Watch5 provides body composition data right on your wrist; On your own schedule, you can now get readings on body fat, skeletal muscle, body
SUPER FAST CHARGE: Go for high speed, safety, stability and power; Don't settle for less – enjoy quick charging for many tech essentials, even iPhones
SIMULTANEOUS CHARGING: The dual-port charger is powerful enough for double, high output charging of 2 devices simultaneously with its duo USB ports
UNIVERSAL COMPATIBILITY: Charge up a wide range of devices at their optimal speeds; Androids, of course; iOS isn't a problem either; Adapter Only, cord not included
For More Information
To learn more about using a sports watch correctly, we recommend reading LiveStrong.com Instructions for Sports Watches Guide.

You can also read Coach Magazine's guide to getting the most out of a sports watch – How to Use a Running Watch to Improve Your Training.