If you are beginning to get serious about fitness and working out, then you probably want to start keeping track of all your daily goals and information.
Investing in a GPS sports watch is a convenient and smart way to easily log and keep track of things such as your heart rate or how many steps you took in the past hour. Since all you have to do is slap it on your wrist and go, it's hard not to come by an athlete or fitness junkie that doesn't have a GPS sports watch.
And it is easy to understand why these little pieces of advanced technology have become so popular. Besides the fact you can just slide it on your wrist, and it is out of your way and forgotten about, there are a lot of features jammed into these watches. Yes, it tells the time and has a stopwatch, but that is just the tip of the GPS watch iceberg.
With the technology integrated into these watches always updating and becoming more advanced, the competition in this market is fierce. Focusing on your fitness and health is more popular than ever right now, and GPS watch companies are taking notice. If you already have a GPS watch, you may be familiar with a few of the features we will talk about today.
However, if you are new to the world of watches or are looking to upgrade, narrowing down which brand or company is right for you can be an overwhelming task. Two of the most popular and well-known on the market today are Suunto vs Garmin. Both are highly respected and trusted brands used by thousands of people every day.
If you are in store for a new GPS sport watch, you have reached the right decision-making article. Depending on what you are looking for your watch to do and specific features will help determine if you should buy a Suunto or Garmin watch.
We will closely compare all of the features, look at the price difference, and list a few different watch models to see if you like one style over the other. It is important to keep in mind that you will end up with a great GPS watch that will last no matter which model you choose.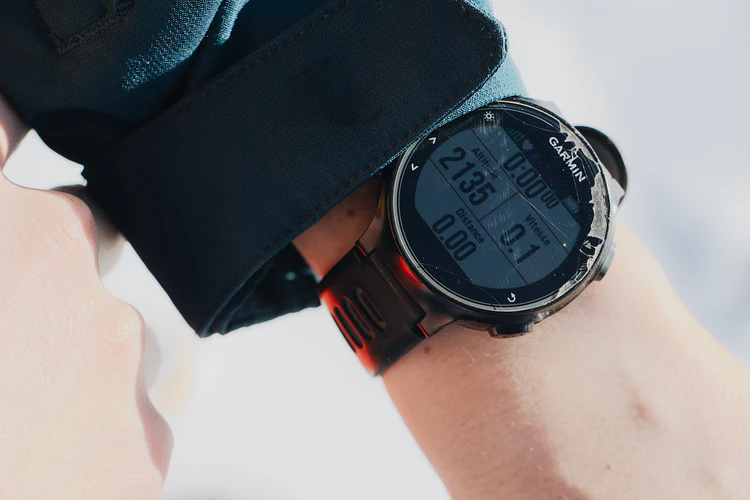 Brief History
Let's quickly get to know our two brands, Suunto vs Garmin. Garmin Ltd used to be known as Pronav and was founded in 1989. They are an American company based in Blathe, Kansas, specializing in GPS technology used in various things such as "aviation to marine, automobile, and outdoor activities." Over the recent years, they have grown into a large company, selling their products all over the world and focusing on different kinds of trackers.
The word "Suunto" actually comes from a Finnish word that translates to "direction." Suunto was founded in Finland in 1936, with its headquarters located in Vantaa, Finland. The company expanded over the years and now sells its products to over 100 countries around the world. Their main product is compasses, but they also sell trackers, computers, watches and more.
What Do You Want in a GPS Sport Watch?
Firstly, before you choose which model of GPS watch you want, you should consider why you are buying it in the first place. If you are using it mainly to run and track steps, you might not need a fancy model with tons of other features you won't use.
Both brands have different models that can fit your individual needs at various price points. There are three general questions you should ask yourself when you are figuring out what you want in your GPS watch:
A basic watch that tracks your running and steps?
A Multisport watch with several fitness-directed features?
A watch that tracks everything you do all the time
Once you know the answer to that question, you can begin to sift through the many different features and models that Suunto and Garmin have to offer.
Let's Compare the Features
Let's first go over the different features that each watch offers. Although they both offer many of the same great features, they may differ slightly in the overall way the watch works. Let's take a look at the advanced fitness features these GPS watches have to offer:
Tracking and Display
The first and main feature people might think of when they buy a new GPS watch is what the tracking and display look like on the screen.
Suunto
Suunto offers a wide variety of information at the touch of a button. You can check your heart rate, pace, distance, time, and the calories you have burnt so far, all conveniently by looking at your wrist. You can also check summary information such as your average pace, stride count, and elevation gain. The GPS tracking feature works well and is reliable.
The big difference between Suunto vs. Garmin in the tracking and display category is the customization aspect. If you want to customize the screen of your Suunto watch and what is displayed, you need to do it through the app they are with called the Movescount app. You need to download the app and change your display screen and make it look the way you want
Garmin
Garmin offers the same extensive list of display and tracking features. You can easily view the distance you have run, your pace, time, calories burnt, and heart rate. The GPS tracker works very well, and the same summary or overall daily workout information is available.
The main difference falls back again on the display customization of the fitness tracker. Unlike Suunto, you don't need to download and sync an app to customize your screen. You can change your display view on the go anytime from your wrist. This may be slightly more convenient as you don't need to pull out your phone to change anything.
Battery Life
Both Suunto and Garmin have amazing, long-lasting battery life.
Suunto
The Suunto 9 model watch has a unique battery feature, unlike the average GPS sports watch. It has three different battery modes that you can switch between while constantly letting you know how much battery power is left.
It will automatically let you know that you should switch to a different battery setting if the watch notices its battery is running low. The battery will last anywhere from 25 to 125 hours, depending on the amount of use and which battery setting it is on.
Garmin
Two different Garmin GPS sports watches have unique battery features, the Forerunner 935/945 and the Fenix 5. It features an "UltraTrac battery saving mode" that will limit the features you can use to save more battery power. The battery life can range from up to 24 hours of life to 60 hours in the battery-saving mode.
Overall, the Suunto model can last much longer than the two Garmin models. If battery life is something of extreme importance to you, then the Suunto model might be the better option.
Heart Rate Monitoring
Both higher-end GPS sports watches have heart rate monitoring features that use a sensor under the watch constantly sitting on your skin.
Suunto
Depending on which Suunto model you choose, there are two different methods of measuring your heart rate. Some models use optical technology, which is when the watch monitors your heart rate directing through the watch from your wrist.
Other Suunto models offer a heart rate belt that straps around your chest when you run, tracking your heart rate directly from your heart. Suunto's Ambit 3 Peak, for example, offers the heart rate belt. Depending on how much running you want to do will drastically change the choice since a heart rate belt may give you more accurate readings.
Garmin
Garmin GPS sports watches include many of the same heart rate monitoring features as the Suunto models do. One bonus about some of the Garmin models is tracking your heart rate and overall well-being 24/7. This includes telling you sleep information such as how long you slept or how many times you woke up during the night.
Overall, if you are looking for an accurate heart rate monitoring system going with Suunto's Ambit Peak with the heart rate belt would be your best option. If you want something that tracks everything all the time, then the Garmin model is the way to go.
Apps and Data Management
Suunto
This is where one of the biggest differences lies between the Suunto vs Garmin GPS sports watch. As previously mentioned when we talked about the display and tracking features, Suunto uses an app to customize and control the display.
This app is called Movescount; however, they recently made a big switch and created their own app called the Suunto app. Suunto watches can analyze your data, upload fitness routines and photos, and stay connected to your phone, giving you notifications and alerts. It is very good at synchronizing your data.
Garmin
Garmin uses a similar program to Suunto's new app, which is called the Garmin Connect app. Both watches can synchronize your data, and uploading is easy, whether that be photos, GPS coordinates, videos, and workout routines and descriptions. Both offer very similar features in this category, but it is worth noting that the new Suunto app may offer new features once it becomes more widely used.
Cost Comparison
Let's face it, the cost of most GPS watches are not cheap. Suunto vs Garmin fall into this category, and a lot of their models can be on the pricier side depending on what features are a must for you. We will take a look at a few of Suunto and Garmins popular models and compare the prices.
Suunto GPS Watch Models
1. Suunto Core, Men's Outdoor Sports Watch with Altimeter, Barometer, and Compass
This model is available in four different colors and includes an Altimeter that tracks vertical movement, Barometer, which talks about air pressure and direction. It has plenty of the previously discussed features.
2. SUUNTO 7 GPS Sports Smart Watch
This model is available in six different colors and has all of the features we previously discussed. It is a GPS smartwatch equipped with fitness tracking, heart rate monitoring, the ability to connect to your phone, and it has over 70 sport modes to use.
Garmin GPS Watch Models
1. Garmin Vivoactive 4, GPS Smartwatch
If you are looking to keep track of your energy levels, Pulse Ox, respiration, menstrual cycle, sleep, estimated heart, hydration, and so much more, then this Garmin fitness watch is what you need. It has a battery life of up to eight days in smartwatch mode and up to six hours in GPS mode and music mode.
2. Garmin Fenix 6 Sapphire, Premium Multisport GPS Watch
This multisport watch is ideal if you want a good mix of performance and durability. Its design is approximately 18% larger than previous Fenix models. It has an enhanced wrist heart rate and Pulse Ox to support advanced sleep tracking and monitoring. It also has advanced training features you will find beneficial.
So…Which One Should I Get?
Depending on the features, what you will mainly be using the watch for and your budget will be the deciding factors in choosing between a Garmin vs Suunto GPS watch. Both have great fitness and tracking features and use high-quality materials, but both are expensive as well.
Last update on 2021-06-24 / Affiliate links / Images from Amazon Product Advertising API