You've got great golf clubs that you can't wait to try out on the golf course, but don't forget about purchasing a golf bag.
It's important to keep your clubs protected, but it also adds to how great – or not – your golfing day goes. Imagine carrying a heavy, clumsy bag or one that doesn't have space for all your important items.
So, what should you carry in your golf bag?
Clubs aside, you should ensure you have essentials in your bag, such as golf balls, tees, a golf glove, as well as any extra items, such as sunscreen, your cell phone, and your wallet.
With that in mind, let's look at the best golf bags for 2021. Make sure you keep these in mind when you want to spoil yourself with a new golf bag.
Best Golf Bags – Reviews For 2021
Best Golf Bag: TaylorMade Golf 2019 Select Stand Golf
If you want to hit the golf course with at least three or four clubs, which seems to be the general advice out there, you'll want to get your hands on this TaylorMade golf bag because it provides lot of space for clubs. It's also got many other features any professional or amateur golfer will appreciate.
Featured specs 
Benefits
This golf bag has a five-pound capacity with lots of compartments for your goods. It has six pockets, seven dividers, and even a valuables pocket where you can keep items such as keys.
It comes with an exterior water bottle pocket so you don't forget to stay hydrated when you're out on the golf course all day long.
This golf bag is easy to grab and go, thanks to its multiple grab-handle top.
It's also velour-lined on the inside to keep your items in great condition.
It comes with an XL golf ball pocket.
Drawbacks
Some people who have purchased this golf bag have reported that its legs are not that sturdy.
Extra Features
People have said that this golf bag is strong and has comfortable straps. Perfect for when you need to carry it around for hours.
Buying Advice 
This TaylorMade golf bag costs $159.99. It's a great bag for when you want to keep your items a bit more organized and you'll have more than enough space for all your golfing gear – as well as a few extras.
Best Travel Golf Bag: CaddyDaddy Golf Constrictor 2 Travel Cover
CaddyDaddy Constrictor 2 Padded Golf Travel Bag Cover with Oversized Pockets - Heavy Duty, Wheeled Golf Bag Travel Cover, Lightweight
GOLF BAG DESIGNED FOR TRAVELING: CaddyDaddy's Constrictor Golf Bag Cover is designed specifically for protecting your golf clubs and equipment while traveling - air or auto. It offers excellent value for money and is a must-have travel bag for all golfers.
HEAVILY PADDED: The golf travel cover bag features 1800D fabric construction (3x the thickness of 600D fabric) with heavy padding at the top to protect club heads. Cinch straps are provided externally and internally to keep the bags intact and firm during travel and transportation.
PROTECT YOUR INVESTMENT: The bag also has riveted handles - nylon padded and rubber - for easy carry and transport. It also comes with lockable zippers and large, oversized pockets to store additional golf gear and equipment like tees, shirts, shoes, balls, etc.
EQUIPPED WITH INLINE SKATE WHEELS: Whether you are a pro on tour or are big on golf travel, this padded golf cover bag is your perfect travel companion. It measures 51 x 13 x 15 inches and weighs just under 9 pounds.
1 YEAR WARRANTY: CaddyDaddy is proud to offer a 1-year full replacement warranty. We have been in the business of providing premium, durable, and trusted golf accessories for over 20 years.
If you're going to be traveling with your golf gear, you'll want to ensure your bag is very secure – you don't want to reach your destination only to discover that your new golf clubs are damaged. That's why this CaddyDaddy golf bag is worth considering.
Featured specs
Lockable zippers
Inline-skate wheels
Compression straps
Benefits
This travel cover golf bag is strong – it's three times the thickness of 600D fabric.
Durable fabric aside, it comes with lockable zippers to keep your valuables and expensive golf gear safe when you're traveling.
It's also heavily padded on top to keep your valuable club heads in good condition.
As a nice touch, this bag has both internal and external compression straps to further keep your clubs safe.
The last thing you want to deal with is bag wheels that don't move smoothly when you travel, but that's not a concern with this bag. It has inline skate wheels that roll easily, making rushing around airports a breeze.
Drawbacks
People have complained about the exterior pockets not being that durable.
Extra Features 
This golf travel cover is collapsible so that it's really easy to store when not in use.
It's got a molded luggage tag and business card window included.
It can be used with a TSA-approved lock, but that's not included in the purchase.
Buying Advice
This golf bag cover costs $84.99. If you experience problems with the bag being damaged by airlines, you can make use of the one year full bag replacement warranty offered by CaddyDaddy.
Best Lightweight Golf Bag: Izzo Ultra Lite Cart Bag
When choosing a golf bag, you obviously want it to be strong enough to carry your clubs and other gear, but you don't want it to be too heavy, and that's a fact even if it's a cart bag. That's where this bag by Izzo comes in. It gives you durability, storage, but it's light.
Featured specs
High-strength polyester
Customizable ball pocket
Tons of features
Benefits
This bag comes with a 14-way top so you can organize your valuables in a variety of ways.
It might be light in weight, weighing almost four pounds, but this golf bag is built to last. It's constructed out of high-strength 4200 polyester fabric.
Drawbacks
One of the drawbacks associated with this bag is its rain cover. It's attached to the bag's front but this means you have to remove the rain cover every time you want to get your clubs out of the bag.
Some people who have purchased this bag have reported that the material is quite thin.
The bag comes with a customizable ball pocket so that you can personalize the bag, but it's not clear exactly how you'd be able to do this.
Extra Features
It comes with extra features that you don't find on some other golf bags, such as a glove holder, an umbrella holder, a towel clip, a rain hood, and an integrated smartGRIP handle.
Buying Advice 
This golf bag is light but packs a punch with all its compartments and extra features. It's also a trendy number with its grey and lime appearance. It costs $97.58. Not a fan of the color? You can get it in red, blue, or black, but prices vary.
Best Budget Golf Bag: Amazon Basics Soft-Sided Golf Travel Bag
Sale
Amazon Basics Soft-Sided Golf Club Travel Bag Case With Wheels - 50 x 13 x 15 Inches, Black
Soft-sided golf travel bag for conveniently transporting a set of golf clubs (not included)
Made of durable nylon fabric; reinforced stress points; stands up on its own when holding a set of clubs
Smooth-rolling, inline-skate-style wheels; heavy-duty curb rails; well-placed, riveted handles
Compression straps keep clubs secure; heavily padded top section protects club heads
Multiple zippered compartments for storing extra gear; measures 50 by 13 by 15 inches
If you're just starting out with your golf hobby, you might not want to spend a lot of money on a golf bag. With this bag by Amazon Basics, you don't have to. Here's why it's a great golf starter bag.
Featured specs
Nylon construction
Reinforced stress points
Full-length zipper
Benefits
This golf bag is made out of nylon fabric that's durable and offers longevity.
It comes with reinforced stress points so that it will stand on its own when you pack your golf clubs in it.
It's got inline-skate wheels for a smoother experience when traveling.
It comes with heavy-duty curb rails.
The bag has compression straps. These keep your clubs in place and safe, while the top section of the bag is padded to further offer protection to the club heads so they don't get nicked or damaged.
There are many zippered compartments in this bag for all your must-have items. It's got a full-length zipper to make gaining access to the bag easier and two large zippered side pockets for extra storage space.
Drawbacks
Some people who have purchased this golf bag have reported that it actually doesn't always stand on its own.
Extra Features
Buying Advice 
This golf bag has many features you want in a travel golf bag, and it doesn't cost a lot of money. You can get it for $62.67. It comes in black, but you can also get it in other colors for the same price. Choose between blue, maroon, or grey.
Best Carry Golf Bag: Wilson NFL Carry Golf Bag
This stylish and trendy NFL bag is a must for Buffalo Bills fans. Here's why it's worth carrying around on the golf course.
Featured specs
Quick-activation stand
Double strap
Premium NFL logos
Benefits 
This golf bag comes with a quick-activation stand with two legs that will keep your bag upright.
It's made out of strong and durable polyester fabric.
It's got a four-point adjustable double strap. This makes it easy to put on your shoulder and remove.
This golf bag can be carried by one hand or as a backpack, which makes it very convenient.
It comes with a hip pad to make it even more comfortable on the golf course.
Drawbacks
 People who have purchased this golf bag have reported that it doesn't come with individual slots for your golf clubs.
Extra Features 
This bag comes with a rain cover.
Buying Advice 
If you're looking for the best carry golf bag, this one is worth purchasing. It costs $120.05. It comes in a stylish sky-blue, red, and black color scheme – it's a Buffalo Bills NFL bag, so it's perfect for fans. If that's not your team, you can choose from other NFL bags. But hey, even if you're not a lover of American football, you'll still love this golf bag.
Golf Bag FAQ
You might have spotted the perfect golf bag to buy from our review of the best deals on golf bags, but maybe you still have some questions you'd like answered about golf bags. Here are some common ones.
Are golf bags waterproof?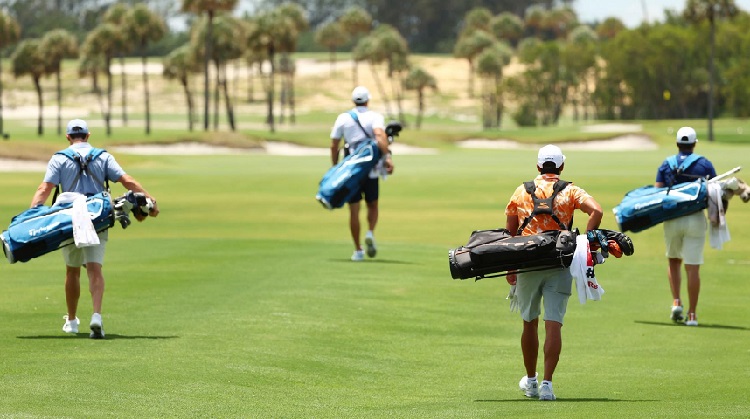 Although it would make sense for all golf bags to be waterproof, this is not necessarily the case so you always have to check the specifications of the golf bag that you're interested in purchasing. To be considered waterproof, a golf bag has to meet certain criteria.
For starters, it needs to be made out of waterproof fabric. Then, it should have sealed zippers as well as seams. Finally, it should have a rain hood attached. As you can see from our reviews of the best rated golf bags, some bags do come with rain hoods included.
While some high-quality golf bags you can find on the market are not 100 percent waterproof, they do have other features to keep your golf clubs safe. These include having padded tops to protect the heads of your golf clubs and interior linings so that your valuables pockets won't cause scratches and nicks on your small and expensive items, such as your cell phone. These are just as important as protecting your valuables against wet weather.
As examples, the CaddyDaddy golf bag in our review has a padded top, while the TaylorMade 2019 golf bag comes with a velour-lined pocket to keep valuables safe.
The above are all important features to look out for, whether you want to ensure the safety and good condition of your golfing gear when you're on a course or when you're traveling.
How do I know what golf bag to buy?
There are different types of golf bags to purchase, such as cart bags and hybrid bags, and that's just to mention two types! It's easy to feel overwhelming about figuring out which one you'll get the most use out of and not regret spending your money on purchasing.
When choosing a golf bag, it's worth thinking about how you like to play golf. For example, if you like to walk during a round of golf, a stand bag is a good option because it will make the most sense and be comfortable.
A hybrid bag, on the other hand, is a must to purchase if you're looking for good storage in the bag as well as a stand. If you are a cart rider on the golf course, a cart bag is more than sufficient for your needs because it will offer storage options that lighter stand bags don't usually have to offer.
If you are just starting out with your golf hobby, a stand bag is a good choice. This will be able to fit without a hassle when you're riding in a golf cart but you can also carry it around if you like, so it's versatile.
There are other general tips to follow when searching for the best golf bag. Let's take a look at them.
Comfortable straps. You should always ensure that the golf bag will be comfortable to carry, especially if you're going to be choosing a stand bag because you'll be carrying it a lot. An example of a golf bag with comfortable straps is the TaylorMade one in our list.
Club storage options. You don't want to buy a golf bag only to be disappointed with how your golf clubs will be stored inside it. Some golf bags will have individual dividers to keep your golf clubs separate, and they'll usually have a variety of divider pockets. Others, such as the Wilson NFL golf bag on our list of reviews, don't come with individual club slots. There's no right or wrong answer here, but just make sure that the bag is organized in the way you want it to be.
Strong fabrics. Whether your bag is lightweight or not shouldn't matter – it should be made with strong and durable fabrics that won't tear very quickly. Examples of materials to look for in a golf bag include polyester and nylon.
Extra Features. You can find golf bags that offer many interesting and useful features, such as umbrella hooks, towel hooks, and water bottle pockets. These are especially important if you're serious about golf and like to spend all day on the golf course.
What's the difference between a golf cart bag and golf stand bag?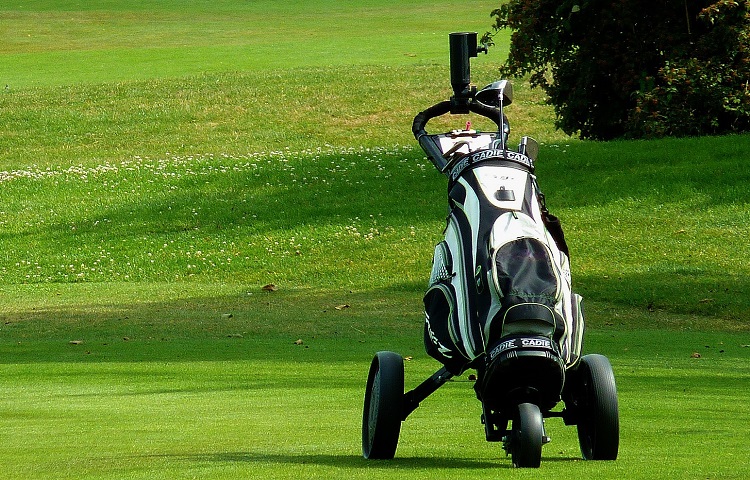 Before you decide to purchase either a golf cart bag or stand bag, it's worth knowing their differences. Here's everything to know about cart bags and stand bags.
Golf Cart Bags 
These bags are put on carts that take you around the golf course. They do come with straps so you can wear them on your shoulder, but they don't stand on their own when resting on the ground.
Cart bags are very easy to transport because you just put them in a cart and don't have to worry about carrying them the whole day. This makes them useful if you spend a lot of time on the golf course.
Golf Stand Bag 
A stand bag looks like a cart bag but it comes with legs attached to it so that it can stand on its own. This makes it very convenient when you want to rest the bag on the ground or other surfaces.
You'll carry a stand bag around the golf course with you, so it will come with a strap but you can also carry it in the same way you'd carry a backpack. It's worth knowing, however, that stand bags are more compact than cart bags so you won't have as much storage space.
A good thing about golf stand bags is that they give you a bit of extra exercise on the course and can increase your physical strength because of how you have to carry them around. However, you will have to ensure that you don't make the bag too heavy otherwise carrying it will be a real pain!
Who should use a golf tour bag?
Golf tour bags are sometimes called staff bags. They are mainly used by golfers who have a caddy at their disposal because these bags are large.
They can also be heavy because they're meant to hold an entire set of golf clubs – that's a total of 14 clubs in one bag! These bags usually have tons of extra storage for other items, such as golf balls, gloves, and even clothing items.
They need to hold all the golfer's extra accessories that might be required on the golf course, and this is what makes them so appealing for professional golfers to use.
Tour bags are usually made out of leather or other high-quality materials. There's no doubt about it: if you're interested in golf, you'll probably be tempted to purchase this type of bag because of how luxurious and stylish it looks.
However, it's clear to see from what we've explained that golf tour bags are generally geared to professional golfers, so they're not a practical choice for you if you just enjoy weekend golf. It makes more sense to purchase a different type of golf bag that will be more practical and easy to carry around.
As we've seen in our golf bag reviews, there are many other types of golf bags that are made of quality materials, offer good storage space, and look good as a bonus!
Conclusion
Golf bags come in a range of different styles and have different purposes, which can make it difficult to choose the right one for your golfing needs.
After reading this buying guide of the best golf bags for 2021, and reading our FAQs, you now have a better idea about the type of golf bag that will suit your lifestyle.
It's definitely worth considering your personal preferences and how you like to play golf before you purchase a golf bag so that you won't be disappointed, and so that you'll get a bag that brings you lots of joy and improves your game. Happy golfing!
Last update on 2021-06-24 / Affiliate links / Images from Amazon Product Advertising API