Last Updated on October 27, 2022 by admin
Learning how to play tennis is no easy feat. Fortunately, the market is littered with learning equipment to make it easier.
For instance, you'll find tennis training aids that are a lifesaver in guiding you to put up the right movements and behavior on the court. They'll help in upping your game faster than verbal instructions.
However, with the wealth of options, choosing the best fit for you can be a challenge. Luckily, we've narrowed it down to the five best training aids that will ensure you're well on your way to becoming the next Serena Williams. Read on!
What Are Tennis Training Aids?
Given that they guide you to behave differently on the court, it's no surprise that tennis training aids are at times referred to as guidance systems.
They help in strategy, footwork, movement, swing path, technique, and tactics. With that being said, here are a few examples of guidance systems that may not have crossed your mind.
Visual Guidance
These systems guide you on what to do by sight, for instance, a large target to hit. An example is the service box for beginners.
Feeling or Kinetic
It's a system that uses your sense of touch to guide you. For instance, upon placing your hand on the racquet, you can feel what the grip should be.
Importance of Training Aids in Tennis
There universal truth in tennis is that every player wants to bring their A-game! However, the biggest challenge they face is that their games plateau at one point or another. It could be your entire game, your serve, or forehand that's stuck.
Whatever the case may be, the playing level stagnation stems from a limitation in your technique or mental and physical capacity.
Although you may not realize this, all tennis players learn efficiently in one or a combination of the following predominant styles.
Kinesthetic: Feeling
Auditory: Hearing
Visual: Seeing
Interestingly, most tennis players thrive in a learning environment with tools that tap into their feeling and sight. Therefore, it's not surprising that tennis training aids solely rely on visual and kinesthetic teaching, ushering in faster learning.
The 5 Best Tennis Training Aids
We've rounded up the top five options that will give you the best bang for your buck.
1. TopspinPro
Learn to hit consistent topspin with the TopspinPro tennis training aid – ideal for recreational players – beginners and intermediate players of all ages and also tennis coaches
The screen reflects the required racket face angle and forces exact bio-mechanics of modern topspin groundstrokes – as seen by today's professional players
This tennis trainer can be used on court but is just as effective indoors at home on a rainy day – in just 2 minutes per day perfect your technique and lock in 'new' muscle memory
TopspinPro is adjustable in height, making it suitable for children aged 5 and over and for players up to 7ft tall
TopspinPro is used in over 80 countries worldwide
Perfect for recreational players (intermediate and beginners) of all ages and coaches, TopspinPro tennis training aids deliver quality and affordability rolled into one. The screen mirrors the racket face angle you need while forcing precise biomechanics of contemporary topspin groundstrokes. Although this tennis trainer comes in handy on the court, it's equally effective at home when those rainy days and harsh winters roll around.
Dedicating 2 minutes every day to hone your skills with this training aid can increase muscle memory. TopspinPro has an adjustable height, making it perfect for children aged five and above and athletes to 7ft tall.
Pros
Serves as an efficient way to add topspin to your groundstrokes
Portable
Suitable for indoor and outdoor use
Ideal for beginners and intermediate players
Adjustable height
Cons
Monotony sets in after 10 minutes of use
2. Big League Edge Velopro
UNLOCKS POWER & VELOCITY IN ALL YOUR TENNIS SHOTS: Our swing trainer is used by 20+ college tennis teams & man top pros, as well as over 200,000 athletes worldwide. Increases lower half drive force & support, braces your back hip for shot impact, optimizes linear-to-rotational planes, & stops premature hip rotation. Learn to blast tennis balls off your racket the pro way!
UNLEASHES YOUR MAXIMUM POTENTIAL: Combines with other tennis training aid, equipment, or method – machine throwers, hopper, rebounder machines, net drills, band drills, sleeve bar circuits, rebound drills, or any pitchback. Whatever type of rackets, pads, bags, or sleeves you use – grab them & start training with our training enhancer for tennis!
EASY TO USE. NO LEARNING CURVE. BEGINNER TO ADVANCED: Takes 60sec to put on. Kids to Adults. Can be used for racketball, paddle ball, or badminton. Compliments weight, speed, & strength accessories! Can be a gift for any aspiring tennis star! Strap it on & brace yourself for the power & efficiency unlock!
INCLUDES TUTORIALS, HOW TO VIDEOS, DRILLS, & PROGRAMMING: Everything you need to start optimizing your game is included – tutorials, videos, drills, and more. Includes a sport specific strength program that will build your arms, legs, forearm, bicep, elbow, wrist, & lower half support! This will provide relief from tendonitis, nerve, ulnar, arm, & flex injuries that are common in the game of tennis.
Are you on the quest for a resistance training system that's a beast at unlocking instant power, shot accuracy, spin ratings, and velocity? Then the Big League Edge Velopro wraps up your search. It's the go-to option for WTP and ATP pros and more than 20 NCAA tennis teams.
Applying Newton's three laws of motion, this tennis training harness connects your heels and compels you to drive with your back heel. Consequentially, you become a pro at implanting your front heel before rotation.
Big League Edge Velopro steps up your shot velocity by up to 7mph in a couple of weeks while elevating your spin ratings instantly by a maximum of 400rpms. Increased forehand, backhand, and serving potentials ushers in improved overall performance on the court.
In addition to back and topspin ratings, Velopro gets the job done for some of the best tennis players in the world, which is all the proof you need to know it'll work for you as well. This tennis training aid boosts your motor power to peak rotational hip torque, linear drive force, and athletic movement by unlocking your true velocity potential and power.
Pros
Elevates your velocity and power
Improves your shot accuracy and spin rating
Allows you to reach your full potential
Improves your overall performance on the court
Cons
Pricey
Not as durable as other tennis training aids
3. Total Serve Tennis Serve Master
Available in one-ball, two-ball, and three-ball variations, Total Serve Tennis Serve Master teaches you what a serve motion should feel like with the correct grip. Once you get the hang of it, you can hone your skills until you own your serve.
Perfect for overall coordination of sequential and continuous motion on the serve, this training aid allows you to experience an accurate kick, flat, topspin, and slice serve. It also improves your placement, timing, and consistency.
Total Serve Tennis Serve Master comes in handy for practicing swing variations such as overheads, groundstrokes, and serves. Furthermore, it's your holy grail for dynamic warm-up, toss arm movement, tempo, movement drills, strengthening, and stretching.
Courtesy of the check marks on this product that correspond to a tennis racket, you learn how to properly hold your racket for the most natural serve movement.
Pros
Fun and simple to use
Improves your serve
Perfect for players of various age ranges
Durable
Budget-friendly
Suitable for right and left-handed players
Cons
Its length and weight make it cumbersome to use at first
4. The OnCourt Tennis Grip Trainer Swing Tool
Do you want to learn how to properly grip the racquet handle? Then the OnCourt Tennis Grip Trainer Swing Tool is just what the doctor ordered! It's armed with features that will help serve, swing, and volley grip basics and technique.
With this training aid, you'll become a pro in accurately holding the racquet by separating your index and middle finger. Additionally, attaching the Start Rite Trainer is a walk in the park and doesn't make the grip size feel larger.
Pros
Long-lasting
User-friendly
You learn ideal hand placement
Teaches you to properly grip the racquet handle
Cons
Can be a challenge to accurately position it
5. OnCourt Serve Doctor
SERVE TRAINER: Tennis serve trainer assists beginners to learn proper swings in isolation
ISOLATE MOVEMENTS: Focus on arm extension, lift off, pronation, and direction
37 INCHES LONG: Built from 3-part aluminum extension pole and Velcro system
ENCOURAGE LEARNING: Minimize student frustration and remove inconsistent toss interference
FOR BEGINNERS: Intended for beginners learning tennis or reworking bad muscle memory
It's made up of a three-part extension pole with a hook-and-loop and rope on the end. To use the OnCourt Serve Doctor training aid, attach and twist a tennis ball with full to moderate fuzz onto the hook-and-loop. Holding the ball in position allows you to strike it right off the rope. Consequentially, beginners can develop accurate serve strokes.
It's no secret that getting a feel for the correct body position with that of the ball on the serve can be an uphill battle for beginners. However, with the OnCourt Serve Doctor, you can overcome this challenge. By giving you a feel for the height and location of the contact point on the serve, you can ultimately boost your swing.
Pros
Simple but professional-looking
Compatible with all tennis balls
Effective
Easy to use
Beginners develop accurate serve strokes
Cons
Not as long-lasting as other tennis training aids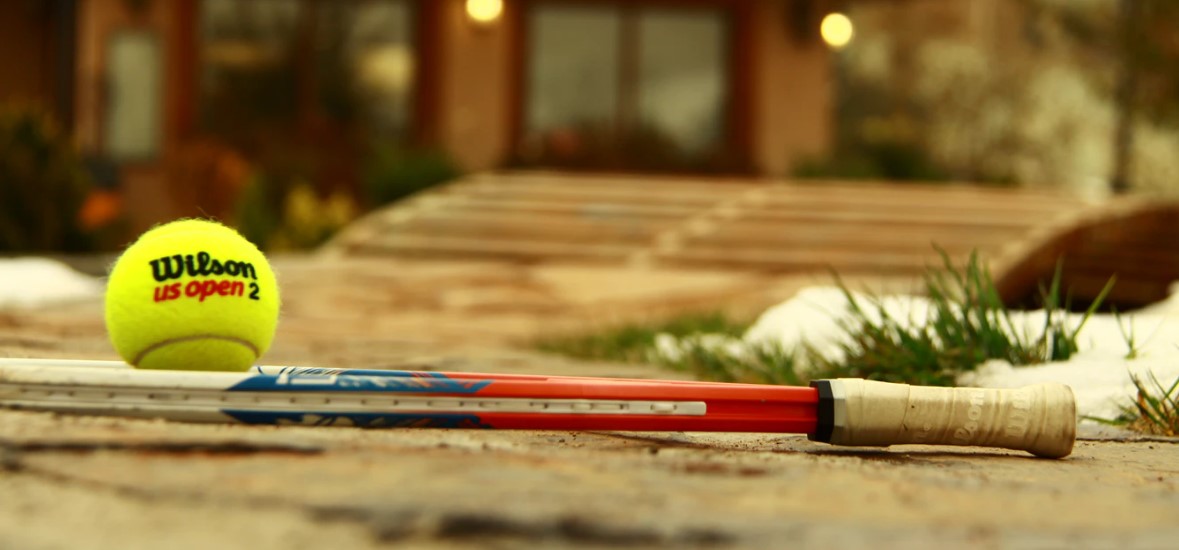 Buying Guide: How to Choose the Best Tennis Training Aids
Here are a few considerations to keep in mind when selecting a tennis training aid.
Material
It determines a product's longevity. Tennis training aids that are built from sturdy and durable materials are not only perfect for all court surfaces but also long-lasting. Additionally, the material determines the weight of the training aid that ultimately affects its mobility. Products made of durable and lightweight materials are easy to transport.
Price
Consider the amount you're willing to spend on a tennis training aid. Although some are budget-friendly, others are pricey, so opt for one within your budget. We recommend selecting a moderately-priced product, as you'll get optimum performance and quality.
Versatility
Although tennis training aids are geared towards improving certain skills, some models come with additional features that allow them to offer more than they're built to do. These versatile options aid in enhancing your reaction time, speed, and fitness, in addition to the fundamental tennis techniques and skills. It's a no-brainer that they're pricier. However, like everything else in life, you get what you pay for.
Skill To Develop
Choose the problem you want to rectify as it will determine the type of tennis training aid to purchase. After all, the last thing you need is to invest in an unsuitable product that proves futile in improving your skills and overall performance.
Conclusion
Whether you're a player or a coach, the best tennis training aids are your saving grace to elevating your skills faster. Before you take your pick from the top-notch options above, decide on the problem or skill you want to correct. After all, different training aids focus on honing specific skills.