If you want to significantly boost your home gym's effectiveness, one of the easiest ways to do it is to invest in stair climber equipment. Without a question, stair climbers provide some of the most effective cardiovascular and lower body strengthening workouts accessible on fitness equipment.
Additionally, with the proliferation of firms manufacturing home gym models, you have a plethora of options for your home gym. While having a vast number of alternatives might be advantageous in terms of variety, it can also be difficult to narrow the field to the best option.
Throughout this article, we will discuss some of the most critical specs and features to consider when selecting the best stair climbing machine for your needs. Additionally, I will provide my best recommendations based on the aforementioned factors.
After reading this article, you'll have all the knowledge you need to choose the finest stair climber machine for your home gym – or, perhaps, you'll realize that a stair climber machine isn't what you're looking for after all.
Stair Climbers You Might Want To Try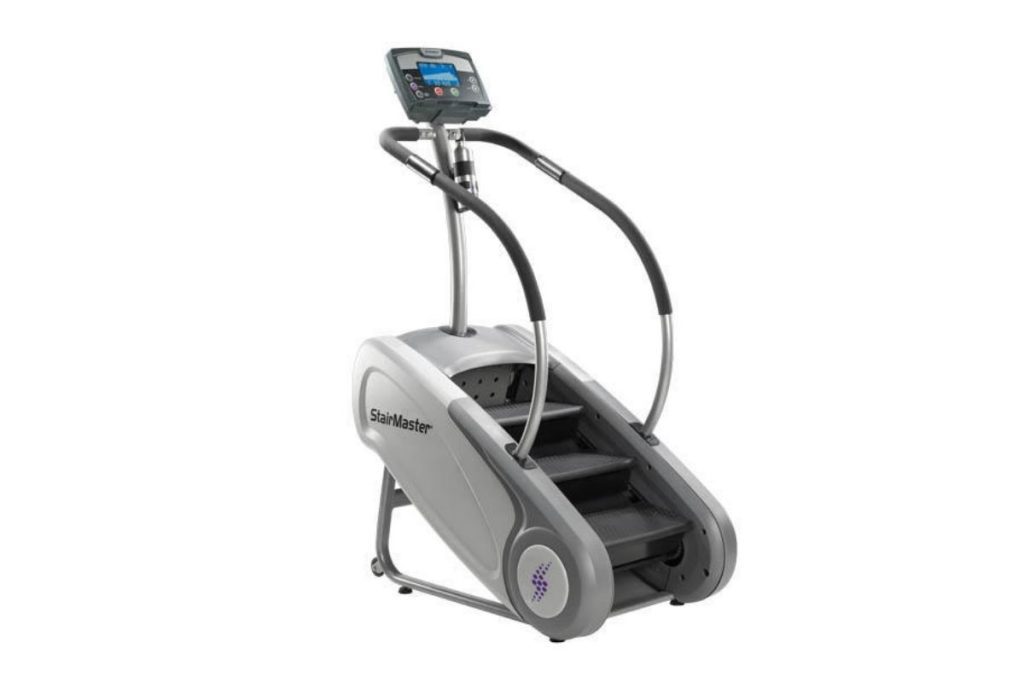 The StairMaster has been recognized as the most demanding workout in the gym for almost three decades. This stepper is a good solution for individuals seeking a high-intensity workout in a small area. The SM3 is a good option for residential and light commercial use.
While StairMaster and its associated stair climbing gear are well-known, they were formerly available only in commercial gyms. However, you must credit them with their brand name; it is self-explanatory.
They are just too enormous and prohibitively costly for the vast majority of home gyms. This is set to change, though, with the introduction of their StepMill 3.
The SM3 is a less expensive, smaller model designed primarily for home use. The SM3 spinning stair climber is 46′′ L x 29′′ W, making it one of the most compact models available.
This stair climber consists of six six-inch-high by nine-inch-deep steps. These stairs are somewhat lower than conventional home steps, making them more comfortable for folks with achy knees.
The SM3 is constructed of powder-coated steel and has a 350-pound weight capacity (minimum weight 125 lb). When completed, the machine weighs less than 200 pounds but has transport wheels for further mobility.
There are 25 pre-programmed programmes and a Polar chest strap included. Additionally, StairMaster offers a robust warranty on this model: a ten-year frame, a three-year parts warranty, and a three-year labour warranty.
Pros
Large LCD Display: Console features several programmes and features an attractive backlit LCD display screen.
Heart Rate Sensor: Allows the user to track and record several different aspects of their workout, including heart rate.
StairMaster Brand: The StairMaster brand is known for being built to last, and ready for users of all skill levels.
Cons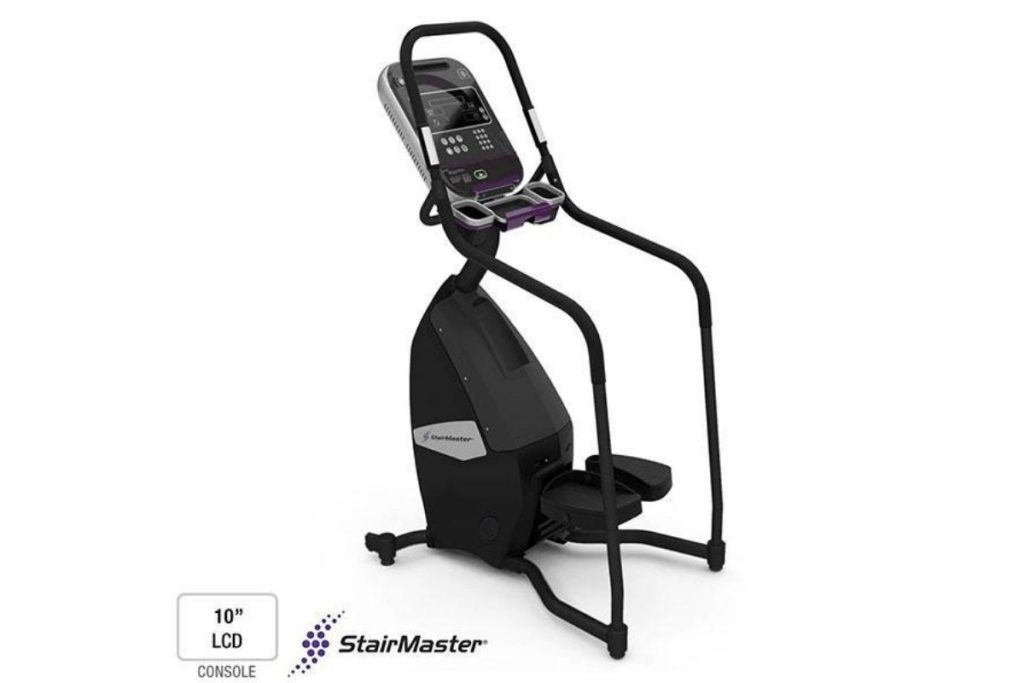 The FreeClimberTM 8 series builds on a 30-year tradition of performance and comfort by providing the most advanced climbing experience offered in the gym.
Additional cushioning, updated pedal geometry, and a four-bar linkage system all contribute to the smooth, natural stepping action of the FreeClimberTM step design.
Three comprehensive OpenHub console options address your needs for entertainment, exercise, and asset management. The combination of quality and innovation resulted in equipment that pounded the heart, scorched the lungs, and lured people to engage in activities they loathe.
Unlike the SM3, the 8 Series FreeClimber has a stepper. As a result, if you're searching for a StairMaster replacement, the FreeClimber may be an excellent choice.
The FreeClimber is somewhat smaller than the SM3 at 43′′ x 27′′ (L x W), making it ideal for training areas with limited space.
The innovative pedal technology developed by StairMaster guarantees that the pedals stay level and operate smoothly with each step. Additionally, due to the self-contained nature of this pedal stepper, the step height may be adjusted between one and fourteen inches.
The FreeClimber's power coated steel frame comfortably supports riders up to 350 lb, making it suitable for the majority of users.
Additionally, the gadget has 10 pre-programmed exercises, heart rate monitoring through telemetry, Bluetooth connectivity, and USB charging. Additionally, it has a 174-step-per-minute maximum step rate.
Additionally, the FreeClimber comes with a complete home warranty, including a ten-year frame guarantee, a ten-year component warranty, and a three-year labour warranty.
By and large, the 8 Series FreeClimber is an excellent choice if you're looking for a commercial-grade stepper that fits comfortably into the majority of home gyms.
Pros
10" LCD OpenHub Display: This model offers a 10" LCD display, with a wide array of different programs such as quick start, fat burner and speed intervals.
USB Charging Port: Can be used for a variety of functions, and allows users to charge devices while on the move.
Bluetooth Capabilities: Allows users to track workout data through bluetooth functionality.
Cons
Price: As this is a commercially graded machine, it holds a rather high price tag that may not be suitable for beginners.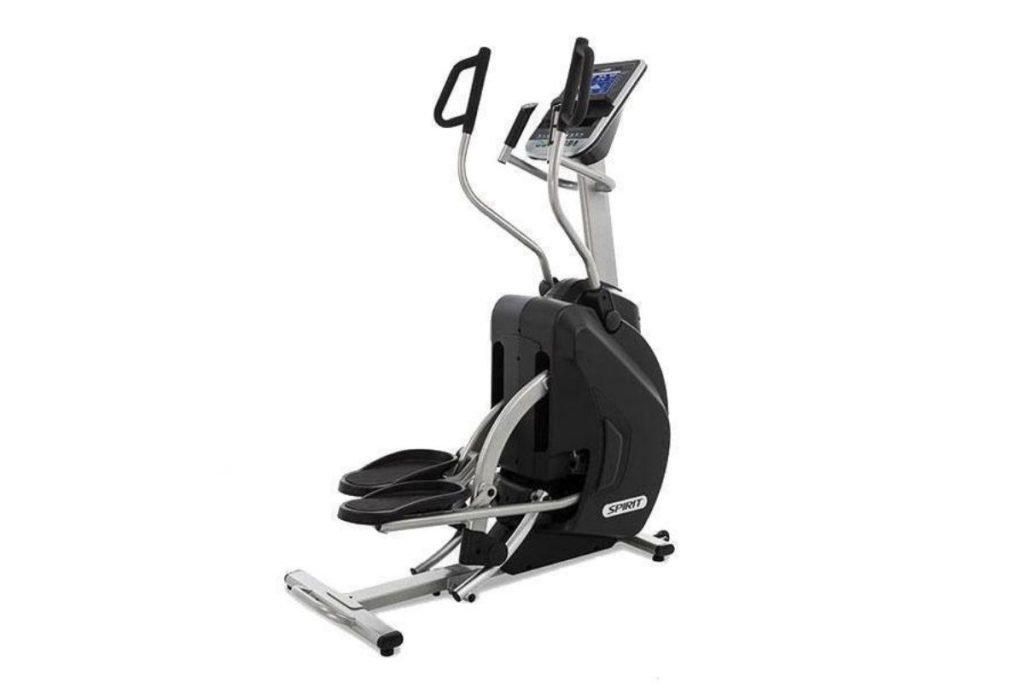 The Spirit Fitness XS895 Adjustable Incline Stepper pushes the boundaries of high-intensity interval training. It has an arched inclination adjustment that enables adjustment of both the stepping slope and the height.
This fantastic lower body exercise is appropriate for persons of all fitness levels, since it has an extra twenty resistance levels. The 2″ pedal spacing (Q-Factory), wide cushioned pedals, and multi-grip handlebar design all contribute to the creation of a very fun and space-saving fitness device.
I like Spirit items in general since they are durable and come with incredible warranties (plus they are fairly priced, which never hurts).
Their XS895 stepper is not a straight-up stepper as previously supplied. This one is closer to a cross between a stepper and an elliptical.
While the stepping pattern on this machine is mostly vertical, the inclination angle may be adjusted between 43° and 60° to provide a step height of between 10′′ and 14′′. Furthermore, the XS895 provides arm-based workouts similar to those found on an elliptical.
With a 23-pound flywheel, this stepper offers a smooth but powerful total-body exercise. Furthermore, it has a 20-degree resistance range, allowing you to customize the intensity of your exercises.
Its commercial-grade steel structure supports up to 400 lb. Furthermore, the gadget has a 7.5-inch backlit display, multi-grip grips, Bluetooth connectivity, and compatibility with telemetry heart rate monitoring.
Naturally, being a Spirit product, the XS895 comes with an unparalleled guarantee: a lifetime frame warranty, a ten-year components warranty, and a one-year labour warranty. While this machine is designed mainly as a high-intensity interval trainer, it also functions well as a home stepper.
Pros
Full Body Workout: This model can be used for full body workouts.
Multi-Grip Handlebars: This allows for comfort of use.
Warranty: This model comes with a lifetime frame warranty, as well as a ten-year component warranty and a minimal labour warranty.
Cons
No Heart Rate Monitor: This is a standard feature that is not included.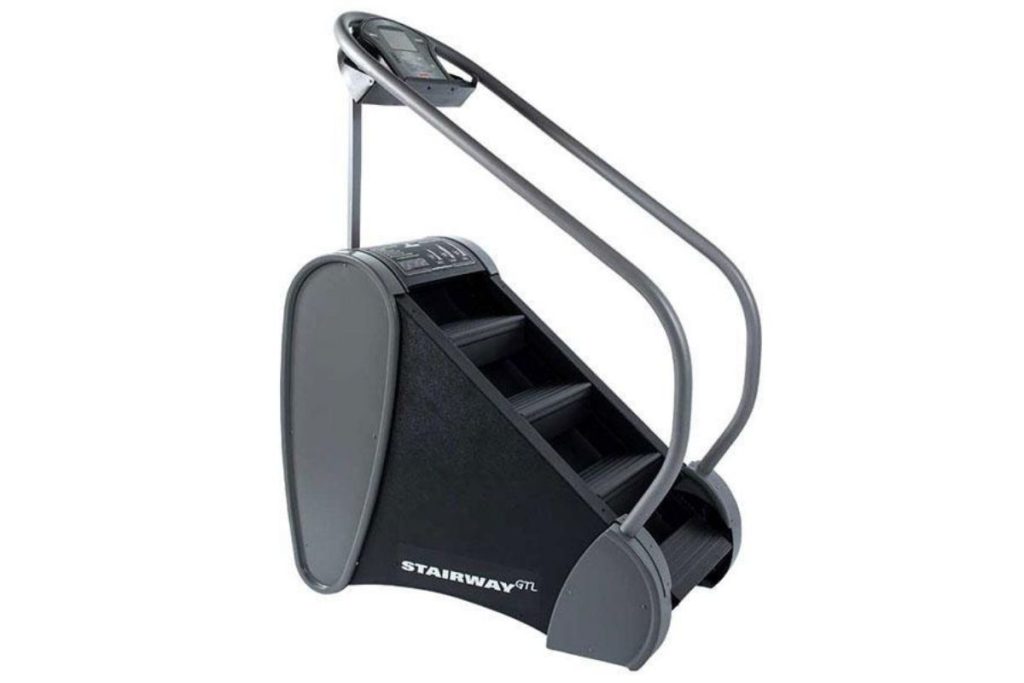 Jacobs Ladder is well known for its ladder climbing systems, but with The Stairway GTL, they've broadened their offerings to include standard stair climbing.
The Stairway GTL is another revolving stair system; however it is more affordable for residential use.
Steps on the GTL are 8 inches high and 9 inches deep, almost equal to those on your own house. The frame (together with the stairs) is constructed of rugged powder coated steel, allowing this machine to support persons weighing up to 350 pounds.
Unlike the original Stairway by Jacobs Ladder, which adjusted your speed automatically based on your waist belt and stair position, the GTL's speed may be adjusted manually using the console's up/down buttons.
In any case, this stair climber's top pace is 160 steps per minute, which is more than plenty for the great majority of us. This climber's console is quite straightforward, so if you're searching for bluetooth and other high-tech capabilities, this is not the climber for you.
The GTL has an extremely simple water bottle holder. In contrast to the majority of stair climbers, the GTL is self-powered, eliminating the need for it to be situated near an outlet.
While Jacobs Ladder reserves the ability to increase the length of this climber's guarantee in the future, this climber is still covered by a four-year parts and one-year labour warranty.
To summarize, if you're searching for a battery-powered commercial-grade stair climber, the Jacobs Ladder GTL is a reasonable solution.
Pros
Self Powered: This machine is self powered, meaning it does not need to be situated near an outlet.
High Speed: Users can reach up to 160 steps per minute, when using this model.
Warranty: Comes with a 4 year part warranty, and 1 year labor warranty.
Cons
Lacks Functionality: This model does not include features like bluetooth.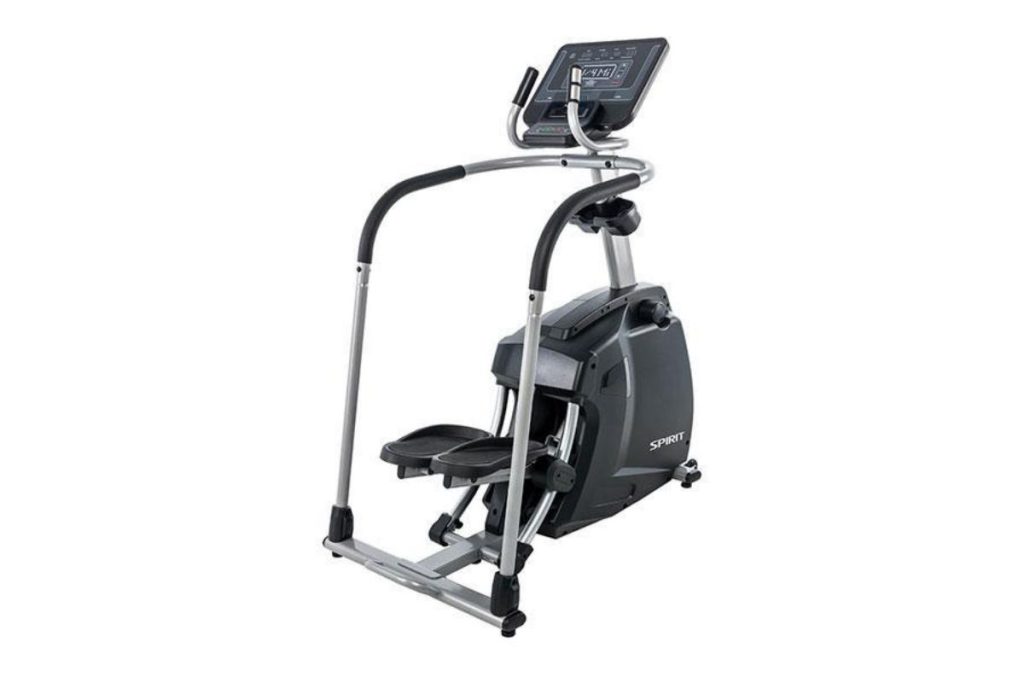 By combining traditional dependent stepping with an arching step rail design and an astounding 16″ step height, the CS800 Stepper provides a superb lower body workout.
The narrow two-inch pedal spacing (Q-Factor), large cushioned pedals, and sturdy handrail all contribute to the creation of a highly comfortable and space-efficient cardio machine.
The CS800's electronics have been developed for ease of use. The console has a large, easy-to-read display, a variety of programmed options appropriate for users of all fitness levels, an integrated fan to keep customers cool, and a USB charging connector for charging their smartphone.
The readily accessible hand pulse grip sensors provide on-demand heart rate monitoring.
The Spirit CS800 stepper is a more conventional stepper; it lacks the adjustable inclination degrees and moveable grips seen on the XS895. The CS800, on the other hand, retains its 23-pound flywheel, which contributes to a smooth stair climbing experience.
When using a stepper, you may alter the step height. This model's greatest step height is 16 inches, simulating ascending stairs two at a time.
Additionally, the CS800 has a 20-level resistance range, making it suited for users of varying fitness levels.
This stepper emanates beauty from top to bottom. The powder coated steel frame supports 450 lb, which is rather impressive considering the machine's final weight of 175 lb.
Additionally, the item has nine preset routines, Bluetooth connectivity, a USB charging connector, and a cooling fan.
Naturally, it is backed by Spirit's comprehensive guarantee: a lifetime frame, a ten-year component warranty, and a two-year labour warranty. In conclusion, the CS800 offers a lot and is reasonably priced.
Pros
Functional Console: This model comes with a large LED display, cooling fan and USB charging port on the central console.
Price: One may argue that this is the best stepper around $2000 available.
Bluetooth: With Bluetooth connectivity, users can record things like heart rate and floors climbed throughout their workouts.
Cons
Non-Adjustable Incline: As this model is a standard stepper, the angle of incline cannot be changed.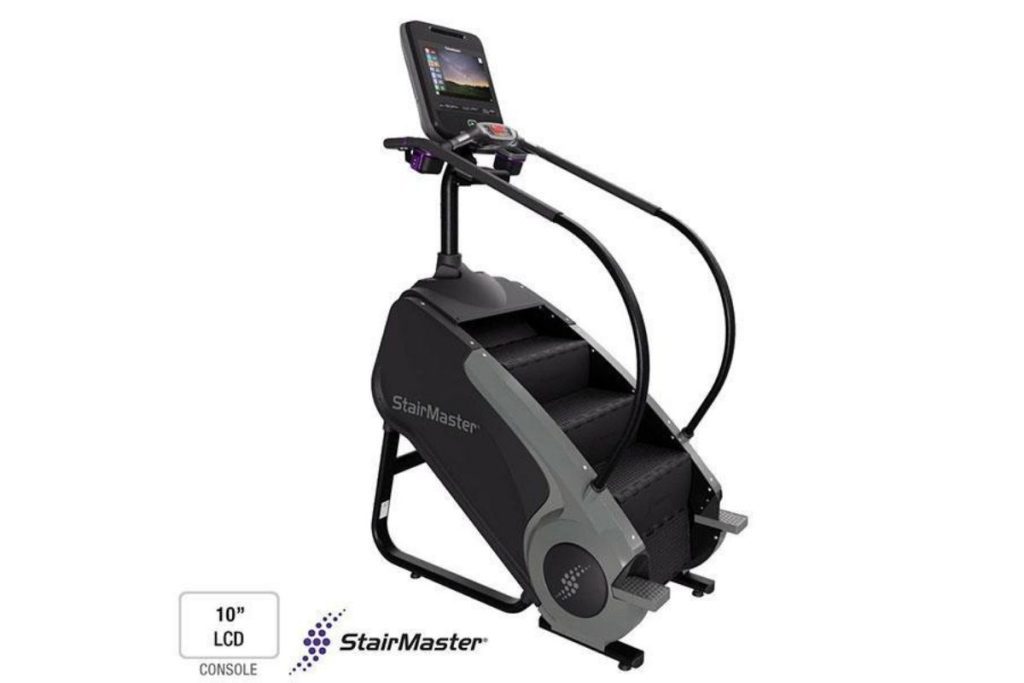 The Gauntlet StepMill is immediately recognizable; it is the cardio gadget that seems to be the most demanding in contrast to the others, with a revolving series of 8-inch steps that closely simulates the challenge of genuine stair climbing.
When the Gauntlet StepMill is installed, the pedal descent is precisely regulated by the unit's electronically controlled, chain-driven alternator, allowing a wide range of users to exercise safely within their comfort zones.
The resulting step rate range of 26 to 162 steps per minute aids in leg strengthening and cardiac improvement, while also challenging even the most athletic individuals.
The Gauntlet Series 8 StepMill combines the mechanical power of previous generations with a sleek appearance and improved capabilities to provide a next-generation experience.
The Gauntlet incorporates a range of workouts, including quick start, manual, fat burner, calorie burner, intervals, bell-shaped, build, mystery challenge, steady state, and heart rate zone trainer.
Additionally, the console has a nationally recognized multi-stage fitness assessment that monitors individual development, as well as a specialized firefighting test (CPAT) that measures cardiovascular endurance and physical strength.
While this device is somewhat bigger and heavier than the others on our list, its greater size provides it with more strength and longevity. The Gauntlet is appropriate for people of all sizes, since it can sustain someone weighing up to 350 lb.
Additionally, the gadget has 14 preset activities, Bluetooth connectivity, USB charging, and a cooling fan (the LCD console is basic, but you can upgrade to a 15-inch touchscreen display with a plethora of additional capabilities).
This stair climber is backed by a remarkable ten-year structural warranty, a ten-year component warranty, and a three-year labour warranty.
By and large, the StairMaster 8 Series Gauntlet is a real commercial-grade stair climber if room and finances permit. Having said that, this model has much more equipment than most of us need in our home gyms.
Pros
Long Warranty: With a 10 year frame warranty, 10 year parts warranty, and 3 year labor warranty, this model will keep you going for years to come.
14 Built-In Workout Programs: A wide array of functions will allow the user to find the ideal workout for them.
LCD Console: Included amongst this model's functionality are bluetooth functions, USB and a cooling fan placed within a large LCD console.
Cons
Larger Size: As this is a larger model, it can be difficult to move around in a home gym.
Things To Consider When Buying A Stair Climber
There are several specifications/features to consider while searching for a step climber. This will aid you not just in deciding what you're looking for, but also in comparing different machines.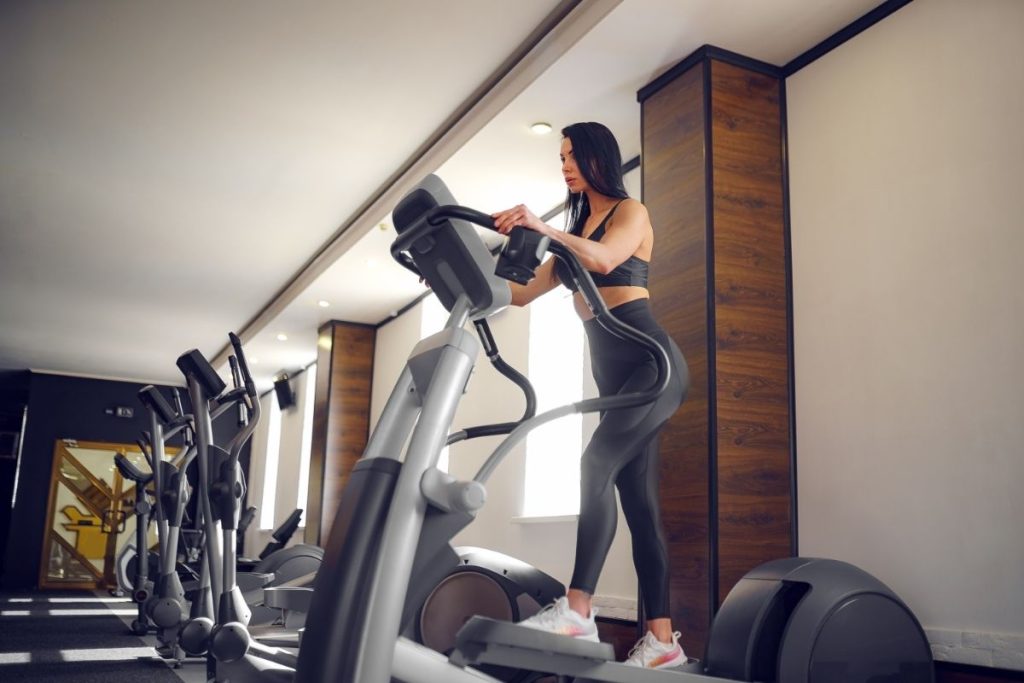 Style: Two separate types of stair climbers exist – those with revolving steps and those without ("steppers"). One is not always preferable to the other, and although both provide wonderful workouts, they each have their own set of advantages and disadvantages.
True rotating stair climbers, such as those seen in gyms, come the closest to simulating the sensation of climbing a flight of stairs—because they are.
These devices include eight-inch steps, which are about the same height as the majority of staircases found across the United States. As a result, these gadgets are well-suited for stair workout.
The issue is that these devices are often more expensive and bigger than stepper-based alternatives.
Stepper machines do not use spinning stairs but rather replicate climbing steps via the use of two pedals. Vertical pedal motion is similar to the pattern of movement needed to ascend a flight of steps.
Additionally, you can get an excellent workout on these machines without having to worry about collapsing. Steppers, on the other hand, are often more compact and cheaper than spinning steps.
The amount of available floor space may have a significant impact on the style that is right for you. Along with being inexpensive and safe, steppers are a good choice for anybody concerned about losing their balance on revolving stairs.
Features: It is always prudent to do research on any piece of training equipment, and stair climbers are no exception. Additionally, since these machines have fewer performance factors to consider, it is possible that it is the features that really differentiate one model from another.
The following are common characteristics to look for:
Programmed for workouts.
USB charging connectors.
Wireless heart rate monitors.
If you're choosing between two similar models, I recommend evaluating the aforementioned characteristics to determine which model offers the best value.
Additionally, you may want to examine the number of available resistance levels and the maximum and minimum step heights on steppers—most of these specifications are the same, but it's never a bad idea to double-check.
Warranty: It's a good idea to compare warranties while buying fitness equipment. As expected, lengthier warranties are often desired. Not only does a substantial warranty provide additional confidence about your investment, but it also serves as a solid indication of the product's quality.
Manufacturers, after all, will not extend warranties on items they believe will break prematurely. Typically, warranties for stair climbers include the construction, components, and labor.
The frame warranty should be the most comprehensive, and a high-quality machine will often have a ten- to twenty-year guarantee. Typically, component warranties range from a few to ten years.
Labor warranties are often the shortest; expect on a year or two even for commercial grade equipment.
In terms of commercial quality, many of the best stair climbing machines come with both residential and commercial warranties (if purchased for home usage, double-check the domestic warranty before purchasing).
Conclusion
Rotating or stepper-style stair climbers may be a wonderful addition to a home gym. These devices have earned a reputation for providing some of the most difficult workouts accessible on a cardio machine, and I'd have to agree.
When making a decision, you must first examine the amount of room and money available. Following that, I'd consider if you want a revolving or stepper staircase. After that, all that remains is to compare features and warranties.