Cristiano Ronaldo is one of the best soccer players to have ever lived. There's no doubt that the talent and ability have always been there, but there's a reason that the athlete approaching 40 years of age still has the mind and body of a 20-year-old man in their prime!
Using attributes in his game like speed, jumping, strength, and skills, Ronaldo has established himself as one of the world's leading athletes. But how does he do it? Follow our guide to learn more about the sporting sensation and how he stays so fit and healthy.
Cristiano Ronaldo – Brief Introduction
If you're one of the few people on the planet who doesn't know who this sporting phenomenon is, Cristiano Ronaldo is a soccer player who is regarded as a legend of the game.
Becoming a fan-favorite at clubs like Real Madrid, Juventus, and Manchester United, the Portuguese international has won almost everything there is to win as a soccer player.
Starting his senior career at Sporting Lisbon, Ronaldo joined Manchester United in 2003 for around £17m. Winning multiple Premier League titles and the Champions League, the now Portuguese captain joined Real Madrid for an astonishing £84.6m.
Ronaldo would go on to win several Champions League trophies during his time here, as well as winning the Euro 2016 tournament. Following a move to Juventus in 2018, Ronaldo returned to Manchester United, where he was welcomed home as a hero.
Standing at 1.87 meters tall, the forward prides himself for being good in the air and heading the ball into the back of the net. On top of this, he was renowned in the earlier stages of his career as one of the fastest players playing at the top level.
Despite standing at 6'1", the famous CR7 weighs only around 84kg. So how does he stays so slim and keep himself fit and healthy for playing soccer?
Ronaldo's Training Routine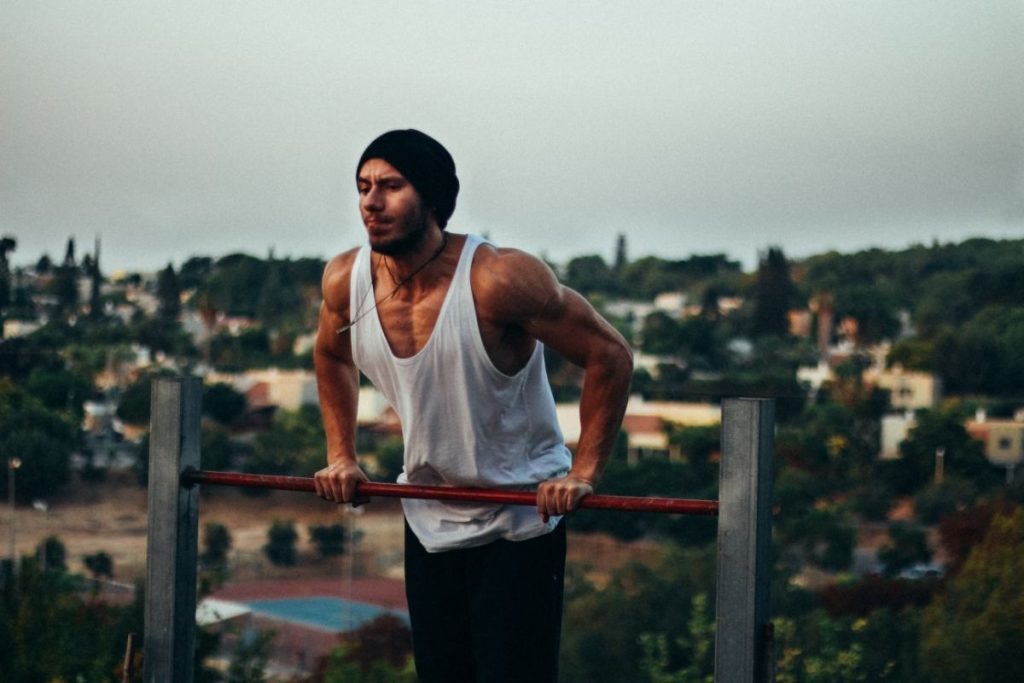 The training routine is one of the main aspects of keeping fit and healthy. Ronaldo's balance of a healthy diet and intense exercise is integral to his playing career.
A lot of players will retire by the ages of around 32 or 33 years of age, whereas Ronaldo has specified his desire to continue his playing career as long as possible and there's no signs of it slowing down at the moment.
Ronaldo states that he works out for around three to four hours every day, five days a week. One thing that you may not think of, is that the Portguese man relishes a good night's sleep, aiming to sleep for at least eight hours every night.
This allows the body get the much-needed rest required to recoup the energy used during the day.
The Workout Routine of Ronaldo
There's no question that the man known as CR7 has an unbelievable work-rate. It's his motivation that has helped him to be so successful. His daily soccer practice of around 3 to 4 hours ensures that his body has a low-fat level of less than 10%.
To put it into perspective, the average athlete may have a body fat percentage of around 12%. On top of this, Ronaldo will include a lot of cardio exercises like running and cycling, with each session lasting around 30 minutes each. This keeps him fit, as well as healthy.
One of the most important drills Ronaldo does to stay as quick as possible is high-intensity running drills. These can be implemented into the cardiovascular sessions and ensure that he stays faster than his opposition.
Ronaldo has proven to be one of the best team-players in soccer and will take part in tactical exercises to improve the chemistry between him and his teammates, as well as general training drills to improve his overall game.
The Portuguese athlete also uses general weights to keep him strong and to keep his leg muscles at their top condition. In the gym, Ronaldo will complete 3 sets for each exercise, ensuring the thorough completion of each one.
Monday – Leg Day
8 reps, barbell squat.
10 reps, lateral bound, 12 inches.
8 reps for each leg, jumping lunges.
10 reps, box jumping at a height of 20 inches.
8 reps, broad jump.
Tuesday – Rest Day and Recovery
Wednesday – Arm Day
Ronaldo will perform arm routines on this day, again with 3 sets for each exercise.
10 reps, push press.
20 reps, bench dips.
15 reps, burpee pull-ups.
30 reps, push-ups.
15 reps, medicine ball tossing.
Thursday – Cardio
On Thursdays, Ronaldo completes two exercises focussing on his cardiovascular health.
5 sets, 5 reps of power cleans.
8 sets of 200m sprints.
Friday – Leg Day 2.0
Ronaldo's second leg day of the week falls on Friday, the day before his match in club soccer.
3 sets, one-arm side deadlift, 5 reps on each arm.
3 sets, knee tuck-jump, 12 reps.
3 sets, overheard slam, 12 reps.
3 sets, hanging leg raise, 15 reps.
2 sets, one-legged deadlift with dumbbell, 10 reps on each leg.
2 sets, one-legged barbell squat, 5 reps.
Saturday – Rest Day, usually for Soccer Fixtures
Sunday – Cardio 2.0
The final day of the week is used as a day to recover from Saturday by using cardiovascular exercises, consisting of two main exercises.
10 sets, rope jumping with 1 minute rest.
10 sets, 50m resistance sprinting.
That's what Cristiano Ronaldo's week looks like. Definitely not for the faint-hearted! Now let's have a look at his diet. His meals are split into five or six smaller portions divided up throughout the day, containing a balance of vitamins, protein, and minerals whilst avoiding sugar and high fats.
Meal One
Healthy cereals high in fiber and wheat.
Egg whites for protein.
Fruit juice for vitamins and minerals.
Meal Two
Green vegetables for vitamins and minerals.
Baked potatoes.
Whole wheat pasta for fiber.
Chicken with salad for protein and balance.
Meal Three
Tuna roll, or similar fish like salmon for protein.
Fresh fruit juice for minerals.
Meal Four
Whole-grain or brown rice with pulse seeds.
Chicken or turkey breast with low fat levels.
Beans for protein.
Fresh fruit for vitamins and natural sugars.
Of course, Ronaldo will also ingest supplements such as protein shakes and multivitamin supplements so that he can ensure he gets the energy needed to go about his activities free of injury. However, the brands and specific products that the soccer star users are unknown.
Final Thoughts
What do you think of Ronaldo's dietary requirements to match his demanding schedule? It's an incredible amount of exercise, balanced with playing soccer and training for big games.
When it comes to being an athlete, Ronaldo is up there with the greatest sports icons in world history.
With his motivation and work-rate mixed with natural talent, you know that nothing is going to stop him from achieving his goals. Some of the meals he eats can be easily replicated and applied to everyday life, should you want to try it!