Last Updated on October 21, 2022 by admin
Michael B Jordan became one of the most well-known archetypes of muscle and form between 2013 and 2020. In a way, he became the modern-day Adonis.
Michael B Jordan combines mindfulness, healthy eating, and smart time management to maintain a body that People Magazine named Sexiest Man alive for 2020.
If you're trying to become a modern-day Adonis, then take a look at his workout routine and diet and transform your life.
Michael B Jordan's entire life will probably be spent in the shadow of Michael Jordan, despite his own impressive list of achievements.
It is incredibly difficult to break into show business, and his way of doing so and his popularity is remarkable.
Additionally, it illustrates how powerful it can be to devote yourself to a craft and to have a routine you can follow.
While Michael B Jordan was born in Santa Ana, California, he was quickly moved to New Jersey and spent most of his youth there.
In New Jersey, he had a great start in show business, from modeling in the late '90s to small roles on popular television shows.
When he was 12, he made his acting debut in The Sopranos. As a tween, he appeared on The Cosby Show, and he also starred in Hardball with Keanu Reeves in 2001.
He was a preview of the muscular man he would eventually become with these early credits.
Michael B Jordan grew up in New Jersey and attended Newark Arts High School in order to hone his craft to a razor-sharp point before letting his charisma loose on the world.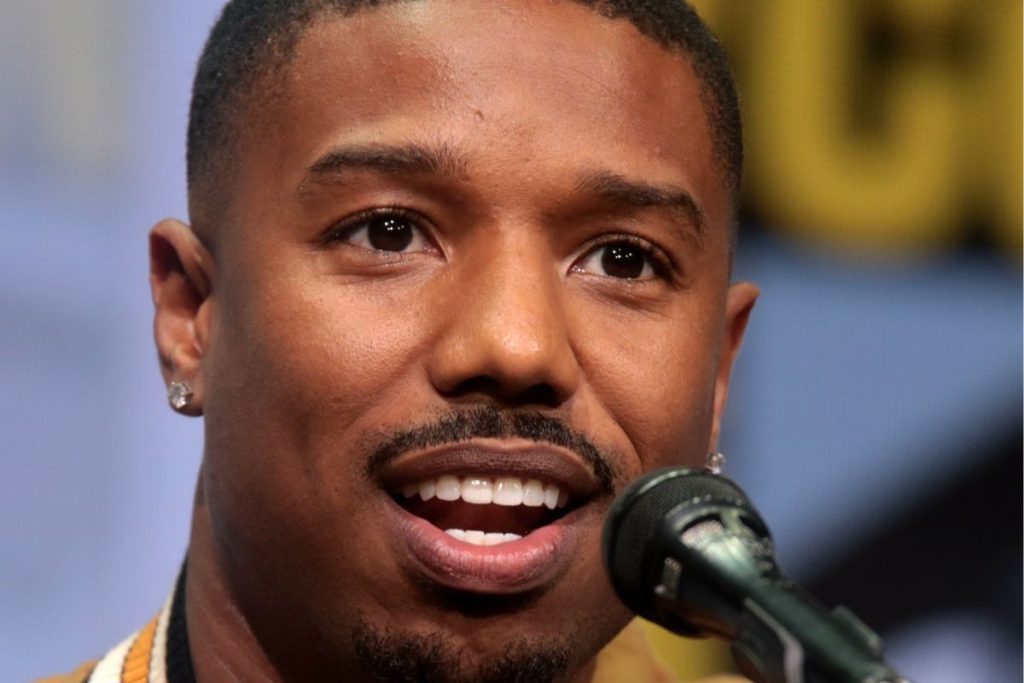 The Workout Routine
To create the bodies of Marvel's Killmonger, Johnny Storm of the Fantastic Four, and Adonis Creed, it took dedication and a schedule that had to fit into the lifestyle of filming a movie.
Michael B Jordan kept himself hydrated, well-fed, and active throughout the day, and if you're going to follow the same routine, you need to keep that kind of maintenance in mind.
Jordan did not undergo this transformation on his own.
Michael B Jordan was right beside Corey Calliet every step of the way to build the physique required to step into Rocky's shadow.
A personal trainer can make all the difference between massive muscle growth and times when you plateau.
We're not saying that you must have a trainer by your side to reach your fitness goals, but these are people who have the education, experience, and motivation to push you further than you ever thought possible.
Personal training can relieve the mental strain of coming up with a new routine when the current one doesn't meet your needs, can help you personalize a diet, and can give you the structure and accountability you might be looking for if you're having trouble reaching your fitness goals.
Corey Calliet in particular has been trusted with the fitness lives of dozens of actors, and he has become a lifestyle brand that nearly half a million people follow religiously.
Personal trainer Corey is the picture of perfection.
He was the perfect choice for guiding Michael B Jordan down the path of the celebrity superhero based on his clean-living lifestyle and single-minded dedication to bettering his body.
It speaks volumes about Calliet's success that we are both here learning about his work.
Michael B Jordan and Corey Calliet devised a workout routine and diet that almost anyone could follow if they were willing to carve out the time.
When it comes down to it, this workout plan consists of four days of moderate to strenuous exercises that can be done in an hour or less.
Actors undergoing similar transformations follow workout routines that see them in and out of the gym at least twice a day, nearly every day of the week.
DAY ONE: CHEST, BACK, AND ARMS
Warm-up run (one mile)
Dumbbell press – 3 sets of 12 reps
Dumbbell fly – 3 sets of 12 reps
Push-ups – 10 sets each of 10, 9, 8, 7, 6, 5, 4, 3, 2, 1 reps
Dumbbell kickback – 3 sets of 15 reps
Triceps pushdown – 2 sets of 20 reps
Bench dip – 10 sets of 10, 9, 8, 7, 6, 5, 4, 3, 2, 1 reps
DAY TWO: BICEPS, TRICEPS, AND LATS
One-mile jog as a warm-up
One-arm dumbbell row – 3 sets of 12 reps
Neutral-grip pulldown – 3 sets of 12 reps
Bentover rows – 3 sets of 12 reps
Dumbbell curl (alternate arms) – 3 sets of 12 reps
Barbell curl – 3 sets of 12 reps
Hammer curl – 3 sets of 12 reps
DAY THREE: LEGS + ABS CIRCUIT
Warm-up with a one-mile jog Dumbbell lunges – 3 sets of 30 seconds per leg
3 sets of 15 reps per leg for single-leg hip extension
3 sets of 12 repetitions on the leg curl
3 sets of 12 repetitions on the Romanian deadlift
Squat – 10 sets of 10, 9, 8, 7, 6, 5, 4, 3, 2, 1
Reps Squat – 10 sets of 10, 9, 8, 7, 6, 5, 4, 3, 2, 1 reps
3 sets of 25 reps with a Swiss ball crunch
DAY FOUR: CHEST, ARMS, AND ABS
One-mile jog as a warm-up
Dumbbell bench press – 5 sets of 10, 9, 8, 7, 6 reps
Push-up – 5 sets of 15 reps
Dumbbell fly– 5 sets of 10, 9, 8, 7, 6 reps
Push-up – 5 sets of 10 reps
Dumbbell curl – 4 sets of 12 reps
Dumbbell kickback – 4 sets of 15 reps
Bench dip – 4 sets of 20 reps
Toe touch with medicine ball – 3 sets of 25 reps
Sprinter sit-up – 25 reps
As a result of his active acting roles, Michael B Jordan is a big fan of active recovery days. Anyway, he was constantly moving, so he might as well make the most of it.
During the week, you set aside active rest days to allow your body some time to recover from your workouts.
In the gym, you usually stretch and get some light to moderate exercise under your belt. Light jogs or yoga are perfect activities for an active rest day.
You can burn off a bit of energy while improving either your cardiovascular health or your flexibility.
When you're trying to bulk up, both of these aspects of your health are crucial. During Michael B Jordan's workouts, you'll also notice that he always warms up with a little bit of cardio.
It's common for people to overlook cardio when they're trying to build muscle.
The Diet
Diet is one of the most important aspects of exercise.
In a relatively short amount of time, Michael B Jordan needed to build up a lot of muscle, and he needed to do it in a way that allowed him to display these on camera.
In addition to being functionally strong, he had to look the part.
It meant that his diet had to be strict enough to provide him with all the protein and energy he needed to compete in his workouts.
All this while staying within a safe range of intake, so he was never consuming more calories than he burned off during his workouts.
If you aren't really spending all the energy you eat, then your body will just stockpile it for "later", whatever "later" may be for you.
Jordan is one of those people whose entire job is to look good in front of millions of people.
If he spent all his time working out as hard as he did, but lacked a diet to support that effort, he would have wasted all that time.
A healthy diet isn't just about losing weight or counting calories. In fact, calories aren't a reliable way to estimate how much food you should consume.
Calories do not tell you anything about the nutritional value of your food. Think of it like fuel for your car.
If you're trying to sculpt your body into a particular shape, then this diet can be very helpful. In order to build muscle, you need to feed yourself the building blocks of a strong body while you are working hard.
Meal #1
Six egg whites
1 whole egg
45g of carbs like oats, rice, or whole-grain bread
Meal #2
Protein shake
35 g carb usually steel-cut oats
Meal #3
8 oz lean protein such as chicken or ground turkey
65 g carbs, typically rice or sweet potato
1 cup of green vegetables such as broccoli or a green salad
Meal #4
8 oz lean protein such as fish or ground turkey
35 g carb usually more rice or red potato
Meal #5
Protein shake
35 g carb usually more steel cut oats
Meal #6
8 oz lean protein like chicken or ground turkey
1 cup green veggies
1 tsp of oil (ie.,olive oil, coconut oil, or macadamia nut oil)
Final Thoughts
By no means is this a simple workout routine. To get through the end of it, you'll have to keep your heart rate up and grit your teeth, but once you're done, you'll leave the gym feeling like you left behind everything you put into it.
If you want to build a body like Michael B Jordan's, you should incorporate these kinds of exercises into your workout routine.