If you go to the gym regularly or spend your time researching different strength workouts, you may have heard of the Smith machine.
This machine is one of the most debated workout machines ever made. Some people love the Smith machine, but the people who hate it, really hate it.
A quick search online will reveal several articles that cover why the Smith machine is so bad, as well as why no one should use them.
If you don't know what the Smith machine is and can't see what all the fuss is about, you'll be clued up after reading this article.
Keep reading to find out why people hate the Smith machine, as well as if you should avoid using it or not.
Smith Machines: What Are They?
Smith machines are a type of fitness equipment. They're quite common and are seen within most everyday gyms. The Smith machine is named after Rudy Smith.
The original idea for the machine came from Jack LaLanne. Smith developed the idea further, then stocked his own gyms with the machine. The idea became more and more popular, taking off into the Smith machines that we know of today.
You probably would have spotted one or two of these while you're in the gym. They resemble a normal barbell system, except that the bar itself remains attached to the surrounding fixture. Having the barbell fixed to the rails may seem counterintuitive, but it's actually a huge benefit.
The Smith machine allows you to lift heavy without the need for a spotter. This is ideal for those that work out by themselves or those that can't afford a personal trainer.
The Smith machine also has pegs along the rails that let you lock the bar in position. This is another safety feature. For instance, if you are squatting a heavy weight and can't lift it back up again, you can safely lock the bar in place.
This allows you to exit the area without harming yourself or others. Smith machines are also seen a lot in home gyms, as they are reasonably priced and allow you to lift more weights at home without a spotter.
Put simply, the Smith machine allows you to work out without a spotter. This all sounds amazing, but it does come with disadvantages. While the Smith machine allows you to safely lift heavy weights by yourself, the fixed bar means it cannot move in certain directions.
The majority of Smith machines only allow the bar to move up and down. It cannot travel back and forth horizontally. This means that you can only do certain exercises on the Smith machine, so you can't target other muscles while doing so.
What's Bad About Smith Machines?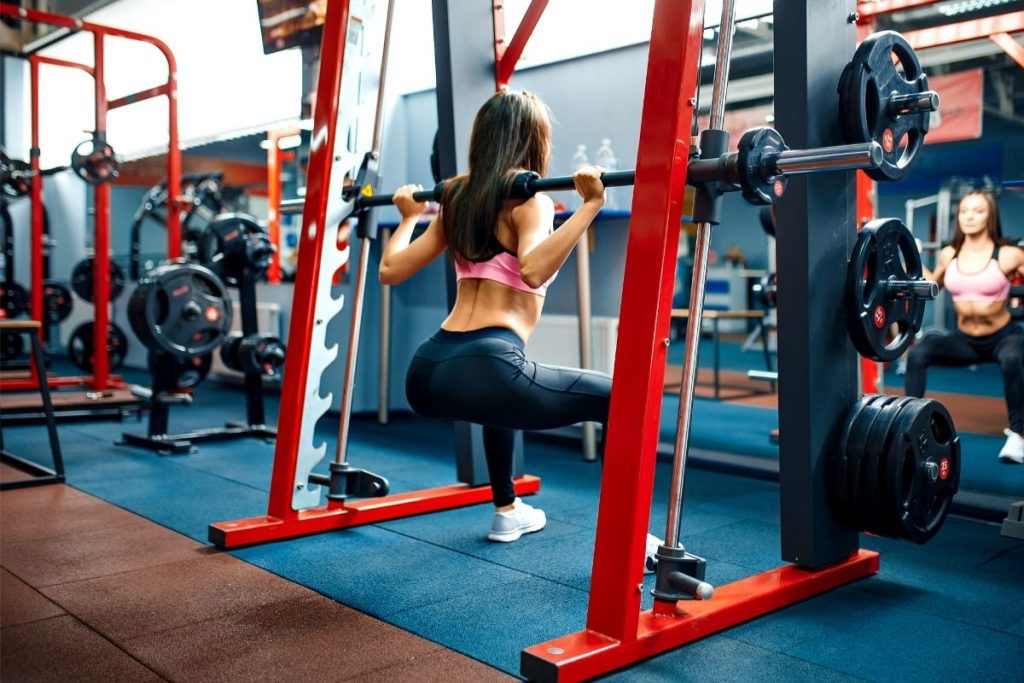 We've covered what the Smith machine is, but why are they hated so much within the fitness world?
As mentioned above, Smith machines only move up and down. They restrict you from moving forward and backward, which affects your form while you train. You have to change your stance to use the Smith machine. People that normally use free weights may feel like they have to change their form too much.
This limited motion, along with the change in form, can add more stress to your joints. This increases the risk of injury, particularly with squats, as foot placement is an issue.
This is clearly a huge disadvantage, but it isn't the main reason why the Smith machine is so disliked by fitness enthusiasts.
Many athletes and pro bodybuilders dislike Smith machines as it makes lifting weights easier. This may not seem like a huge deal, but keep in mind that muscles build when they are sufficiently challenged. Fitness buffs that want to get stronger don't want to make it easier for them to lift weights.
The Smith machine makes lifting easier as it guides the bar while you lift. The machine stops the bar from moving back and forth, but it also does some of the work that your smaller muscles would do when lifting free weights.
For instance, during a squat, the bar is kept steady by the rails. Your legs will take the brunt of the weight, but your core won't be doing the work to keep you stabilized. That isn't good for those that are trying to develop core strength.
You can also find Smith machines that use counterbalancing bars. These bars aid in lifting the bar back up. With these machines, your muscles do even less work to handle the weight. You won't develop as much strength or power as you would doing the moves with traditional weights.
Most people find that they can lift much heavier using a Smith machine compared to a barbell. This is a reason why some people prefer the Smith machine, as they believe that they are getting stronger by lifting even heavier weights.
However, this is debatable. As the machine is helping you lift more weight, does this mean you're actually getting stronger?
The majority of fitness enthusiasts would say this is false, believing that using the Smith machine is like cheating when you lift weights. They are partly right, as the best way to grow muscle and get stronger is through using free weights.
Overall, people hate Smith machines as it prevents full range of motion, adds strength to joints, increases the risk of injury, and makes it easier to lift weights. This may make you question, what do weightlifters use to lift without a spotter if they hate the Smith machine?
Many weightlifters prefer power racks over Smith machines. The barbell on power racks isn't fixed to the frame, so the user can lift through a whole range of motion.
These allow you to lift without a spotter, but they don't use safety rails to do so. Instead, it uses safety bars on the cage that catch the barbell if it falls. For instance, if a person cannot lift the barbell halfway through a squat, they can drop the barbell backward so the safety rail catches it.
Is Every Smith Machine Bad?
The points above are important reasons why people hate Smith machines, but some people can benefit from using one.
Smith machines are perfect for newbie weightlifters as they'll keep you safe as you practice the movement. If a beginner doesn't know how to squat properly yet, the machine will keep them secure.
The Smith machine won't work their muscles as hard as they would using a power rack, but they will still work some important muscle groups, like your quads and glutes.
As mentioned above, you can also add heavier weight to a Smith machine than on a free-standing barbell. This can make you feel more confident in the gym until you work up to using a power rack.
The best advantage of Smith machines is that they spot you while you're working out on your own. Lots of gym-goers train by themselves and it isn't always possible to ask someone to spot you. Smith machines allow you to secure the bar anywhere, no matter how low you bench press or squat.
Due to the limited range of motion, Smith machines may not be the best choice for incline bench presses, but they can still help you practice proper form for some exercises. These include calf raises, squats, bench presses, and shoulder presses.
This is great for beginners and intermediate lifters, but not for serious lifters and professional athletes. Smith machines are more ideal for those trying to maintain their physique.
If you're focusing on gaining muscle and becoming as strong as you can, Smith machines aren't the best choice for you. You'll be better off using free weights and a power rack.
Overall, the main benefits of a Smith machine are that it removes the need for a spotter, keeps the bar steady for beginners, lets you train safely, and can secure the bar in various places up and down the frame.
The Bottom Line
After reading this article, you should have a decent idea of what a Smith machine is and why people hate it. It can be good for some people, but it also has tremendous disadvantages.
They aren't completely pointless though, as they can be a good tool for beginners to practice their form. That being said, advanced and intermediate lifters may find that they won't meet their fitness goals while using one.
If you want to build as much muscle as you can, skip the Smith machine and opt for the power rack instead. If you're new to lifting and want to carry out new movements safely, Smith machines can be a good tool to start learning.
Frequently Asked Questions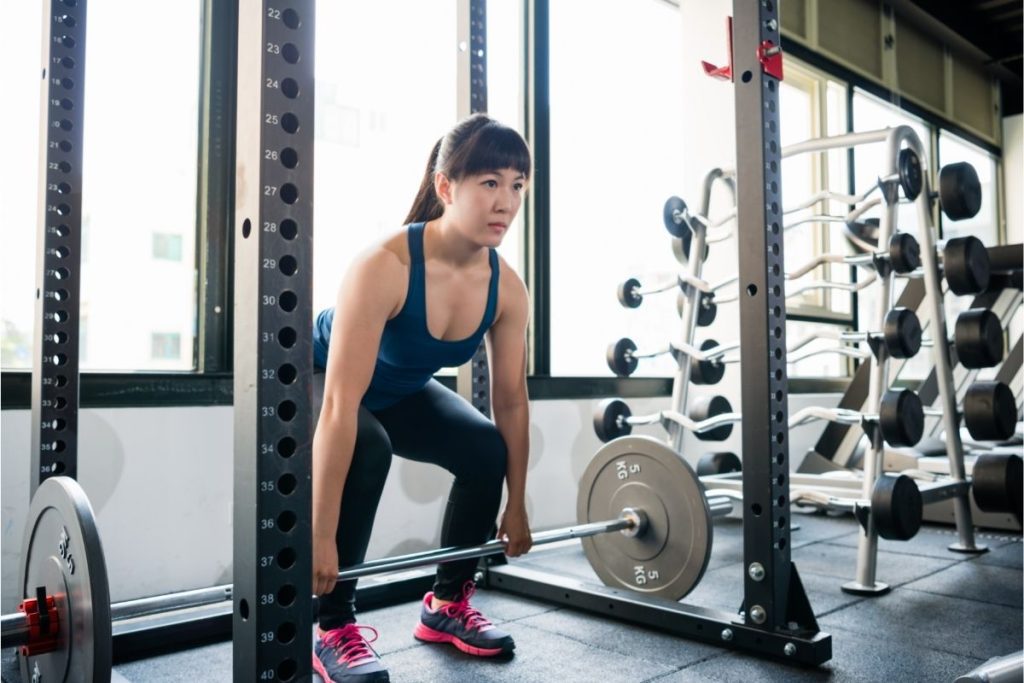 Are Smith Machines Pointless?
Smith machines aren't pointless, but they are better for beginners who are new to lifting. The machine allows you to practice form while it stabilizes the bar for you.
Despite this, a Smith machine doesn't work your stabilizing muscles, which reduces the chance of you building more muscle. In this case, advanced lifters will not need the Smith machine.
Is it Bad to Bench on Smith Machine?
Using a Smith Machine to bench press allows you to carry out the movement safely. If the weight gets too hard for you to handle, you can lock the bar into place along the frame, then exit the machine.
However, a Smith machine balances the bar for you, so you don't use your stabilizer muscles while pressing the bar. More experienced lifters may not like this added assistance, so they may find that bench pressing on a power rack suits their needs better.
Is the Smith Machine Worth it?
Smith machines can be a good investment as they allow you to carry out several exercises safely. This is ideal for home gyms where most people would train without a spotter. Some of these movements include squats, rows, bench presses, and calf raises.