Last Updated on October 5, 2022 by admin
Do you have a little tike who is interested in basketball? It's never too early to introduce young children to basketball!
A basketball game is an excellent way to get your little one mobile, improving things like balance, stamina, and motor skill. It's also a good way to get them to improve their basketball skill from a young age, so they can grow into a star player.
While younger kids might not be able to hit a slam dunk on a large hoop for adults, there are plenty of steps to take so you can work on building them up to it! This article will provide you with things you can do to support your children as they explore basketball.
Benefits of Basketball for Toddlers
Playing basketball is beneficial for toddlers in several ways.
Basketball for toddlers is an opportunity to pull them away from the screens. It is a form of exercise that improves cardiovascular health, builds stamina, and promotes the development of bone density.
It promotes hand-eye coordination and fine and gross motor skills when grabbing the ball, dribbling, and shooting. It builds agility and flexibility as the sport involves moving in different directions. It also fosters teamwork and discipline.
As with any sport, basketball allows young players to explore their abilities and interest in sportsmanship and build confidence.
How to Get Your Toddler Started in Basketball
Invest in Shoes
Since your child will be on their feet a lot, they must wear the right type of shoes. Most professional basketball players prefer high-top sneakers as they provide adequate ankle foot support.
Find high-quality, well-cushioned high-top sneakers for your child. You can also check the range of specialty kids' basketball shoes on Amazon. Go for shoes that have padding around the ankle, a thick sole, and midsole padding for excellent shock absorption and jumping around.
Get the Right Socks
The best basketball socks are long and thick to provide additional ankle support and prevent your feet from rubbing against the shoes. However, they shouldn't be too thick as they could make your feet fit too tightly in your shoes. They also shouldn't be too thin, as that can cause blistering.
Buy Protective Gear
Basketball is a high-impact sport that poses a risk of falling, colliding with other players, being hit in the face by the ball, or impact injuries on ligaments and joints. Therefore, it is important to ensure your child wears protective gear to minimize the risk of injuries.
The right basketball protective gear includes:
Ankle Support: Used to prevent ankle injuries. Some shoes come with built-in ankle support but for those without you would need to buy them separately.
Elbow and Knee Pads: Protect your child's knees and ankles from bruising in the event of a fall.
Arm Sleeves: They cover the entire arm from the wrist to the biceps. They are typically made of spandex. They protect the child's arms against scratches and also serve as compression bandages to prevent a sprain or joint dislocation when playing.
Mouthguard: Ensures your child does not break their teeth or bite their tongue if they fall. You can buy standard mouth guards or have a pair custom-made for a perfect fit.
Safety Glasses: Used to prevent facial injuries.
First Aid Kit: Ensure that your first aid kit has all the essentials and that you know how to use it in different situations.
Get Sports Clothes
Unless your child will be playing competitively or on a team, they do not need a uniform. Instead, get them some jerseys and shorts or tracksuits for exercise.
The clothes should have a loose fit but without being too baggy. Avoid constrictive clothes. In cold weather, they should wear a jacket to keep them warm.
Choose a Basketball
There is a wide range of basketballs for kids on the market in a variety of sizes and colors. Kids basketballs are available in sizes 1 to 7. The right ball should fit well in their hands and should not be too heavy.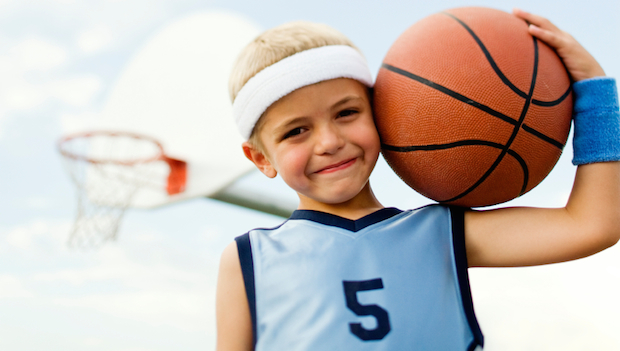 For super young toddlers, go for a mini basketball, meant for use with a kids basketball hoop. Once your toddler grows into an older child, you can size up to a more standard-sized ball.
It's important to ensure your ball isn't too heavy. It can cause the child to overexert and sacrifice good form, which could lead to injuries. It also makes it hard for them to master the various playing techniques. Start your toddler off with a small ball and upgrade to the next size as befits their growing bodies.
Find a Basketball Hoop
The right height of your basketball hoop and the size of the rims depend on the age and height of your child. Before you pick the right size, you need to choose between the two main types of hoops: in-ground and portable.
A portable hoop will come with a sand or water base, which is filled to provide stability. It can be moved around when playing and tucked away after playing. They are suitable if you live in a rental property or do not have a permanent place to set up a hoop.
In comparison, in-ground hoops are mounted directly into concrete flooring. You should only go for this option if you can permanently house a basketball hoop.
You also need to consider the material of the backboard. Most are made of tempered glass or acrylic. Acrylic boards are more suitable for explosive drills. However, they are prone to warping due to exposure to high temperatures or extreme temperature changes. Also, it vibrates when hit by the ball, so it does not produce a true bounce back.
On the other hand, tempered glass boards are more appealing. It is sturdy and does not vibrate when the ball bounces on it. It is best if your child is practicing to play competitively. However, hoops with tempered glass backboards are more expensive.
The best hoops have an adjustable height, a spring-loaded rim, and breakaway technology. They also come with netting and pole padding.
Begin Training and Practice
You need to decide whether you will be coaching your child by yourself, or if you want to hire a coach.
When hiring a coach, do your due diligence to establish their credibility and experience with coaching kids. Discuss your intended purpose for introducing basketball to your child and what you would like to foster. Talk to your child about bringing on a coach and how the coach will help them.
If you choose to coach your child yourself, you need to understand the rules of the game, its philosophy, and the various techniques. Determine what you would like your child to achieve and what their sports goals are.
Remember you are a parent first then a coach. Find ways to encourage them to try harder while being nurturing and positive. Encourage your child to communicate openly with you about how they feel, the challenges they are facing, and how they are progressing.
Have Some Fun
The most important thing to remember when working with a toddler is to relax and have fun!
Remember the goal is not to win championships. At this young age, you are introducing your child to the sport. The more fun they have, the more eager they will be to get on the court, and the faster they will understand and master basketball concepts, rules, and techniques.
Find fun ways to coach and train the various techniques. For instance, play a basketball version of Simon says or the knock-out game. E.g.," Simon says dribble the ball", or, "Simon says dribble high (or low or side to side)", or, "Simon says pound the ball high."
In Conclusion
Basketball is a fun game, and an excellent way to introduce kids to sports, teach life skills, and learn how to exercise.
Since it is a high-impact sport, ensure to take safety precautions and get the essential gear. Communicate openly with your child and the coach about the goal for pursuing the sport. Make it fun and constantly check in with your child about their progress.